A true life story can be better than fiction and with the recent rescue of a team of teenage Thai footballers trapped 2 miles inside a cave after a downpour of rain Hollywood has seen an opportunity to make a film of it. It's a testament to the bravery of the Thai Navy SEALS and British divers too that they were able to swim between spaces that were rumoured to be only 15 inches wide at some points. Most of us are pretty claustrophobic none more so that out our Editor who can't bear confined spaces as demonstrated when he has to put his hand in his pocket to buy a round of drinks ('You're fired!' – Ed).
Once the story got out the rescue mission swung into effect although rumour that convicted paedophile Gary Glitter wanted to train as a Navy SEAL diver to help rescue the trapped teenage boys remain unfounded. The team of boys and their 25-year-old coach survived by drinking water dripping from stalactites in the flooded Tham Luang caves and by the end of the operation all were rescued with one SEAL regrettably dying in the rescue process.
But bringing a true life story to the screen is not as straight forward as might be thought.
First to express interest in the film rights was Pure Flix, a Christian entertainment studio,  when CEO, Michael Scott, travelled to the scene. They're not the only ones to want to make a film as a second project is in the works at Ivanhoe Pictures with  John M. Chu (Now You See Me 2) directing.
But  according to Dale Cohen, director of the Documentary Film Legal Clinic at UCLA School of Law has pointed out the problem inherent in doing this.
'There are definitely potential issues," he says "People involved in historical newsworthy events can't say, 'you can't report on me'. Kids do have more rights. But I don't believe there is any legal reason why the kids could not be named. The fact it was so newsworthy means news gatherers and documentarians can name them. Some choose not to. The law is probably no different for a feature film."
In LA filmmakers usually strike a deal with the real life subjects of any true life story but its not a legal requirement. "News organisations often won't pay money to people, but film companies can give some sort of compensation for rights, interviews, other materials or access to places or people," he says adding "The reason most of these studios and filmmakers agree to sign something is that it gives them better access and protects them in view of possible privacy or defamation claims. "For a studio to spend money on Thai kids is a small price.
But its the potential invasion of privacy where film makers can get themselves in trouble based on the standards under US law of  'Have you revealed something not in the public place that a reasonable person would think is unreasonable?'.
Inevitably US film makers rely on The First Amendment which covers the freedom of speech and offers a high degree of protection. The bottom line is that if its worthy of making the news then you can't stop it.
John Penotti, president of Ivanhoe Pictures, is one of several production companies working on their film version of the Thai cave rescue and is going through the process of trying to seal the deal and are currently in negotiations with Thai Government Officials.
The US is different to other countries where a true life story has been filmed and its not so different in the UK.
However not all true life story film adaptations go smoothly and film makers frequently find themselves in court as was the case with Oscar winning, The Hurt Locker.
Sgt. Jeffrey Sarver, an Iraq war vet, took the film makers court in 2016 claiming that h was the inspiration for the character in the film. He lost. Because the court rejected his claim saying that he was involved in a newsworthy story and hence the media were entitled to tell his story," says Cohen.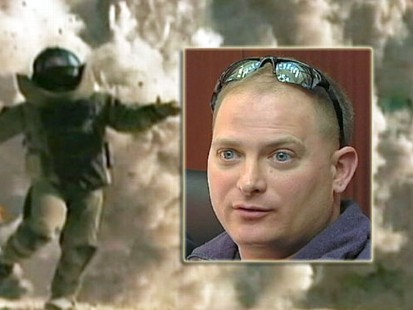 But even that court edict didn't support actress Olivia de Havilland lawsuit which was kicked out of court regarding her depiction in 'Feud: Bette and Joan'. As the film makers were once again protected by the First Amendment.
There's three challenges for any film maker wanting to make a true life story into a film. The first is to win the trust of the person whose story you want to film. The second is that occasionally the subject wants to control how they're depicted and therefore ask to direct the film. The third challenge is always legal as everyone who's is still alive and is going to be in your film must sign a release form. Most people will sign the release form right away but when people see Hollywood sniffing around thy se dollars and will use their leverage to demand something in return for signing the release and its usually money.
Quite what the Thai rescue film will be like when its released is anyone's guess but it will join the long line of  potentially disastrous true life stories turned into films that have included the similarly themed The 33, Apollo 13, Dunkirk, Jungle, Adrift, Sully, The 15:17 to Paris, Deepwater Horizon and of course Guardians of the Galaxy Vol 2 ('You're fired!' – Ed)