Disney who now own Pixar, Marvel, Star Wars (& the Indianna Jones franchise) and now 20th Century Fox are looking at their own back catalogue and having settled on one of their classics have now released the Mary Poppins Returns trailer.
Julie Andrews played the iconic role way back in 1964 and now Emily Blunt takes on the role from P.L. Travers' books. We've had a fair few delayed sequels recently with Blade Runner 2049 coming 35 years after the original but the Mary Poppins Returns trailer is a massive 54 years later.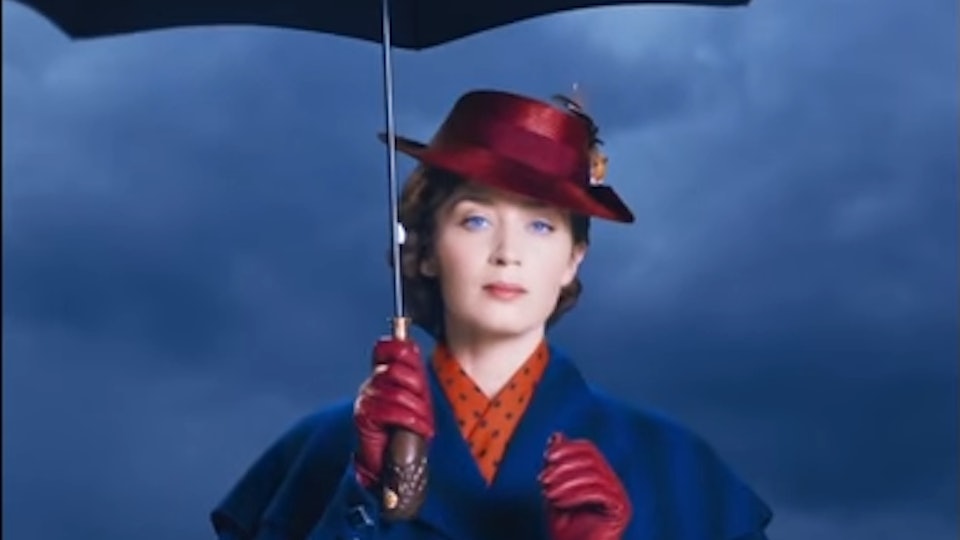 Rob Marshall, who was only four years old when the original was released, directs the sequel which is set in 1930s London as Jane Banks (Emily Mortimer) and Michael Banks (Ben Whishaw) who are now grown-up with Michael still living in the house on Cherry Tree Lane with his three children and a housekeeper named Ellen.After Michael suffers a personal loss, Mary Poppins comes back to the Banks family with street lamplighter Jack (Lin-Manuel Miranda), and eccentric cousin Topsy Turvy (Meryl Streep).
Marshall is wholly suited for this sort of material having directed the Oscar winning Chicago and Into the Woos which Emily Blunt also starred. Blunt has been extremely busy herself with massive box office successes (A Quiet Place) critical successes (Sicario) and crowd pleasing adaptations (The Girl on the Train). and from the Mary Poppins trailer she can expect further success. She's likely to continue this having recently finished filming with Dwayne Johnson on Jungle Cruise for release next summer.
Quite whether audiences will be treated another american accent recreating another appalling cockney accent a la Dick Van Dyke remains to be seen though he does have a role in the film as does Julie Walters, Angela Lansbury, Colin Firth & David Warner
The film is slated to open in cinemas on December 19th 2018.
Here's the Mary Poppins Returns trailer…….