The inimitable Kiefer Sutherland returns as the all-powerful, accidental Commander-in-Chief, Tom Kirkman, for the enthralling Second Season of the award-winning hit series Designated Survivor, from renowned US network ABC.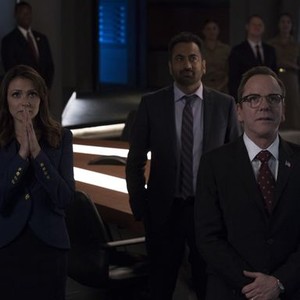 Following on from the thrilling first season – where lower-level cabinet minister and Designated Survivor Tom Kirkman (Sutherland), is suddenly appointed President of the United States, when a devastating attack on the US Capitol wipes out most of the government – we join the new leader one year into his presidency. With the support of his devoted wife First Lady Alex Kirkman (Natascha McElhone – Californication), President Kirkman is starting to find his feet as the most powerful man in the world. The terrorists who took down the Capitol are still at large and the President will stop at nothing to bring justice to the people they killed, even if it means making personal sacrifices. The POTUS must navigate the running of the country and the daily flow of crises inside the West Wing, from aeroplane hijackers and border disputes to negotiations with infamous warlords and virus outbreaks, with the help of his loyal staff.
Designated Survivor also features appearances from Hollywood favourite Michael J. Fox and Kim Raver as multi-episode guest stars and arrives on DVD, including all 22 gripping episodes and a host of brand new special features on 1 October 2018.
To win a copy just answer the following question:
Which TV series did Kiefer Sutherland play Jack Bauer thwarting terrorist plots?
a) 8 and a half
b) 10
c) 24
To enter just:
*******COMPETITION CLOSES at 23:59 hrs on 14th OCTOBER 2018*******
Entrants must be residents in the UK.
There is no cash alternative to the prize stated. The prize is not transferable and no part or parts of the prize may be substituted by the winner for other benefits, items or additions.
Winners will be picked by the site.
Winners name, e-mail address and address will be passed to a third party provider for contact and prize delivery.
Here's the trailer for Designated Survivor…….