Whilst Sicario was one of the best thrillers of 2015 the announcement of a sequel (Sicario 2)  was much anticipated and though Emily Blunt, director Dennis Villeneuve and DoP Roger Deakins didn't return Josh Brolin and Benecio Del Toro did. With scriptwriter Taylor Sheridan intending the story to be a trilogy the first film had Blunt's character as an outside looking in at the murky world of covert operatives fighting fire with fire and the government only too happy to turn a blind eye.
This time Brolin goes after the Mexican cartels who this time are involved in people smuggling which in allows a group of Islamic terrorists to enter the US and commit a particularly horrific and all too plausible suicide bombing. To this end Brolin re-hires Benecio Del Toro as the former attorney turned vengeful renegade to play the cartels off against one another. All goes as planned until the plan goes awry and Del Toro, having lost his own family, becomes a surrogate father to a young teenage girl that he has to keep alive from both the pursuing cartel and government operatives.
Brolin is ruthlessly brutal in achieving his objective and Del Toro, consumed with revenge against the cartels who killed his own family, for once has to rediscover his humanity again to protect the girl in his charge from being killed.
Originally called Soldado (Mexican for soldier) it had Sicario 2 added to make audiences aware of the connection with the first film.
We. Love This. Film.
It's a cracking thriller and is likely to appear on our end of year, 'Best of' list so it comes with high recommendation and you can win a blu ray copy of Sicario 2 here.
All you have to do is just:
…….and that's it!
*******COMPETITION CLOSES AT 23:59hrs ON 11th NOVEMBER 2018*******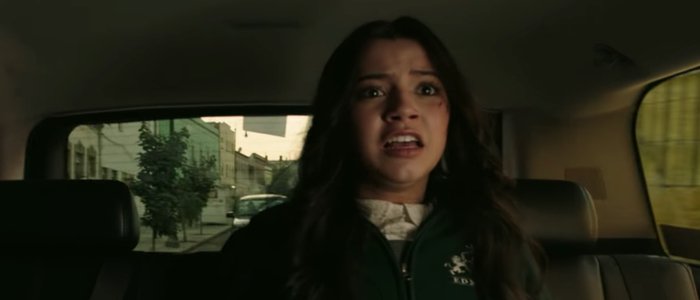 Following condition apply:
Entrants must be residents in the UK.
There is no cash alternative to the prize stated. The prize is not transferable and no part or parts of the prize may be substituted by the winner for other benefits, items or additions.
Winners will be picked by the site.
Winners name, e-mail address and address will be passed to a third party provider for contact and prize delivery
 The winner will be contacted via twitter DM for their details. Failure to reply within 48hrs will forfeit the prize and another draw will take place for a winner.
Here's the Sicario 2 : Soldado trailer …..