So whilst Sylvester Stallone will forever be associated with Rocky and Rambo one of his very best films was the blockbuster Cliffhanger an iconic action films of 1993 coming out  just before Jurassic Park laid waste to every other film that year. Well it seems that there's going to be a Cliffhanger remake.
Rumour has it that producer Neal Moritz is currently developing a new version of the cliff-climbing actioner. The Cliffhanger remake will be helmed by Ana Lily Amirpour who made the critically acclaimed black and white horror film, "A Girl Walks Home Alone At Night'. The reason for a female director appears to be because this will have a female slant an the film makers are looking for a female lead to take on the Stallone role and its believed that actor Jason Momoa is reportedly in talks to make a cameo appearance. The script for the Cliffhanger remake is being written Sascha Penn who was behind the recent, 'Creed II'.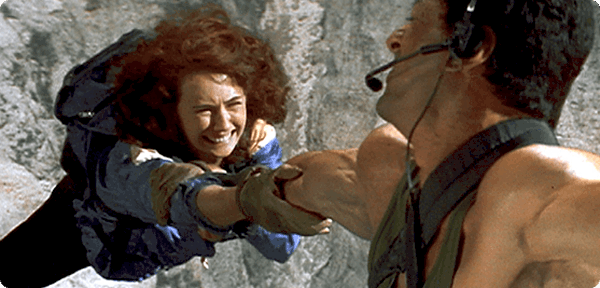 We're not really sure why this is being remade because it was undoubtedly one of Stallone's best films with an iconic trailer and included a brilliant aerial stunt which influenced the start of Christopher Nolan's 'The Dark Knight Returns' where Bane escapes from a heavily guarded plane mid flight. The scene in Cliffhanger saw a group of thieves pull off an ambitious mid-air heist only to drop suitcases full of money on the mountain below. Stallone's Gabe, an expert climber who lost his friend's girlfriend in a climbing accident a few years before (another iconic scene), is visiting his old colleagues who work on the mountain and is soon forced by the crooks to help rescue the three caches of money that fell. Janine Turner, Michael Rooker, John Lithgow and Caroline Goodall also starred.
Unfortunately at present it seems that Stallone has no involvement in the film – we've a piece on the making of Cliffhanger here