A little while ago we told you here about the Jumanji sequels which was always going to be a sure fire thing with the first film having made an enormous $962m worldwide. So now we have Jumanji The Next Level trailer which is a direct follow-up to 2017's megahit "Jumanji: Welcome to the Jungle".
The four main characters are back again but the game has changed in the new film as the same teens return to Jumanji to rescue one of their own. They soon discover that nothing is as they expect and have to brave parts unknown and unexplored, from the arid deserts to the snowy mountains, in order to escape the world's most dangerous game.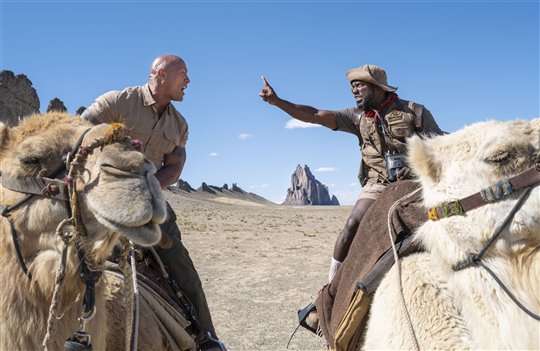 Returning to their roles in the Jumanji The Next Level trailer are Dwayne Johnson, Karen Gillan (still in hot pants to the outrage of feminists), Kevin Hart, Jack Black and Nick Jonas as the game avatars and rejoining them again for this sequel are fellow returnees Alex Wolff, Madison Iseman, Ser'Darius Blain, Morgan Turner, Colin Hanks (Tom's son) and Rhys Darby. Filling out the cast this time are Danny DeVito, Awkwafina, Danny Glover and Dania Ramirez. Scott Rosenberg and Jeff Pinkner who wrote the 2017 film as well as venom have penned the script with director Jake Kasdan returning to direct.
From the look of the Jumanji The Next Level trailer this should be a sure fire hit after the relatively disappointing earnings for 'Fighting with my Family' ($39m worldwide) and Skyscraper, a summer blockbuster that made a relatively disappointing $304m. This summer sees Dwayne Johnson returning in Hobbs & Shaw, a spin off from the Fast and Furious franchise in what looks like a guaranteed action blockbuster.
The film opens in the UK and the US on December 13th 2019.
Here's the Jumanji The Next Level trailer…….