With the first two Matthew Vaughn directed Kingsman films making $414m and $410m a third film was inevitable and now we have a third film which is a prequel and we now have the first The Kings Man trailer starring Ralph Fiennes, Gemma Arterton, Rhys Ifans, Matthew Goode, Tom Hollander, Harris Dickinson, Daniel Brühl, with Djimon Hounsou, and Charles Dance.
As a collection of history's worst tyrants and criminal masterminds gather to plot a war to wipe out millions, one man must race against time to stop them. Discover the origins of the very first independent intelligence agency in THE KINGS MAN.
With The King's Man trailer out Vaughn has already stated that once the prequel wrapped the aim was to get to work on a proper "Kingsman 3". That film will close out the saga of Taron Egerton's Eggsy and Colin Firth's Harry. The one catch of course is that the films are a Fox property one that's owned by Disney and whilst The Kings Man was already too far along filming to scrap a third film to round off the franchise is in the early stages of scripting.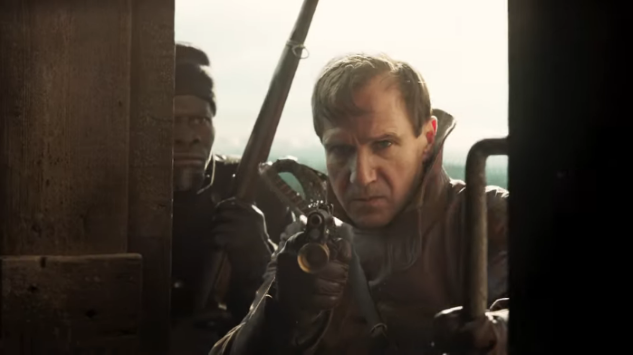 When doing the rounds for Rocketman which he produced Vaughn said, 'We've got to finish off the Eggsy and Harry relationship. The final chapter of their relationship needs to be told, which we've got ready to do, and I'm hoping to shoot that later this year or the beginning of next year. As Taron was saying, he's looking forward to becoming Eggsy again, because emotionally it's a lot less draining [than Rocketman'
This new film was to be titled The Great Game before settling on The Kings Man which if the trailer is anything to go by is clearly going to be a period piece.
The film  is due to be released 22nd December 2022
Here's The Kings Man trailer…….
Here's the latest The King's Man trailer and is far, far bloodier …….