Who doesn't like watching massive, leathery skinned, drooling monsters parading across the screen screaming unintelligibly and in many ways this probably explains the appeal of Gemma Collins. Surprisingly the Monster Hunter trailer does not feature her but this is the latest from writer director Paul W.S. Anderson the man behind the Resident Evil franchise and this is another film base on a video game.
Behind our world, there is another: a world of dangerous and powerful monsters that rule their domain with deadly ferocity. When an unexpected sandstorm transports Captain Artemis (Milla Jovovich) and her unit (Ti Harris, Meagan Good, Diego Boneta) to a new world, the soldiers are shocked to discover that this hostile and unknown environment is home to enormous and terrifying monsters immune to their firepower. In their desperate battle for survival, the unit encounters the mysterious Hunter (Tony Jaa), whose unique skills allow him to stay one step ahead of the powerful creatures. As Artemis and Hunter slowly build trust, she discovers that he is part of a team led by the Admiral (Ron Perlman). Facing a danger so great it could threaten to destroy their world, the brave warriors combine their unique abilities to band together for the ultimate showdown.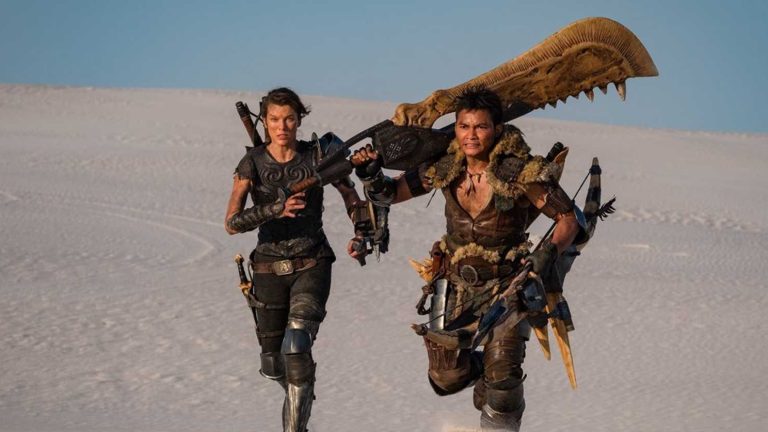 Now we're big fans of the old school stop motion monsters of Ray Harryhausen but though this is a CGI fest it looks good fun and despite it being another video game adaptation Anderson has proved a big success with these and was the first to hot box office gold with the Mortal Kombat film all the way back in 1995 an followed it up with the highly profitable Resident Evil franchise which ran to six films.
With Kung Flu on the rise there's no release date yet only that it's, 'coming soon to UK cinemas'
Here's the Monster Hunter trailer…….