Eddie Murphy was a huge star in the 80's making some of the decades highest earning comedies that included 48hrs, Trading Places and of course Beverly Hills Cop. His last really great comedy of that decade was Coming to America where he played a pampered African Prince who travels to Queens, New York, and goes undercover to find a wife that he can respect for her intelligence and will. Directed by John Landis it was a huge hit and now we can look forward to Eddie Murphy's Coming 2 America an inevitable sequel that is currently being shot.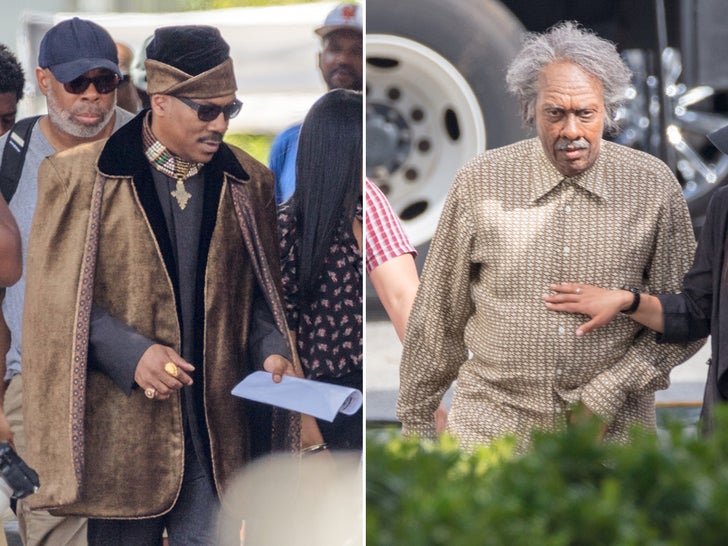 Here's what we know about Eddie Murphy's Coming 2 America :
The film is directed by Craig Brewer who has a load of TV series and the Footloose remake to his credit
As well as Murphy the film will also see Arsenio Hall, James Earl Jones and Shari Headley return and joining them are Tracy Morgan and Leslie Jones (Ghostbusters reboot).
Wesley Snipes will play the villain General Eazie who he describes as a sort of, 'comical Idi Amin'.
Best of all Murphy will once again play multiple characters including singer Randy Watson and his band Sexual Chocolate as will Reverend Brown, the various barber characters, and some new characters too.
The story follows Prince Akeem (Eddie Murphy), who is set to become King of Zamunda, until he discovers he has a son he never knew about in America – a street-savvy Queens native named Lavelle (Jermaine Fowler). Honoring his father's dying wish to groom this son as the crowned prince, Akeem and Semmi (Arsenio Hall) set off to America.
The film is set to be released in the US on 18th December 2020.
Coming to America did great business earning $288m worldwide and garnered decent reviews too and rumour has it that Murphy feels under pressure for Coming 2 America to be as good as the original. Lets hope its infinitely better than the truly awful 'Norbit'.
Here's the trailer for the original…….