The only Josie that came to mind for us was the ropey 70's cartoon Josie and the Pussycats which was later made into a disastrous film. Thankfully this Josie is a very much different matter
Starring Sophie Turner (X-Men:Apocalypse) as Josie a mysterious and alluring high school student who moves into an apartment in the rundown Pink Motel, attracting the attention of long-term resident and local loser Hank (Dylan McDermott). Striking up a friendship, middle-aged Hank soon becomes fixated on this free-spirited teenager.  Haunted by disturbing visions and guilt from his past, frustrated at not being able to get close to Josie, and driven to jealousy when she starts seeing her classmate Marcus, Hank's simmering obsession with the teenager starts to boil over.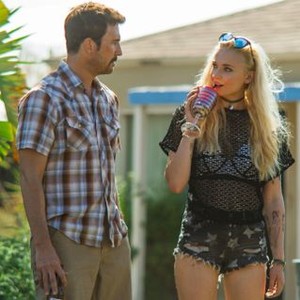 Turner ditches the Game of Thrones braided hair and heavy robes for a bleach blonde look and cut off denims as the gum-chewing, tattooed high school student who bewitches a small town loser. . She is perfectly cast and irresistible as the girl whose arrival in a small town turns it upside down.  American Horror Story's Dylan McDermott is excellent as the world-weary, downtrodden Hank, a solitary man who works as a school parking monitor and has pet tortoises for company. Josie is a slow-burning film that takes some devilish twists before its gripping, painful and wholly unexpected climax.
To win a copy just:
*******COMPETITION CLOSES AT 23:59hrs on 20th JANUARY 2019*******
Following condition apply:
Entrants must be residents in the UK.
There is no cash alternative to the prize stated. The prize is not transferable and no part or parts of the prize may be substituted by the winner for other benefits, items or additions.
Winners will be picked by the site.
Winners name, e-mail address and address will be passed to a third party provider for contact and prize delivery
Winner will be contacted via DM but must reply within 48 hours or prize will be forfeited and another winner chosen
Here's the Josie trailer…….