The AnyGoodFilms Christmas party or Mayhem as it retrospectively gets referred as is also the brilliantly executed action-horror-comedy which sticks two fingers up at office politics and then proceeds to rip out the charred heart of humdrum 9 to 5 society today.
Delivering buckets of inventive blood-drenched splatter and barbed, witty social commentary, director Joe Lynch's frenetic thriller Mayhem asks how far you would go to get ahead at work if your darkest impulses ran unchecked. Frankly we thinks it's how our Editor got his job ('You're fired! – Ed)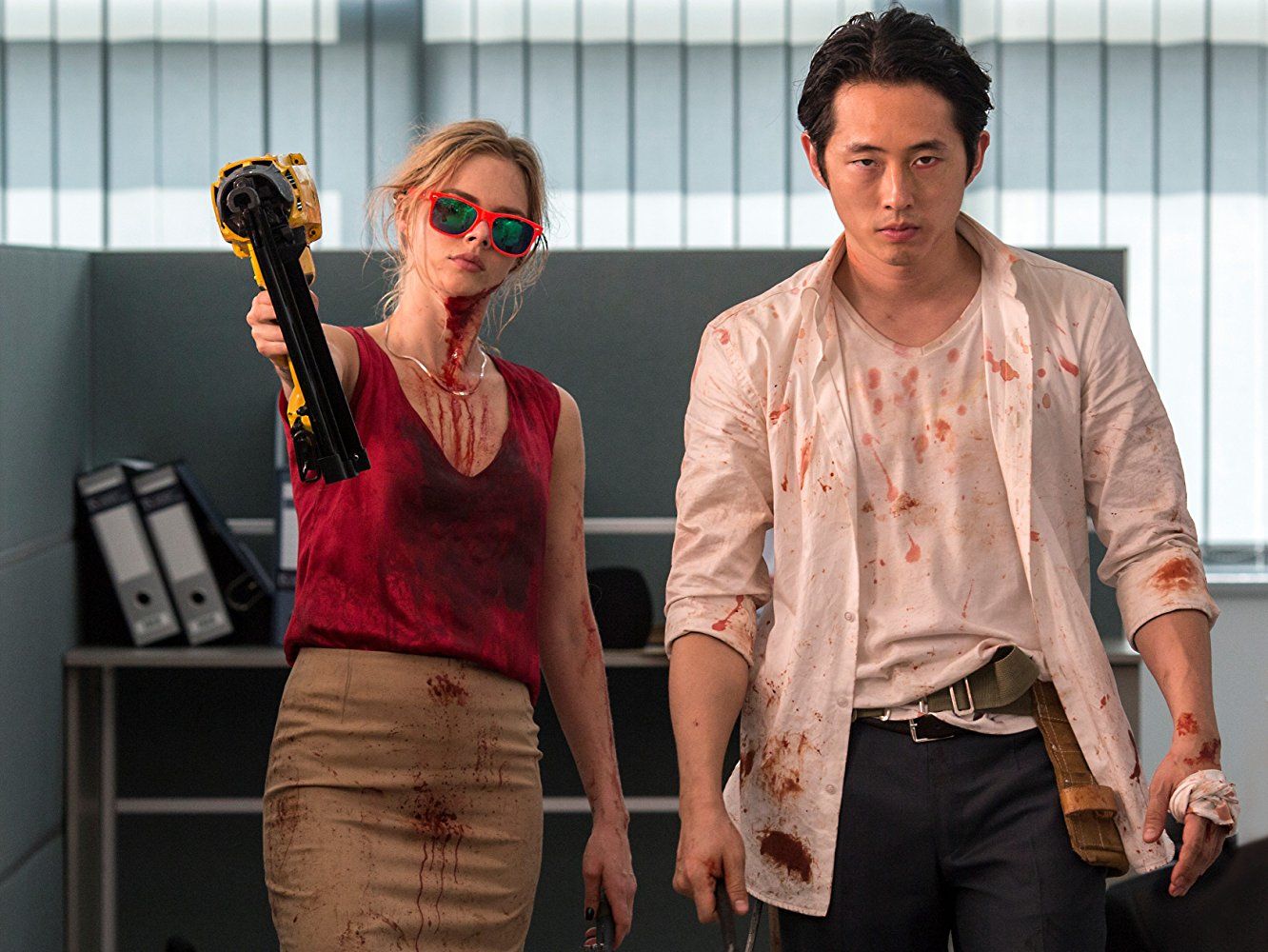 In Mayhem, Derek Cho (Steven Yeun, The Walking Dead) is having a really bad day. After being unjustly fired from his job, he discovers that the law firm's building is under quarantine for a mysterious and dangerous virus. Chaos erupts throughout the office as the victims of the disease begin acting out their wildest impulses. Joining forces with a former client (Samara Weaving, Ash vs Evil Dead) who has a grudge of her own, Derek savagely fights tooth and nail to get to the executives on the top floor and settle the score once and for all.
MAYHEM received its World Premiere at the 2017 South by Southwest Film Festival to critical praise followed by sold-out international screenings including Fright Fest 2017.
To win one of THREE copies of Mayhem just answer the following question….
What 2017 film directed by Greg McClean & written by James Gunn featured an office block locked down with its employees instructed to kill each other?
a) The Office
b) The Belko Experiment
c) Office Christmas Party
To enter just:
*******CLOSING DATE is 23:59hrs on 29th July 2018*******
Following condition apply:
Entrants must be residents in the UK.
There is no cash alternative to the prize stated. The prize is not transferable and no part or parts of the prize may be substituted by the winner for other benefits, items or additions.
Winners will be picked by the site.
Winners name, e-mail address and address will be passed to a third party provider for contact and prize delivery.
Here's the Mayhem  trailer…….