Every rapper strives for his street cred so quite why Snoop Dogg decided to drop kick his irretrievably into a black hole when he appeared on Essex' very own bad boy in da ghetto Olly Murs last record is anyone's guess lending him as much credibility as Stephen Hawking being shortlisted for Sports Personality of the Year. New film VS is a different matter though throwing down some rhymes in this street smart rites of passage drama set against the thrilling, confrontational world of rap battles.
A scorching debut from director Ed Lilly, who co-wrote the script with Daniel Hayes, VS. is a gritty, urgent, exciting drama that takes a no holds barred look at a living large spitting bars rap youth culture. Featuring a stand-out, emotionally-charged lead performance from Connor Swindells VS. also boasts a first rate cast of up-and-coming talent including The First Purge star Joivan Wade, Fola Evans-Akingbola, rapper and musician Shotty Horroh in his film debut and Nicholas Pinnock as well as award-winning veteran actress Ruth Sheen,(Vera Drake).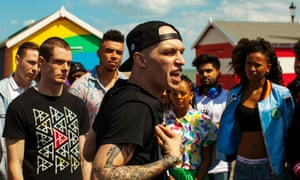 With a sensational soundtrack featuring the likes of grime superstars Stormzy, Skepta and Bugzy Malone, the film is thrillingly authentic thanks to the involvement of experienced battle rappers including Shotty Horroh, Rowan 'Eurgh' Faife, Tony D, Shuffle T and Gemin1. After garnering a host of rave reviews on its cinema release, this 8 Mile for a new generation is a rap-packed, big-hearted blast of an experience.
To win a copy  just:
…….and that's it!
*******COMPETITION CLOSES AT 23:59HRS ON 17TH FEBRUARY 2019********
Following condition apply:
Entrants must be residents in the UK.
There is no cash alternative to the prize stated. The prize is not transferable and no part or parts of the prize may be substituted by the winner for other benefits, items or additions.
Winners will be picked by the site.
Winners name, e-mail address and address will be passed to a third party provider for contact and prize delivery.
Here's the VS trailer…….