So we're really REALLY pleased to be able to offer you the chance to win one of the finest horror sequels ever made, the fantastic, Evil Dead 2.
Sam Raimi's notorious 1981 original film was an astonishing debut made with his high school mate Bruce Campbell about a group of friends staying in the proverbial cabin in the woods when they uncover an old ¼ inch tape that when they play summons up the woodland demons to horrific effect……in fact so horrific that the film, whilst loved by all that saw it, ended up on the infamous British video nasty list.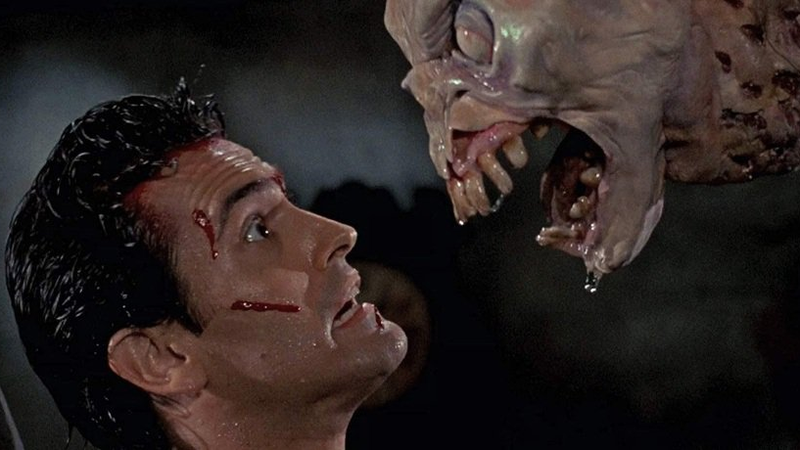 It indelibly stamped its way into the minds of a whole generation and its success led visionary maverick director Sam Raimi to elaborate on its twisted scenario. Made in 1987 Evil Dead 2  featured B-movie legend Bruce Campbell in his most iconic role, EVIL DEAD 2 is a gore-fueled, splatstick masterpiece that gleefully stomps on the entrails of good taste whilst puking in the face of Hollywood with no apologies. This is one of those rare things…….a sequel as good as, if not better, than the original.
The film has had a brand new 4K restoration and we'll have a full review of the disc next weekend but here's a chance to win a DVD of Evil Dead 2…….in the words of Ash, 'Groovy!'
To win a copy of EVIL DEAD 2 all you have to do is;
……..and that's it!!!!!!!
*******COMPETITION CLOSES AT 23:59hrs on 10th FEBRUARY 2019*******
Following condition apply:
Entrants must be residents in the UK.
There is no cash alternative to the prize stated. The prize is not transferable and no part or parts of the prize may be substituted by the winner for other benefits, items or additions.
Winners will be picked by the site.
Winners name, e-mail address and address will be passed to a third party provider for contact and prize delivery.
 Here's the Evil Dead 2 trailer…….