Now we've always regarded the second part of the Lord of the Rings film trilogy as being three hours of trees walking across landscapes inhabited by dwarves trying to protect their rings. It all came from the mind of JRR Tolkien who had an interesting early life before turning his hands to writing and the film Tolkien is about……well…Tolkien
From legendary halls of Oxford to the grim and bloody trenches of World War I, this enthralling biopic explores the early years of J.R.R Tolkien (Nicholas Hoult) and the relationships that defined the legendary author he would become. Chronicling his romance with Edith Brant (Lily Collins), as well as the various members of the Tea Club, Barrovian Society, Tolkien slowly grows from a shy and bookish young man into one of history's most beloved writers – seasoned by life, and everything that comes with it.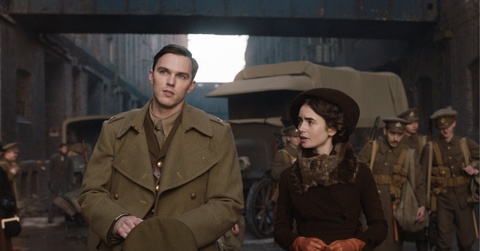 You can win a copy of Tolkien here and it has a superb array of excellent bones features which includes:
Special Features (Blu-ray & DVD)
•Deleted Scenes with optional commentary by Finnish director, Dome Karukoski and this is first English language movie.
•First Look
•Gallery
•Audio Commentary by Director, Dome Karukoski
To win a copy just:
*****COMPETITION CLOSES AT 23:59HRS ON 15TH SEPTEMBER 2019*****
Following condition apply:
Entrants must be residents in the UK.
There is no cash alternative to the prize stated. The prize is not transferable and no part or parts of the prize may be substituted by the winner for other benefits, items or additions.
Winners will be picked by the site.
Winners name, e-mail address and address will be passed to a third party provider for contact and prize delivery.
Here's the trailer……..
TOLKIEN IS RELEASED ON DVD, BLU RAY AND ALSO DIGITAL DOWNLOAD ON 9th SEPTEMBER 2019