Like many kids in California John Landis was obsessed with movies and was determined to work in the industry where he blagged his way into working as an uncredited stuntman on a number of films that included 'The Good the Bad and the Ugly' and 'The Italian Job'. But what he really wanted to do was direct and he put all his savings into writing and directing Schlock where he also starred in the lead role.
Inspired by Joan Crawford's last film Trog, a truly lamentable monster movie, Schlock would draw just as much on King Kong. Landis film would feature the banana killer an ape like creature that terrorized a small town and falls in love with a blind woman who thinks he's a giant dog. It's as enjoyably daft as it sounds. Shot in less than two weeks it featured many of his trademarks which continued throughout his career. It was also the first credited work of modern day make up genius Rick Baker. On the lowest of budgets Landis was to play the ape himself but needed an affordable costume and everyone he had asked had quoted him a cost far exceeding the entire budget of his film. It was by sheer luck that Baker was suggested to him who at the time was making monster outfits at his parent's house. Admittedly the costume that Landis wears as Schlock is hardly great and as the film progresses it gets increasingly matted, worn and frankly threadbare (watch the ape costume knees as the film continues).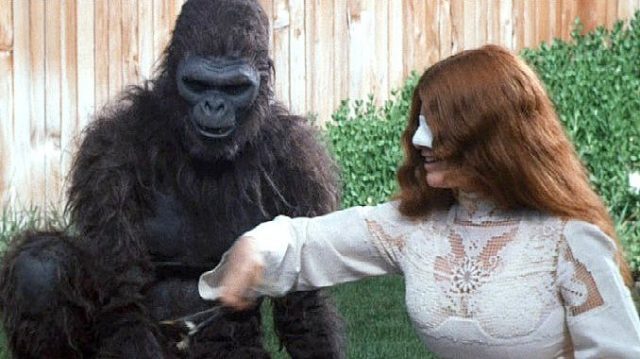 Both Landis and Baker who were the same age and Schlock would launch their careers which for Baker would come to a peak with 1981's An American Werewolf in London which would earn him the first ever Best Make-Up Oscar that was introduced specifically due to his jaw dropping prosthetics. For Landis it was the launch of the horror comedy mash up that would prove incredibly difficult for all others that followed to strike as an effective balance as Landis had achieved.
Schlock, right from the start, has many of Landis early trademarks including his "See You Next Wednesday' film title that pops up throughout many of his subsequent films. The script had much of his quirky humour that was akin to Airplane and The Naked Gun that the Zucker-Abraham- Zucker brand would refine and who Landis would work with a few years later on his next film Kentucky Fried Movie. Schlock also showed Landis love of music and here it's in a comic duet that Schlock has with a blind pianist. It the directors love of music that would serve him well coming to a creative peak The Blues Brothers but most notably of all in the seminal and massively influential Michael Jackson video for Thriller.
Schlock also has cameos from Landis' own filmic heroes that includes amongst others horror producer Jack H Harris, a trait that Landis loved and which came to a head in his under appreciated 1985 film 'Into the Night' that starred Michelle Pfeiffer.
Schlock is a rarely seen film but the disc is well worth getting hold of coming as it does from Arrow videos who put so much work into their retro releases. So in addition to the 4K transfer this has a great commentary from Landis and Baker. Landis is such a natural and effusive raconteur that Baker struggles to get a word in but it's an insightful look at the early years of two filmmakers both highly influential in their own field. There's also a stand alone interview with Landis by what appears to be a film crew completely in awe of the relentless chattering director and he retells some great behind the scenes stories about how he started and what he went through to get Schlock made and distributed. There's also an archival interview with the late Bob Collins the DoP on Schlock who also cameos as a barman.
At 79 minutes it s a short film but even so it does have obvious filler but Landis is great as the ape Schlock with a Laurel & Hardy influence writ large on his performance which is never a bad thing. Schlock though far from being a classic is very funny in places and was almost a template for the rest of Landis career and he would have a lengthy run of consecutive hits following this with Kentucky Fried Movie, Animal House, Blues Brothers, An American Werewolf in London & Trading Places all in the space of 11 years. An astounding run of comedy hits by any measure. That Landis has not made a film since 2010's Burke and Hare is a shame and though Schlock is no Citizen Kane, it's an entertaining debut and worthwhile addition to any fan of the director's work.
Here's the trailer for Schlock…….
SCHLOCK is released on Dvd & Blu ray on 14th October 2018