Whilst the nouns bungalow, maisonette and prefab are hardly the thrusting dynamic words that will get a film title, Skyscraper is. And it's currently the world's biggest film star, Dwayne Johnson, who stars as Will Sawyer,  a former soldier who has lost his lower leg in a hostage crisis that went awry. Medically retired he's married his surgeon Sarah (Neve Campbell – in a bit of a career comeback) who later turns out to have the most astonishing fighting capabilities, and has two children. Will now works as a Health and Safety assessor for insurance underwriters and it's in this capacity that a former colleague Ben (Pablo Schreiber) who was also injured in the same hostage rescue op but who has suffered skin burns yet Johnson, having taken the full blast of an explosion, is without a single facial scar, gets him a job to assess the world's newest and tallest skyscraper
Travelling to Hong Kong with his family Johnson presents his safety brief to the CEO in order for them to get insurance for the multi billion dollar state of the art skyscraper. What could go wrong? Well the fact that the CEO has an obvious villain on his board of directors – obvious to us as he's a supercilious English man with hair like a Mr Whippy ice cream. It's only when a troupe of armed men break into the building,  set the skyscraper on fire with the CEO on the top floor refusing to leave confident that his state of the art fire fighting sprinklers will quell the inferno not knowing that the villains have managed to override the building IT system, that things start to go awry.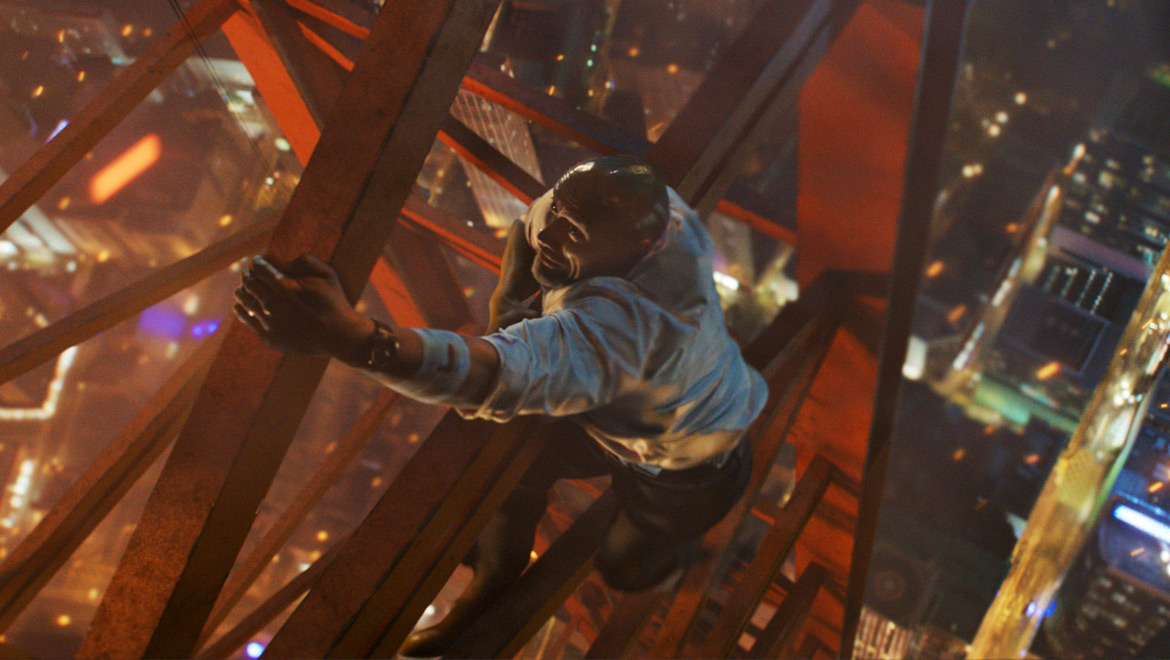 Having left the skyscraper to test an external control building Johnson soon finds that he's been fitted up to look responsible for the fire. Much like Heather Mills and her ludicrous divorce claims, Johnson hasn't a leg to stand……literally as his false leg often comes off at inconvenient moments and he has to break into the skyscraper so that he can rescue his family who were allowed to use a penthouse whilst they waited for him to finish his presentation. From hereon we have a series of set pieces including the best of the lot- the running across the giant crane to leap into the skyscraper. Director Rawson Marshall Thurber who has worked with Johnson previously on 'Central Intelligence' has written a script with a number of set pieces all having been hinted at early on when the CEO gives him a brief guided tour of the skyscraper showing him the huge turbines and the giant golf ball on the roof which houses a hi tech hall of mirrors akin to the opening scene of the Bond film, 'The Man with the Golden Gun'.
There are some very good vertigo inducing moments but several are let down by very obvious green screen CGI which undermines the occasional moment and isn't helped by the nick of time coincidences to get out of a life or death situation.
Indebted to Die Hard meets The Towering Inferno, Skyscraper is unfortunately not as good as either despite its brisk 102 minutes running time it's a little bit of a disappointment.
Here's the trailer……