Life on a canal boat is an idyll that most people in London can only dream of. And frankly it is a dream because the reality is that sitting in a damp wooden boat riddled with rot in water contaminated by rabid ducks, human faeces and decaying dead tramps floating face down in the canal is the stuff of nightmares. But Anchor and Hope presents a far more rosy picture starting with a deliberately paced opening shot of a canal boat's eye view sailing down a tunnel towards the light at the other end. The boat is owned by a lesbian couple Eva (Oona Chaplin) and Kat (Natalia Tena)who make their way to Germaine (Geraldine Chaplin) their scatty bohemian mother  to bury a cat who is insistent on giving the cat a proper send off by chanting some hippy mantra over it that sounds more like Friday night muzak in an Indian take away.
One of our writers lived on a main A-road during his childhood and he's the first to admit that pets didn't last very long. Cats, dogs, budgie's, goldfish they all got run over. So apart from gold fish their life span seems similarly restricted on a longboat and its then that Eva reveals that what she actually wants is a baby. Straight away it puts a cat amongst the pigeons because Kat is vehemently against the idea but it's a friend of there's a relentlessly horny and stereotypical Spanish bloke Roger (David Verdaguer) who Eva decides to ask during a drunken spree one night.  Roger agrees only to find the following morning that it was not a joke.
In the word's of the Greek philosopher & pop warbler Meat Loaf, 'I would do anything for love but I won't do that' are words that he never utters but is clearly thinking. It's the cause of an argument but eventually Kat backs down and Roger donates with a slightly queasy scene where he knocks one out in their longboat loo. And what a racket he makes doing it as he stimulates himself as he watches a specialist  interest art film on his phone whist furiously masturbating like a safari park chimp.
So the old joke about turkey baster is put to one side in favour of a syringe as Eve tries to impregnate Kat with it. Kat is still resentful of wanting a child fearing a loss of independence. It's perhaps only too understandable as our own Editor never wanted a child either although admittedly it wasn't until his twins were 14 years old that he realised………but we digress.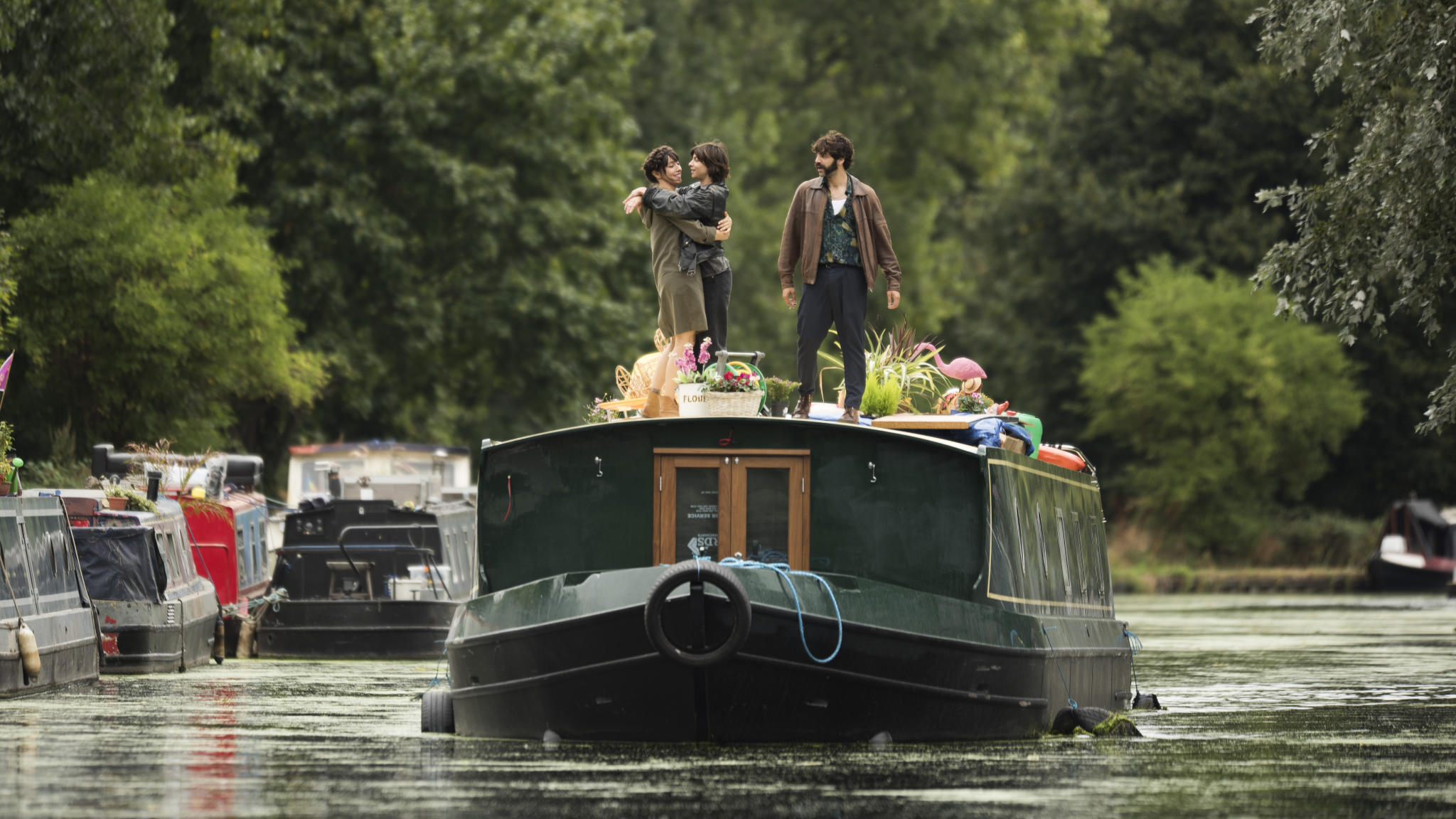 The turning point for their dilemma is when Eva's mother drops in on the three of them. It's a great little scene with Oona Chaplin's real life mother Geraldine playing her on screen mother. Germaine recounts a hoped for utopia when she lived in a commune during the sixties and tells him that his paternal instincts will kick in when the child is born and he won't want to walk away as easily as he thinks he will. It's all comes crashing home when he sees the first baby scan and realises that Germaine is right. A complicated matter has just got worse.
This year has seen a flurry of gay themed films that included 120 bpm, God's Own Country, 'Love, Simon' and Ideal Home and it makes a change for a female perspective on the genre and Anchor and Hope is an endearing pre Brexit love triangle rom-com.
Here's the Hope and Anchor trailer…….