Working conditions for child actors on films sets are very tightly controlled and understandably so with working hours restricted and the kids having on set tutors to make sure they don't slip behind with their academic studies. But perhaps what many will be curious about after watching this weeks new release 'Good Boys' is the three boys profanity littered dialogue and their scenes with the Good Boys sex doll as well as with toys of a far more adult nature of which they are wholly unaware.
On the set the kids (Jacob Tremblay, Brady Noon & Keith L Williams)  got to learn new and exciting words, but things weren't exactly free-range off set. Their parents set strict rules about using profanity when the cameras weren't rolling. "I learned at least 11 new curse words while making the film," says  Brady Noon who plays Thor. "My mom laid down the rules about cursing before we started shooting. What was said on set had to stay on set." Keith L Williams (Lucas) adds: "I don't curse like Lucas does in real life. I told my mom that it was only during the movie and that I would pray after my cursing scenes." On their time off the kids had sleepovers, went swimming, hiking and played their favorite game: Fortnite. In many ways, the kids are real-life Beanbag Boys. Or, as Williams describes their cinematic counterparts: "Max, Thor and Lucas are best friends and have always known each other. They tell each other everything."
As the boys are maturing and starting to take interest in sex, there's a serious lack of expertise. A sex toy to the kids appears to be just nunchucks, beads meant to be used in the bedroom are a necklace given to a potential girlfriend. In order to learn to kiss, they think they can gather intel from spying on girls next door. The pre-teens of Good Boys think they understand the world of adults, but constantly misinterpret it through their own lens, which wasn't dissimilar to the actors themselves. "Although there are some inappropriate things that are said and happen in the film, the boys didn't really know what a lot of the things were," Molly Gordon who plays Hannah their teenage nemesis says. "It was relieving."
At one point in the film, the boys, in an effort to generate enough money to buy a new drone, attempt to sell a valuable Ascension gaming card on line. But with the potential buyer now arriving at the house, they worry that he might also be a paedophile, so they take the doll Thor found in his parents' hiding place—it's actually a Good Boys sex doll, but they don't know that—and prop it up in an adjoining room. The plan is to pretend that the doll is Thor's mother. Into this walks the buyer, played by writer/producer/director/ actor Stephen Merchant. The filmmakers had worked with Merchant since their time on The Office, and they knew there was no other actor who could bring more life to this awkward character—a man who, it turns out, is also an expert on vintage Good Boys sex dolls and ultimately becomes more interested in the doll than in the Ascension card he came to the house to buy.
"We wrote the part for Stephen," director / writer Gene Stupnitsky says. "He's one of the funniest people on the planet and a good friend of ours. Stephen around children is just insanely funny. The physicality alone? He towers over them. He's an adult amplified. There's that much more physical distance between them—from the way he looks down at them. His character is also so passionate about getting the card. He's weirdly on their level with what they care about."
Merchant and the filmmakers decided to wring every bit of comedic potential out of the bizarre Good Boys sex doll scenario. "I had a conversation with Stephen when he came in for his fitting," says co-writer Lee Eisenberg. "It was so funny to do as deep a dive with character motivation that you would for one in a lead role—especially a guy who the kids think is a pedophile, and who is buying a used Good Boys sex doll from a bunch of 12-year-olds." Merchant appreciates the odd assortment of thespian badges he achieved as a performer on Good Boys. "There were a lot of firsts for me working on this movie," Merchant says. "My first time acting opposite three teenage boys, first time acting with a goatee, first time carrying a lifelike sex doll. That sex doll was unbelievably heavy. I actually hurt my back lifting her. Sex perverts must have great upper body strength. Who knew?"
Aches and pains aside, he lauds the professionalism of the film's young leads. "I thought Jacob, Brady and Keith were all terrific," Merchant says. "What's great about working with kids is that they don't have the actor-y urge to question everything. A kid is not saying 'What's my motivation?' Lee and Gene don't have to spend 30 minutes discussing with Jacob why his character is wearing a gimp mask; he just puts it on and does the scene. You can't say that for most other SAG Award nominees."
When it came to explaining to the tweenie stars what a Good Boys sex doll and adult toys were, the easy way out for anyone on set became "Um…ask your mom." While the filmmakers had nothing but support from the families of the kids starring in Good Boys, inevitably, awkward conversations about set props would come up. "The parents read the script, so they knew what they were signing up for," says Gene Stupnitsky. "We'd throw out alts, but the kids didn't know what they were saying. One time, in a scene with the Good Boys sex doll, they asked us: 'Why does the doll have a vagina?' I was frozen, but Stephen Merchant, bless his heart, jumped in with 'Doctors use it in medical school to practice.' They seemed to be okay with that explanation."
Lee Eisenberg says that their go-to solution was to deflect and move on. "Generally speaking, we didn't engage with them on those questions," he says. "So, if they asked us about what a line meant or what a prop was, we'd say, 'Go ask your mom or dad.' That allowed them to have those awkward conversations." Unsurprisingly, the trio of boys all had a little bit of (mis)information to share. "They'd huddle and trade notes about 'What is this?'" Eisenberg says. "We just wanted them to say the words. The less they knew, the better."
When the screenwriters were crafting the story, they found the best humor came from a place of form following function. "The joke was always 'these are weapons,'" Eisenberg says. "Anything that could be thought of as a weapon and be a sex toy was in. A mask is scary, so 'you can't see our faces.' Nunchucks? Of course. There are only so many sex toys you can use as a weapon. I hope no one ever looks up our Google search from those weeks of trying to figure out how sex toys could be used as weapons." When asked if these props were Amazon deliveries or from multiple research trips to the adult book store, Stupnitsky replies, dryly, "They're from our personal collection."
Once they agreed upon scenes they wanted to shoot, Stupnitsky and Eisenberg had to work with their heads of department to see what was feasible. "You have an image, then need to make sure you want it on camera," says Eisenberg. "For example, with the ball gag that Lucas puts in his mouth when they're popping his shoulder back in—the imagine I had was from Pulp Fiction. While that ball gag is black, you can't dye something like that to put in someone's mouth. You get into all these weird conversations you never dreamed about when you are writing the script."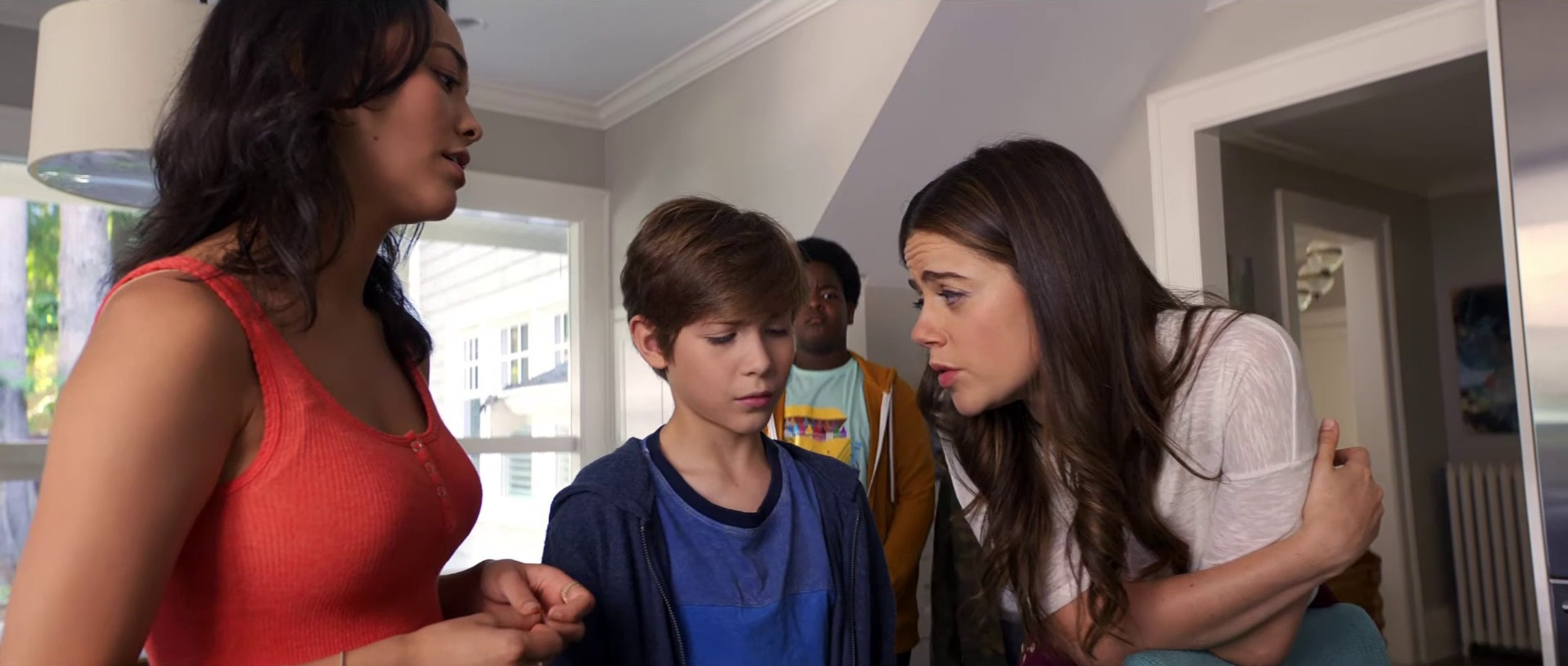 Turns out that shooting Good Boys was a fairy tale in a completely different way. "In prepping the movie, the propmaster would come in and say, 'Okay, we have three different anal beads," says Stupnitsky. It was like Goldilocks: 'These are too big, these are too small. These will show just right on camera.' You give notes for shorter, longer, etc., and they give you options. You have to talk to your DP to make sure it reads well on camera and that the colors are right—this one is shiny, this one is matte…"
For all of this, the filmmakers turned to propmaster J Drover , for his part, Drover totally related to the premise of the film. "We've all been or known 11-year-olds with trucker mouths," he says, "and this is very reminiscent of my growing up." Beginning with pre-production, Drover and his team were dealing with a fascinating array of sex toys, luxury lifelike Good Boys sex doll and high-end drones. "We had an endorsement from Pipedream, which is one of the biggest adult-toy designers and manufacturers," Drover says. "They signed on early on to help us out, and they were very flexible. We asked them to send a package of items, and that's what we got in front of Gene and Lee. We'd swing things around and discuss the logistics of whether they'd work like weapons or not."
Drover admits that, at the start of his career, he never imagined one day he'd be hand-making anal beads. "We made a set of our own using metal dowels and craft beads," he says. "We had that molded and cast in soft rubber, so the actors could swing them around and not hurt themselves. Another time, we modified a double dong to have it be stiff enough to go through door handles at the corner store. The special-effects guys were heating up a rod on the side of their truck. Anything to get the shot!"
Turns out that molding and casting multiple anal-bead sets and dildos was only the beginning. Next up: firing several $5,000 Good Boys sex dolls—ones the crew nicknamed Peaches—out of a van, in preparation for a scene in which a sex doll flies out of a car window. They needed to see exactly how it would look, and which ones would survive the fall. "We had three dolls from Pipedream, and they're a lot of logistical work," Drover says. "They are also quite delicate. You couldn't drop them on the ground because the skin absorbs anything and everything." Plus, as actor Stephen Merchant later discovered, "they're quite heavy and hard to move," Drover says. "I can't imagine using one for extracurricular purposes."
One of the Good Boys sex dolls is used for "beauty shots" in Thor's house, when Merchant's character is ready to buy Lucas' Ascension card, but instead goes to purchase Peaches "for the carpool lane." The other two were similarly used for purposes for which they were not originally, ahem, designed. "We spent a lot of time getting the Good Boys sex doll ready, and Peaches certainly was a heavy one," says additional photography prop master BEN KRAKOWSKY. "I learned a lot, including that they come with a USB vagina warmer." Under the supervision of special effects coordinator Paul Benjamin, the team modified two of the dolls. By lightening Peaches' shell for her aerial trip during the boys' highway jump, the SFX crew could fire her out of an air cannon from the van. (The boy actors, by the way, thought these dolls were CPR dolls.)
One of Peaches' co-stars was wholly not a fan. "The CPR doll was kind of creepy," Jacob Tremblay says. "When it was run over by a car, the eyes popped out, which was scary. I'm already scared of dolls, so that was extra creepy."
So we guess the lesson is never work with a Good Boys sex doll…….but you know there will always be another film that will feature one!