The first blockbuster of 2019 will be the James Cameron scripted Robert Rodriguez directed sci-fi extravaganza ' Alita Battle Angel '. Originally intended as his next film after Titanic, Cameron found that the technology in 2005 was not up to what he needed it to be for his script and instead moved on to focus his attention on making Avatar. Handing the script over to Robert Rodriguez it was pared down and went into production late 2016. With a trailer out earlier this year the film was intended for a Summer 2018 release it was pushed back to Christmas and now we will finally see the $200m epic in February 2019……
We've been give a sneak peak at some of the Alita Battle Angel scenes and thought we'd share what we saw with you eager to see what promises to be an astonishing spectacle.
The first scene we saw started with Alita lying on a bed, a big close up of her oversized anime eye waking up and joining Dr Ido (Christoph Waltz) at a kitchen table where he talks to her as his patient and as they do so she eats an orange. It's an understated display of the technical know how that this is a demanding scene to have Alita, who here has a motion capture face, convincingly eat the piece of fruit.
The second scene has Alita in the big city and encountering a huge robot centurion demanding everything move out of its way in the street trampling anything in its way. It's here that she saves a dog from getting injured and meets a boy on a motorcycle who is obviously destined to be the love interest.
The third scene has Alita with gang of similarly aged kids playing a game on roller blades  that's similar to rollerball, that mid 70's futuristic James Caan film. Here she has to prove herself against a another boy determined to humiliate her. The game is called motorball (we think).
The fourth scene has her in the Iron City where she encounters Dr Ido in a dark alley who's there to secretly meet someone. It's here that she has battle with a pair of psychotic cyborgs with knives for hands and out to kill hr and Dr Ido. Alita here begins to find her skills as a fighter as she battles to protect Dr Ido. She is Alita Battle Angel!
The fifth scene we saw had her with the boy she met earlier who we find out to be named Hugo and both are now outside the city in the countryside with several others one of which is the boy she played against in rollerball / motorball. The group find a huge rocket ship that crashed in to a lake and has been there for years as its covered in moss and algae. It's here that Alita goes into the water in what is a beautifully shot sequence as she walks across the bottom of the lake into the sunken rocket. Once inside she finds a state of the art cyborg body that does not appear to have been used.
The sixth scene has Alita talking with Dr Ido about the cyborg body she found in the rocket and using it to replace her own. It's here that the Dr tells her about the Berserkers, ruthless and lethal killing machines and warns her of the consequences of having such a state of the art cyborg body.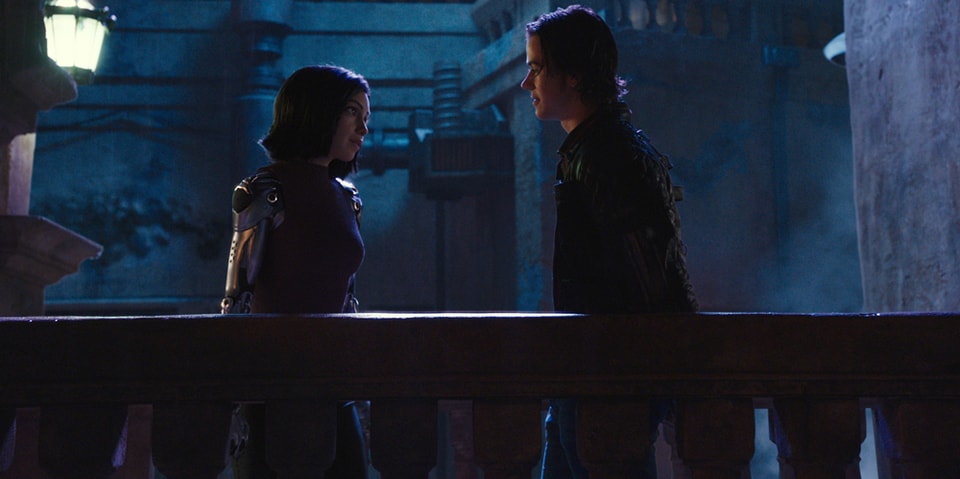 A further scene between Alita and Hugo develops their blossoming romance.
The nxt sene we saw was a fight between Alita and an enormous cyborg with knive wielding chains shooting out of his fists as she dives, rolls and sprints out of their reach
The final scene we saw was a rollerball / motorball sequence involving Alita Battle Angel and a number of other cyborgs of varying size and ferocity all out to put a terminal stop to her by any means necessary and what follows is a brutal chase scene in the stadium track.
What we saw had us excited to see the film and is very Cameron-esque with its strong female lead, state of the art technology and a love story to humanize the state of the art effects.
Alita Battle Angel opens in the UK on February 6th……..so we get it before the US.