Our Editor fancied himself as a ballet dancer because of the women and in order to impress them used to go to classes having shoved a potato down his tights only to find the women in the class steering well clear of him. It was only when someone pointed out that he should have put the potato down the front of his tights that he realised why women were avoiding him. ('You're fired!' – Ed). Anyway we digress ……Academy Award®-nominee Ralph Fiennes and BAFTA-winning screenwriter David Hare brings the incredible true story of the legendary Rudolf Nureyev, one of the greatest and most famous ballet dancers of the 20th century, vividly to life in THE WHITE CROW blu ray which you can win here
Starring dancer and actor Oleg Ivenko as the young Nureyev THE WHITE CROW portrays his early life from his childhood in Russia to a nail-biting escape from the KGB and his defection, in 1961 in Paris at the height of the Cold War.
With lovingly recreated period scenes of Leningrad in the 50s and Paris in the 60s and mesmerising ballet sequences, THE WHITE CROW is a visually rich, gripping and revelatory portrait of a complicated, fascinating and unique artist who became world famous and transformed ballet forever.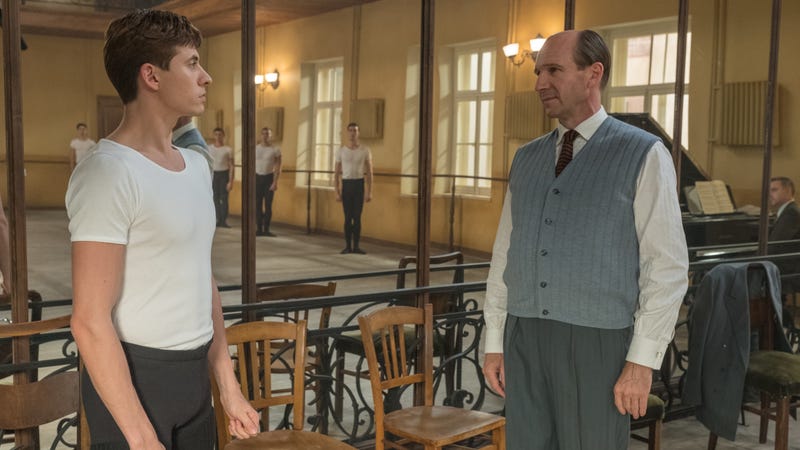 To be in with a chance of winning one of TWO The White Crow Blu-ray we have simply:
*******COMPETITION CLOSES AT 23:59hrs on 18th AUGUST 2019*******
Following condition apply:
Entrants must be residents in the UK.
There is no cash alternative to the prize stated. The prize is not transferable and no part or parts of the prize may be substituted by the winner for other benefits, items or additions.
Winners will be picked by the site.
Winners name, e-mail address and address will be passed to a third party provider for contact and prize delivery.
Here's The White Crow blu-ray trailer……..
THE WHITE CROW blu ray Digital Download, and DVD arrives on 5th August 2019