With the release of Die Hard on 4K for the first time we thought we'd have a look at one of the greatest ever action movies.
The 80's had seen brilliant action films wrapped up as sci –fi  led by The Terminator in 1984 followed by Aliens in 1986 and Robocop & Predator in 1987 whereas Raiders of the Lost Ark was a period set action film. Lethal Weapon had opened in 1987 and put screenwriter Shane Black on the map but it was Die Hard that really set the pace for contemporary set action films confining itself to one location, the Nakatomi tower. It was where some astonishing set pieces were set in, on and around the building that was actually the still being built HQ of 20th Century Fox that was financing the film
Based on the book, Nothing Lasts Forever, by Roderick Thorp the book was optioned originally by Clint Eastwood and a screenplay written by Jeb Stuart and Steven E De Souza. It was Stuart's first produced screenplay but was assisted by the experienced De Souza who had pumped out a load of TV series scripts but came to notice with the Eddie Murphy & Nick Nolte starrer '48hrs' before going on to write Commando & The Running Man for Schwarzenegger. He knew how to put an action film together and Die Hard was to be the best action script he would ever write.
Directing detail would fall to the upcoming John McTiernan who had hit paydirt with Predator the year before and was a showcase for his talent at set pieces and suspense. But it was the casting the lead role of John McClane in Die Hard that was to cause a headache. Though it would be the role that would make Bruce Willis, up until then he was known as a comic actor from a hugely successful TV seeries Moonlighting for which he was  to make 66 episodes before the series ended. Willis' first lead movie role had been in the lamentable comedy Blind Date with Kim Basinger who actually had the role with all the comic potential with Willis reduced to reacting to her drunken escapades on their date. Directed by Hollywood legend Blake Edwards the film garnered weak reviews with box office to match. After that was 'Sunset' another comedy helmed by Edwards where Willis played the cowboy Tom Mix to James Garner's Wyatt Earp. If Blind Date had done little box office business then Sunset folded quicker than a high speed origami competition. It left Willis future in film in flux. Audiences were not flocking to the cinemas to see his smirk
At one point Robert De Niro was even considered but he turned it down to make Midnight Run and the role had already been turned down by Sam Neill as well as Schwarzeneggar and even Al Pacino Eventually Willis' agent persuaded the producers and not only managed to secure him the role but got him a fee of $5m one of the highest paid to an actor at the time.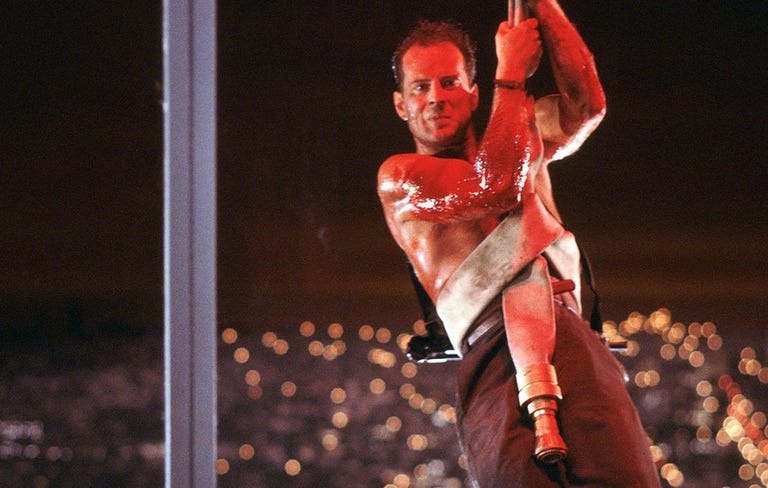 As good as Willis is in the role it's really the late Alan Rickman who made Die Hard so memorable for his villainous turn as Hans Gruber. Rickman was a respected British theatre actor and had been seen by producer Joel Silver and McTiernan and both realised that here was Hans Gruber. Incredibly at 41 years old Die Hard was to be Rickman's first film.  It was not an easy shoot for Rickman either unable to prevent himself from flinching when firing guns due to McTiernan's insistence that the blanks were upgraded for a bigger flash. Neither was he to have a good time when it came to filming his demise as he fell from the tower block. Rigged up to the top of a scaffold in a soundstage ready to drop on to crash pads below he was prepped for the drop to happen on a count of three. McTeirnan, unknown to Rickman, cued him to be dropped straight away and that unexpected shock of that premature drop is writ large all over Rickman's face and lovingly captured in slo-motion as he falls.
McTiernan had been a reticent about the script's darkness and brutality and though the film is remembered for its action a closer look reveals just how many funny moments are in amongst the action – the police sniper who cuts himself on a rose bush, the terrorist unable to resist the chocolate in the shop display, the Him-bo  news caster keen to show off his knowledge and looking so pleased with himself when he announces that Oslo is in Norway. Hart Bochner's oily executive too provides laughs with his over familiarity with Gruber which you know is only going to end badly for him.
Mc Tiernan assembled some edge of your seat set pieces – Willis falling down the lift shaft was an error by the stuntman but clever editing turned it into a catch your breath moment. And as for those exterior explosions going off around the tower – they were mostly real & full scale and on or around the tower itself.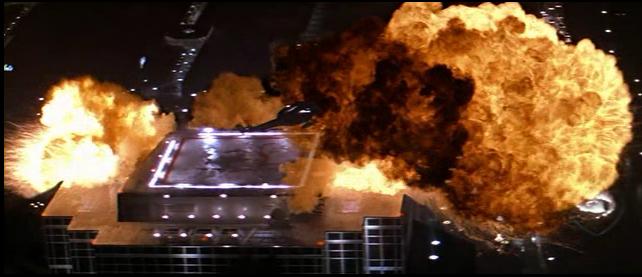 For Willis Die Hard was an arduous shoot primarily because he was also shooting a series of moonlighting simultaneously and he grew increasingly fatigued as the shoot went on and the script was tweaked to expand the other characters screen time. The script was littered with casual blasphemy and profanities and along with some of the killings ensured that the film got an R rating in the US and an 18 certificate in the UK when it was released on 20th July 1988 and 3rd February 1989 respectively.
Though the original poster only featured the tower block Willis face was soon added when the film immediately did good business eventually making $140m off its original $28M budget. Willis future as an action star was assured and John Mclane would become his signature role.
Sequels followed with Die Hard 2 being a worthy follow up and made even more money. However the third film, which was to be set on a ship, found itself victim of the success of Under Siege and was Steven Seagal's biggest hit before he appeared to dedicate the rest of his career to doubling his body weight. Instead a script called 'Simon Says' that had been knocking around Hollywood was tweaked to the Die Hard format. By now there had been three film in seven years and Willis would not return to the role for another 12 years in the respectable but clumsily titled 'Live Free or Die Hard' which made enough money to launch a fifth film, the lamentable 'A Good Day to Die Hard'.
Apart from maybe the first sequel none of the films would be as good as the original as is so often the case and thirty years later Die Hard still stands as one of the best action films ever committed to celluloid even if you do have to suspend belief that Willis ever had that much hair.
At 30 years old there's a generation who may never have seen and the pristine restoration on 4K is well worth a look with a wealth of extras and a steel pack contains all five films.
Welcome to the party, pal!
Here's the original trailer…….