1987 's Ironweed saw a dream team casting of Jack Nicholson partnered for the first time with Meryl Streep. By then Nicholson already had two Oscars under his belt for 'Terms of Endearment' and 'One Flew over the Cuckoo's Nest' and Streep with two Oscars for 'Kramer vs Kramer' and 'Sophie's Choice'. Ironweed was to give them both Best Actor & Actress nominations
Based on the Pulitzer prize winning novel by William Kennedy and directed by the late Argentinian  director Hector Babenco who himself had been nominated in 1986 for, 'Kiss of the Spiderwoman'. Ironweed had Nicholson and Streep as two lost souls who come together during the Great Depression (which wasn't caused watching a box set of 'The Only Way is Essex'). In Depression-era Albany New York Francis Phelan (Nicholson) has become an alcoholic vagabond after gulit over accidently killing his infant son led him to desert his family. Over the course of several days he ambles from gritty job to dirty bar to makeshift sleeping quarters. By chance he encounters fellow itinerant drinker and his sometime lover Helen Archer (Streep). Together they wax nostalgic about their haunted pasts.
Ironweed is a sombre and ironically sobering tale of desperate measures, overwhelming grief, horrifying ghosts that perpetually haunt and terrorize people living on the fringe and the devastating effects of addiction there is an oppressive grim nature to the piece that never sways or makes way for any glimmer of hope, and yet the brilliance in the narrative construct is the promise of some tenderness (or a tiny bit of "something" Streep's Helen achingly longs for) that we know will never pay off – however, we are tricked into believing there just might be.
In films set during the Great Depression, personal attachment and the unhealthy obsession to be close to someone else for selfish and self-motivated reasons are relatively commonplace. Ironweed examines this concept and complicates it by having the two doomed lovers make mistakes, while surrounding vagrants glide through with some cordial words of wisdom or predatory intentions (and sometimes both). As much as Jack Nicholson's Francis needs his liquor and the company of Streep's Helen, there are other sad-eyed occupants that hold up this genuine master work. Tom Waits as the terminally ill drunk adds a quality of cheap throwaway misery with his gravel-voice and perpetual state of being annoyed, while Fred Gwynne as the owner of a gin mill, with his fine lowered voice and impressive presence, gives the film a sense of quiet internalized rage at industry and the world of unsentimental commerce.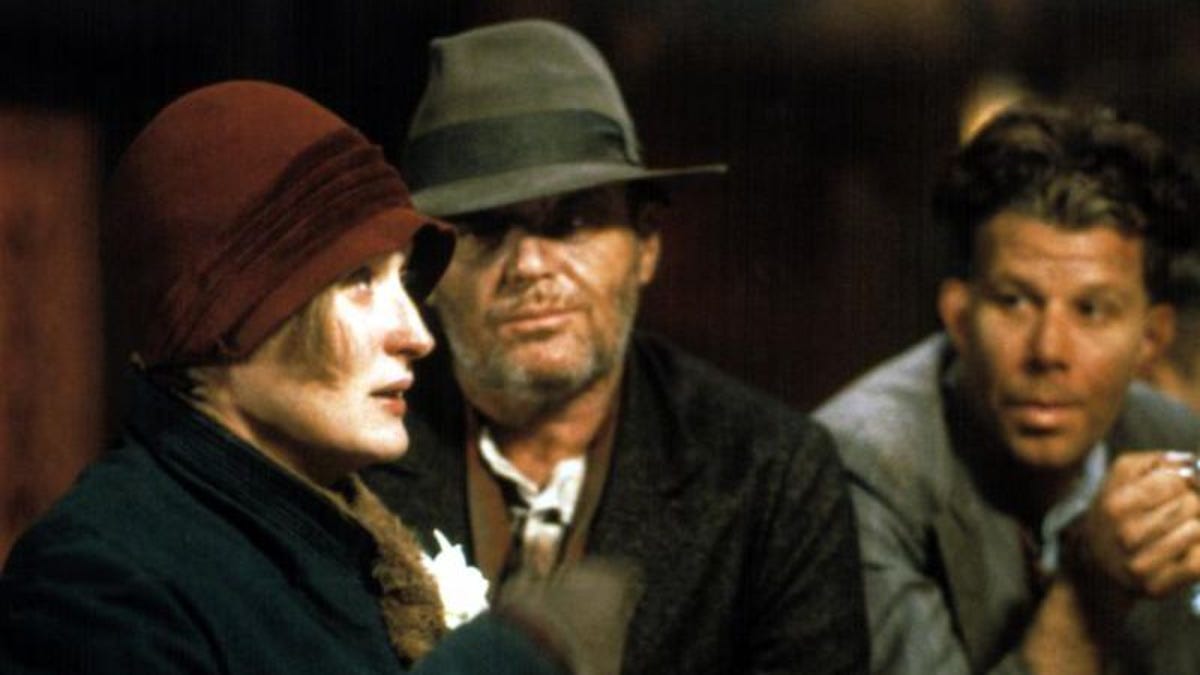 It's a sombre film and didn't fare well at the box office hardly surprising when it opened in New York the week before Christmas and then opening nationwide in February the following year in time for the Oscars where both leads were nominated for Oscars. Released on blu ray and DVD it's a forgotten collaboration between the two stars and worth a look in what is at times grim viewing and afterwards Nicholson would certainly change tack as Joker in Batman the following year landing his his biggest ever payday.  Streep however would go on to yet another bleak and in this case true story with 'A Cry in the Dark' about the notorious killing of an Australian baby by dingos only for the baby's mother to be accused of murder.
However the Ironweed disc is vanilla in content with only the film and trailer and, though the director passed away, Nicholson having not made a film in 10 years and as good as retired and Streep who doesn't really do commentaries, this would have benefitted from some sort of featurette.
Here's the Ironweed trailer……..
IRONWEED IS OUT ON DVD & BLU RAY ON 2ND DECEMBER 2019