Celebs are only too keen to use the tabloids as a vehicle to publicize their careers. Take balloon breasted biffer Katie Price / Jordan and her 246 biographies outlining the minutiae of her car crash lifestyle having at one point married a cross dressing cage fighter presumably so that she could double her wardrobe options. So when every avenue of re-invention has been exhausted and the tabloids have moved on to their next celebrity crush tragedy is usually not far behind and frankly with her addiction to plastic surgery her best hope is to throw herself into a recycling bin. Hollywood actor Shia Labeouf had been acting since he was a child and had a stellar career in blockbusters which included the Transformers films and the fourth Indiana Jones film before he had his all too public meltdown ending with a brush with the law that ended up in rehabilitation where as part of his rehab he is encouraged to write about his upbringing.  Honey Boy is that script and if this is anything to go by it's a surprise his breakdown didn't happen sooner.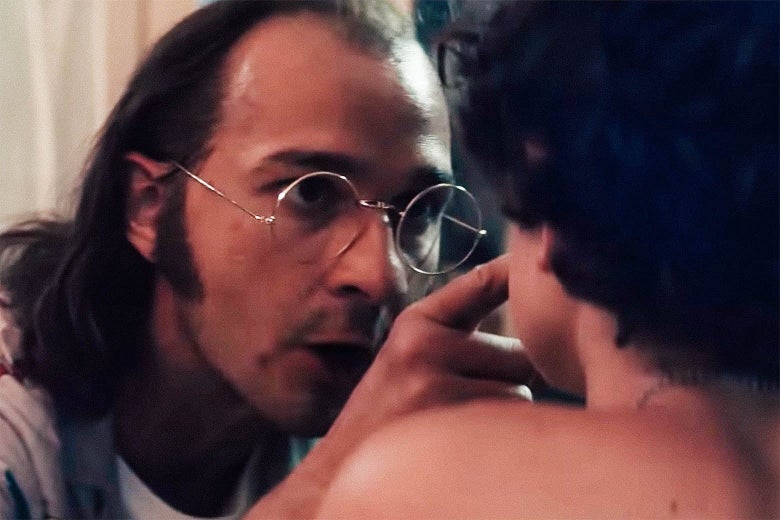 Starting with Lucas Hedges as Otis a lead actor on a huge blockbuster he wraps on set one day and goes on a booze bound binge before he gets picked up by the cops where , and you might have heard this before , as part of his rehab he is encouraged to write about his upbringing. Angry, bitter, frustrated his self penned script takes him back to his days as a 12 year old child actor here played by Noah Jupe whose chaperone on film sets is his now divorced father James Lort a professional though mostly unemployed clown living off his son's earnings and both reside in a shoddy motel where  his father resents the black neighbours across the car park frequently verbally abusing them about the noise . Honey Boy gets a little meta here with Shia playing his own father to Jupe who is playing Shia as a child. LaBeouf as James Lort – all mullet haired, pot bellied and sweaty tracksuited, swearing and abusing his son, offering him cigarettes and is a shoddy excuse of a father frequently leaving his son alone whilst he goes off to where he is cultivating cannabis plants in the car park of a disused building at the side of the freeway. It's whilst all this is going on that Otis forms an ever closer friendship with the shy girl (a great turn by pop poppet FKA Twigs) who lives opposite his motel room and their friendship becomes ever more intimate and both actors play, what are awkward scenes to watch,  well. If ever the intervention of social services was needed it's here.
Like Jonah Hill's Mid90's this is autobiographical and LaBeouf had passed his script to his friend Alma Har'el who directs with an all female crew but at the centre of all this is the performances and Honey boy is very much  LaBeouf's film and it's another great performance after the recent The Peanut Butter Falcon  adding to an increasing number of film that show what a good actor he is away from brainless blockbuster which has included the under rated 'Borg v McEnroe' a couple of years ago, Though the films last act isn't particularly strong and Honey boy plays like studio funded therapy for Labeouf but on the strength of what is on show here that's no bad thing.
Here's the Honey Boy trailer…….