With the success of BlacKkKlansman earning Spike Lee his first Oscar for Best Adapted Screenplay his attention was already focussed on his next film Da 5 Bloods. It be his first for Netflix, his first about the Vietnam war and his first feature shot outside of the US and here we look at the making of Da 5 Bloods.
On both sides of the Pacific, the Vietnam War (1955-1975) remains the defining conflict for a generation. Vietnam was bisected into opposing factions — single families supplied recruits for the North and South — and American ideology was cleaved in two. Generally, Vietnamese citizens are no more hostile toward the U.S. than any of the country's former adversaries. But in certain U.S. circles today, the Vietnam War remains a taboo subject. The psychological scars of the Vietnam War are distinctly palpable in The Black community. African-American soldiers made up a disproportionate number of Vietnam deployments and casualties, as well as Post-War Unemployment and Homelessness. Those fortunate enough to return Stateside had to fight their government — the same one they had just defended abroad — for basic Civil Rights. It's an aspect of the war that was of interest to Lee and DA 5 BLOODS is the latest entry in an indelible body of work that began with 1986's indie breakthrough, She's Gotta Have It. Following the tradition of Do The Right Thing (1989), Mo' Better Blues (1990), Malcolm X (1992), 25th Hour (2002) and six-time Oscar® nominee BlacKkKlansman (2018), this film begins with a collage of photos and footage confronting America's prejudiced past.
An uncompromising creative force, Lee roots his art in facts and social justice. "I'm a big historian," Lee said. "I was taught that African-Americans fought for this Country from day one," citing Crispus Attucks (1723-1770), an African-American Man killed during the Boston Massacre, becoming the first victim of the American Revolution. With 2008's Miracle at St. Anna, Lee increased awareness of what Black Infantrymen — known as Buffalo Soldiers — endured during World War II. "We're still fighting for this country today," he continued. Conversations about DA 5 BLOODS began when Lee and his writing partner, Kevin Willmott, were approached by producer Lloyd Levin (Boogie Nights) as they prepared to shoot BlacKkKlansman. "No disrespect to any film that's been done before about the Vietnam War, but we wanted to do this through the perspective of the Black Soldiers," Lee said. "Kevin and I felt that the premise was fantastic. We knew that we had not seen Brothers like this in a Vietnam film." Thus DA 5 BLOODS evolved into Lee's first project produced with Lloyd Levin and his wife, Beatriz Levin. Lee made an important addition to the filmmaking team — Academy Award® nominee and prolific producer Jon Kilik (Babel). In 1988, Kilik and Lee were introduced by then president of Columbia Pictures David Picker. Kilik produced Lee's first feature to vie for Oscars®, Do the Right Thing, and DA 5 BLOODS marks their 15th collaboration.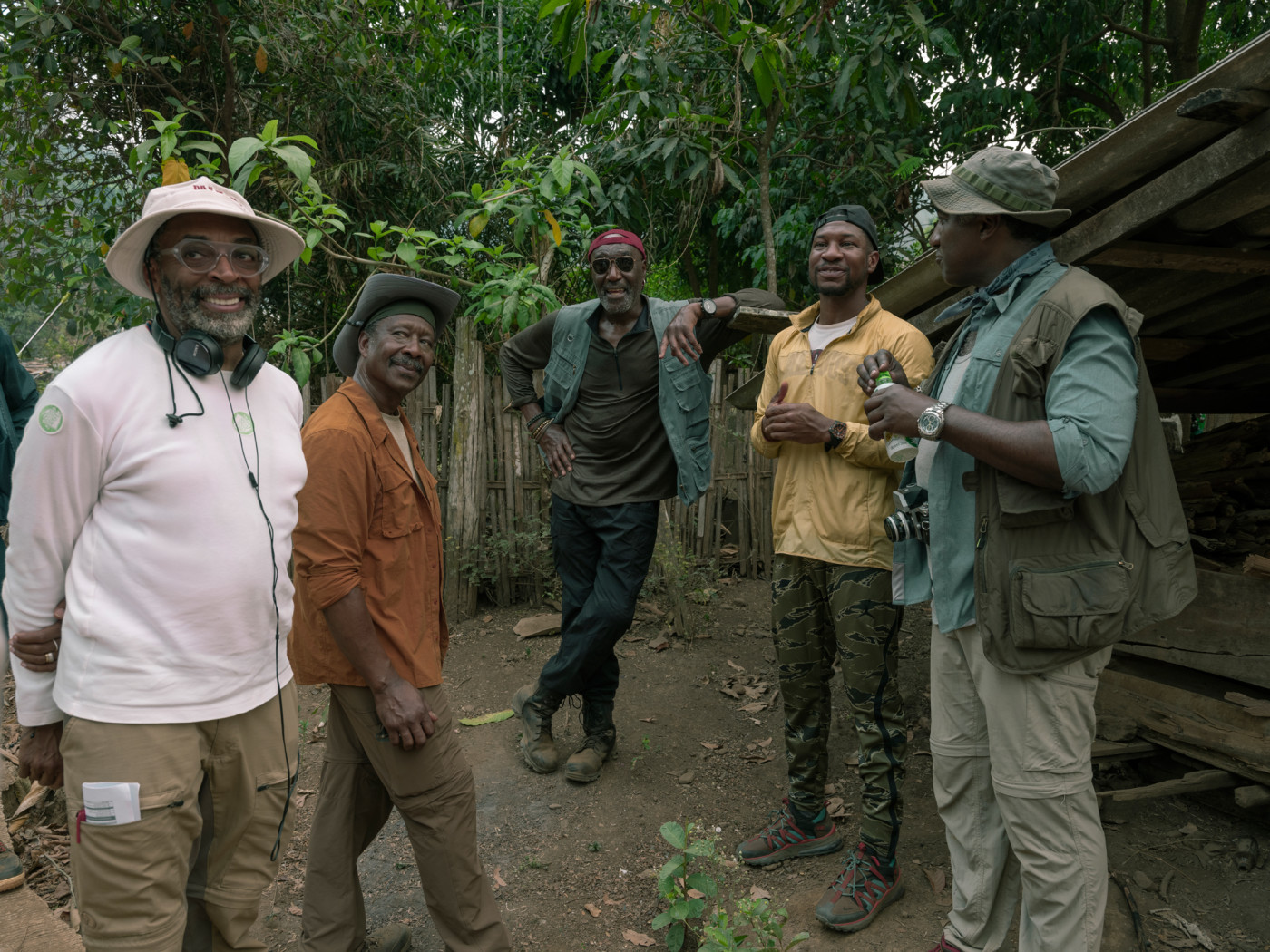 Drawing inspiration from classics like Sir David Lean's Bridge on the River Kwai (1957), as well as John Huston's The Treasure of the Sierra Madre (1948) and Francis Ford Coppola's Apocalypse Now (1979), the writers collaborated on a script that brought Vietnam veterans back to the Far East. Their journey is interspersed with flashbacks to the late '60s through 1971; along the way, Paul, Otis, Eddie and Melvin try to reconcile the men they've become in Norman's absence. "He was a Malcolm X and a Martin Luther King, Jr. kind of character," Willmott said of Norman. "He held them together not just in terms of being a leader in the jungle, in the fight, but also being a leader in the fight for civil rights." In an innovative conceit thought up by Lee, actors Lindo, Peters, Lewis and Whitlock, Jr. maintain their roles for the flashbacks — and no makeup or de-aging technology is used to hide the fact that they are in their 60s. "The memories of War stay with Veterans as they grow older," Willmott said. "These are still living memories," meaning current dilemmas and even ailments color recollections of their former selves. Since flashbacks are told from Da Bloods' vantage, long-lost comrades always look as young as they did in their final months and moments.
"I absolutely do not relate to Paul as a Trump supporter," said Lindo, a Tony® nominee working with Lee for the first time in 25 years. "It was a stumbling block that I had to negotiate as an actor." Lindo trusted his past Malcolm X, Crooklyn (1994) and Clockers (1995) director, finding his way into the role after completing his second read of the script. "Paul is a tragic character in every bit the same way as King Lear," he said. "From a creative and dramaturgical point of view, that deeply attracted me."
DA 5 BLOODS shot on location in the cities of Chiang Mai, Bangkok and Ho Chi Minh City in Spring 2019. Spike Lee hired BAFTA Award® nominee Newton Thomas Sigel (Bohemian Rhapsody) as his Director of Photography. One selected avenue was shooting the flashbacks in 16mm Film to replicate period newsreel footage. "It's similar to the way that you would've shot it if you were embedded with the Army in Vietnam in the '60s and '70s," Sigel said. "They shot predominantly reversal, or what they called news film. So we've gone back to that format. We're also shooting it in 4:3 aspect ratio, which was the shape that televisions had before our contemporary times. We felt that it was a really evocative way to record the memories, by using a lot of the technology of those days." Audiences will notice the changing aspect ratio throughout the story. When the Quartet arrives in modern Vietnam, the scenes all play out in a widescreen, 2:40 aspect ratio. Once they reach the jungle, the image opens up farther, with Sigel employing a 1:85 aspect ratio as a signal that The Heroes have crossed into "the more wild and dangerous parts of Vietnam."
Production designer Wynn Thomas was another key department head responsible for the film's look and feel. Although Lee has enjoyed a 13 film-career with Thomas, until DA 5 BLOODS, they had not shared a set since the 2006 heist thriller Inside Man. Lee makes most of his films in New York City, and this was his first production in Asia. On DA 5 BLOODS, Thomas's greatest challenge became using the local geography to enhance the storytelling. He spent months scouting the right sites to host the shoot. "The visual journey on this film 8 is through the jungle," Thomas said. "I had to form a conceptual approach to how we were defining the jungle and what we were seeing. Essentially, when the movie starts, the jungle areas are all very big and expansive and you see a lot of sky and great vistas." As the tension in the story escalates, the jungle begins to encroach on the characters — they feel trapped. "The wall of trees begins to thicken, and there's more leaves on the trees," Thomas said.
Perhaps the most daunting sequence unfolds when Da Bloods' helicopter is shot from the sky. The scenes were filmed in Chiang Dao, Thailand, on a large field with dramatic views. Yet the same grounds doubled as an area the characters hike through in the current era. "For the contemporary sequence, we left it as a farm field, because that's how the land is being used now," he said. "But when we revisit '71, it looks completely different. We planted palm trees and banana trees. We filled this huge, open space with greenery. We bought a helicopter, and then essentially had one day to install that helicopter in our field."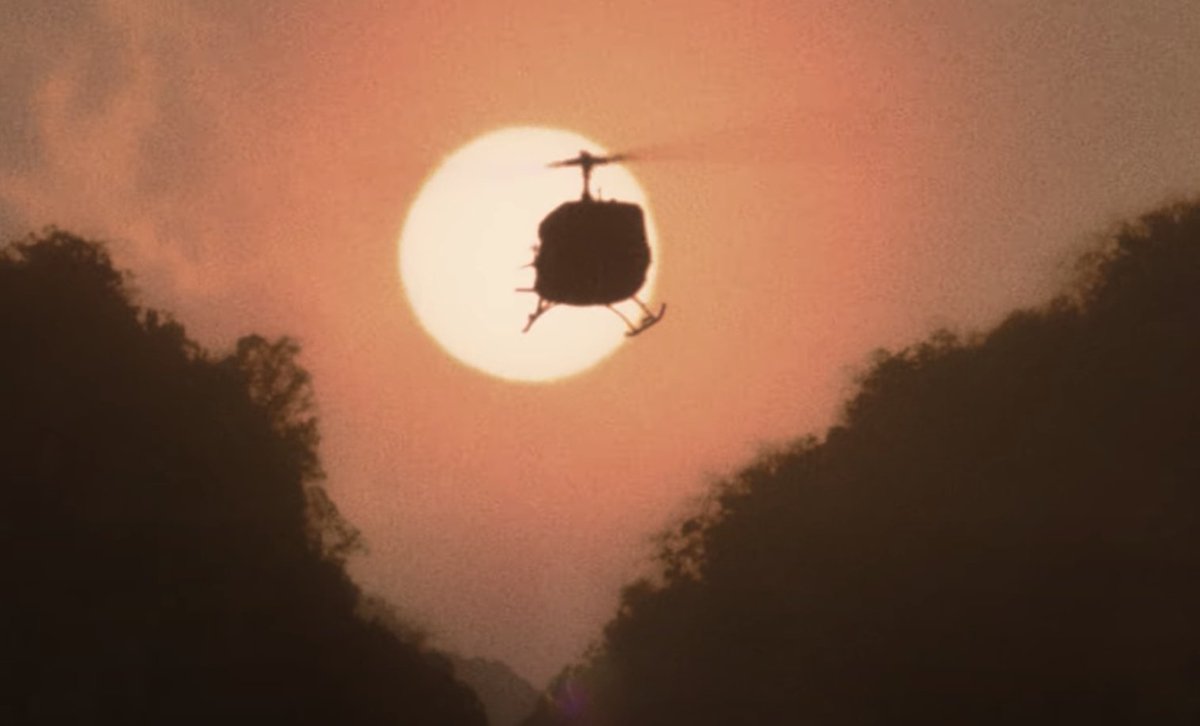 Lee had his actors undergo a week-long Boot Camp, which included a lesson in handling M16 rifles. Participants also practiced squad movement formations to grasp how they would need to react in a combat scenario. "When I heard we were doing a Boot Camp, I thought we were going to be wading into mud and climbing over walls," Lewis said. "It was not that. It was pretty strenuous, though. We learned from some amazing coaches that have been in both the Vietnam War and Afghanistan. It's been a wonderful process, getting to know the importance of discipline and the regimented hierarchy." Actors also received safety training as they braced to zigzag uneven terrain in temperatures reaching 105 degrees Fahrenheit. Filming often commenced around 6 a.m. so that the day's shots could be completed before the warmest hours. "Then there's the bugs," Sigel deadpanned. "It's not an easy environment by any stretch." Lee commends his Cast for roughing it with Mother Nature. "Look, when you go into the jungle there's going to be bugs and animals and snakes," he said. "It's not a backlot. We were thousands of miles away from home. We were up in it. I've got to tip my hat to all the Actors — who were not 18, 19, 20, the age those young Brothers were when they fought in The War. There's a lot of physicality to this film. People were sore."
To lend further authenticity to their performances, Lee brought cultural advisors LaMont Hamilton and Andre Zachery to Thailand to work with the Actors. Curators of The New York Times-praised dance show Dapline!, Hamilton and Zachery gavet the ensemble an education in dignity and pride [Dap]. Dap is a handshake African-Americans originated during the Vietnam War, to emphasize unity and survival. "It was a very important handshake that showed fraternity, showed togetherness, showed that I have your back and you have mine," Hamilton said. "It was more than a greeting, more than a handshake. It was basically a sign to signify the burgeoning Black Power Movement. Black Soldiers found themselves fighting Two Wars — they were fighting for Civil Rights at home, and they were also fighting a very unpopular war against other Brown Folks abroad. The Dap creates an understanding. If you weave it tight enough, you become inseparable from your brother."
The 11th Studio Album from Marvin Gaye, "What's Going On" provided the film's musical and thematic underpinnings. "One of the greatest albums ever made," Lee said. "Marvin is a saint. He is godlike. That album spoke to us as the record of the time. I knew that the music would help the narrative." Six of the Album's Songs are featured in The Film — "Inner City Blues (Makes Me Wanna Holler)," "Wholy Holy," "Flyin' High (in the Friendly Sky)," "What's Happening Brother," "God Is Love" (sung by Lindo) and "What's Going On" — as well as one of Gaye's later Tracks ("Got To Give It Up"). Gaye's younger brother, Frances "Frankie" Gaye, served three tours of Vietnam War duty. While working as a Radio Operator during those years, Frankie wrote letters to Marvin, recounting the daily horrors he witnessed. Frankie's descriptions gave Marvin a starting point for the album. The entire song cycle shares the perspective of a Vietnam veteran who is shunned when he returns home to the USA. Gaye's lyrics reference both battleground atrocities in Vietnam, and the concurrent civil unrest in America. With his lilting four-octave range, he discussed Radicalism, Unemployment, Ecology, Pollution and more. Some classify the title track, "What's Going On," as a Protest Song, while others claim it as a Love Song. Norman would assert that it's both — like Lee and Gaye beforehand, the character maintains that those who truly love their country will examine how its citizens are treated. "What's Going On" was also a poignant selection because of what happened after its release. Gaye's life ended when his father shot him on the eve of his 45th birthday, in 1984.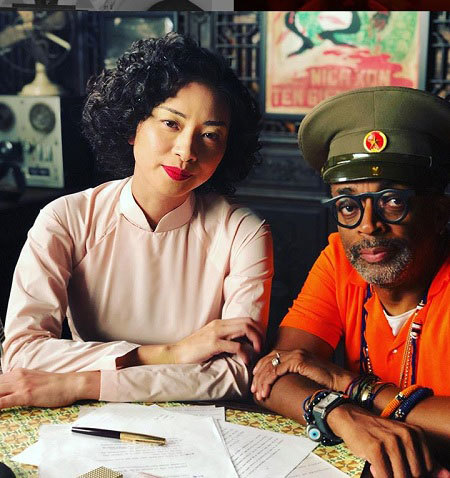 "I've had the pleasure and the honor to screen this film for a lot of Black Vietnam Vets in the New York City area," Lee said. "They loved the film. For me, that was a thumbs-up. It was very moving to hear them talk about the film and their experience. Many of them were teenagers when they got shipped away to kill people." Also lending contemporary resonance to the film is the fictional organization LAMB — aimed at raising awareness to the ongoing problem of Vietnamese landmines — and Black Lives Matter. The chairman of the movement's greater New York chapter, Hank Newsome, was on set in Thailand to witness filming firsthand. "The man is hot off an Oscar®, and Black Lives Matter is referenced in his next major picture project, starring phenomenal actors — people who I watched growing up? It's crazy. Spike Lee and 40 Acres and a Mule played a part in inspiring me and giving me tools to go out there and do this work."
The film ends with a "MAGA" alternative — Martin Luther King, Jr. reciting the Langston Hughes poem "Let America Be Great Again." Hughes felt that American principles and reality were at odds, and the disparity would continue until greed was curbed. "History repeats itself," Lee concluded. "And we can learn from history — if we wake up."
Read our review HERE