By 1963 Roger Corman was an established producer /director knocking out low budget films several times a year which nearly always turned a profit. Having had a string of successes with Edgar Allen Poe adaptations he wanted to move away from banging out consecutive Poe films and had worked on a storyline for a more intelligent genre film of which X – The Man with the X Ray Eyes could be categorized. Originally The Man with the X Ray Eyes was to feature a jazz musician dabbling with drugs and developing x-ray vision but Corman hated it almost as soon as he was writing it and binned the script and started over again this time with a scientist experimenting with a formula  that gives him the sort of superpower that every adolescent boy dreams about.
Corman was a far more savvy producer than director and the budget for The Man with the X Ray Eyes was noticeably higher than his previous films due to the special optical effects which frankly played more like a trippy day at the laboratory than anything else, but it was filmed in Spectarama which was nothing more than an improvement in the camera lenses used but was ramped up in the films marketing.
In the lead role was Ray Milland who had deservedly won an Oscar almost twenty years earlier but whose career was in the decline and had made a couple of films with Corman previously. As the doomed protagonist Milland bought a level of human decency to the part rather than the screaming scientific loon that the genre so often featured.  Corman also cast well known stand up comedian Don Rickles in what would be his first feature film role and in contrast to his stage act persona of a confident comedian getting laughs from berating members of his audience was extremely nervous on set.
Playing like an almost religious allegory The Man with the X Ray Eyes is well worth watching with an unusually down beat ending which garnered a number of high profile fans that included Joe Dante (who would later make his own first film 'Piranha' for Corman in the 70's) as well as Mick Garris who both contribute to the bonus features on the blu ray disc. Stephen King was also a huge fan and even wrote a new ending for Corman who loved it so much that he has mentioned how much he would like to reshoot the film with that new scene.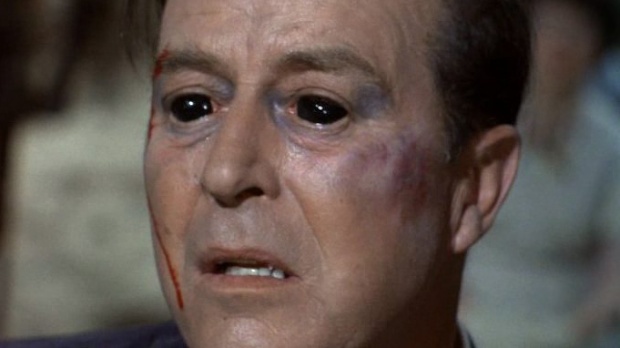 Newly restored as a limited edition box set The Man with the X Ray Eyes has a load of new features including an interview with Corman about the film as well as one of two commentaries. Add to this the already mentioned featurettes with Garris and Dante there's also the films original prologue which was excised soon after the film's release. The blu ray also has artwork by celebrated artist Graham Humphreys (albeit that Milland does look a little bit like Ricky Gervais in the illustration) and there's a booklet with new writing by Jon Towlson and the very entertaining Alan Bryce, Editor of the UK's longest running horror film magazine, The Dark Side.
Running at a brief 79 minutes The Man with the X Ray Eyes is one of Corman's best directorial films and this limited edition blu ray release is a worthy addition to his extensive list of credits which runs at over 400 films. Not bad for a man now in his mid nineties.
Here's the trailer for The Man with the X-Ray Eyes (which ironically is released on the Second Sight label)……..
THE MAN WITH X-RAY EYES IS RELEASED ON BLU RAY ON 4TH MAY 2020