Released as part of the Vintage Classics collection The Family Way has been long forgotten since its 1966 release but is well worth a look. Based on Bill Naughton's play,' All in Good Time' that was televised in 1961 as part of the Armchair Theatre  series and is included on this blu ray. Part comedy of errors , part social comment the film follows a sensitive couple (Hywel Bennett & Hayley Mills)  whose failure to consumate their marriage threatens to derail their life together before it has even begun. It's hardly a surprise that they can't have a honeymoon night together as they have to live at the grooms parents house where the honeymoon party drunkenly crashes back and they become victim of  a practical joke by the groom's lairy boss (Barry Foster in leering style which made him an obvious choice for the role of the rapist murderer in Hitchcock's penultimate film, 'Frenzy') further frustrates their efforts. From thereonin it gets worse for the couple with a travel agent running off with their honeymoon holiday money and the walls of the house so thin as to make any intimacy almost impossible and the couple soon find themselves the centre of gossip at their failure to do what married couples do.
Nowadays their quandry seems quaintly outdated but The Family Way was released at a time of sexual revolution and free love (presumably because you had to pay for it before) but at its core this is sweet natured and warm hearted and was directed by the Boulting brothers, John & Roy who had made several great British films that included Brighton Rock and several Peter Sellers films that included,' I'm alright Jack', 'There's a girl in my soup' and the lamentable 'Soft Beds, Hard Battles'.
Newly restored onto 4K The Family Way blu ray has some interesting extras apart from the obligatory stills gallery and trailer there's also the original TV production but perhaps best of all is a featurette on the films' score which was by little known musician Paul McCartney from some power pop combo called The Beatles.  Laughably he's even credited in the titles as Paul 'Beatle' McCartney and this was his first solo project away from the band though according to Beatles biographer Chip Madinger it seems it was thrown together pretty quickly which seems to be reflected in the soundtrack's album's sales which failed to chart in either the UK or the US.  In retrospect it's hardly surprising at it was released at around the same time as the Sgt Pepper album which just steam rollered everything before it.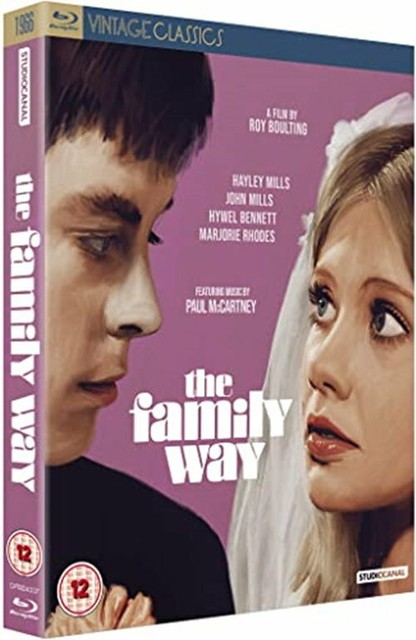 Despite no commentary (the Boulting's have long passed away as has Hywel Bennet and it's a shame that Mills could not be persuaded) The Family Way is well worth a look as it has a great cast of actors ( John Mills, Barry Foster, Bennet and Mills) as well as a load of faces you would recognise even if you don't know their names. Very much of its time but well worth a watch.
Here's The Family Way trailer……