If you watched our A-List film star on our YouTube Channel HERE you'll be aware of his ludicrous attempts at keeping a low key presence. Spies In Disguise however takes it to another level all because of Walter Beckett (voiced by Tom Holland) a creative inventor ever since he was a child and now as an adult h is working for the secret service. At the same time Lance Sterling (voiced By Will Smith) is a superspy working for the same agency and we first see him in a sequence that's a homage to Tarantino's House of the Blue Leaves chapter from Kill Bill as he takes out a huge number of violent oriental henchmen but finding in the midst of the action that Walter has swopped one of his gadgets for one of his own. Luckily Lance escapes and returns to base to be swooned over by the women and hero worshipped by the men in an almost complete reversal as to how our Editor comes into the office. ('You're fired!' – Ed).
Debriefed by his boss, a Helen Mirren look-a-like, he finds a rapacious internal affairs officer and her two sidekicks attempt to arrest him for carrying out a number of crimes for which they show him CCTV footage seemingly catching him red handed. But before they can arrest him Lance does a runner determined to prove his innocence and find the real culprit. So far, so seen-it-all-before a la The Fugitive but the spin here is that looking to Walter for help he wolfs down some potion only to find himself at the mercy of another Walter invention and is turned into a pigeon and the script can't resist littering their lines with bird puns ( 'Don't want to ruffle your feathers', 'I'll be your wing man' etc ).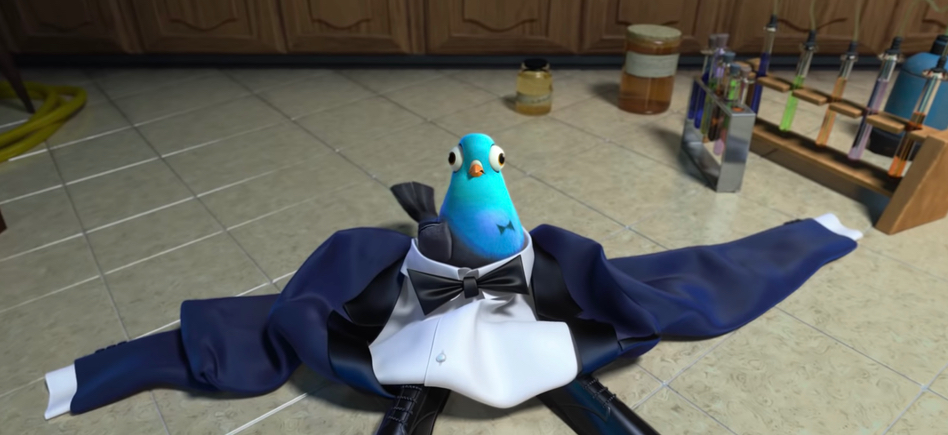 The villain of the piece is a Vincent Cassel look-a-like named Killian (voiced by Ben Mendelsohn ) and has a robot claw hand multi utensil which must make him a whizz in the kitchen. He's also mastered the technology to change his facial features at will and its him who has gone on a crime spree with Lance's face. It's the ability to change face at will that is all a little bit Scooby Doo but must surely be the envy of Katie Price / Jordan a woman who's had so many facelifts she now has a goatee beard.  Killian's plan for world domination involves drones, thousands of them and they seem  to be the weapon du jour for so many films these days (see Angel Has Fallen trailer). Spies In Disguise is a fitting title therefore and what follows is pigeon laced pandemonium with a the two leads endearing enough with a subversive argument between them about fighting fire with fire against a more liberal message put forward by Walter. Opening on Boxing Day it's is an ideal excuse to get the kids out of the house.
Here's the Spies in Disguise trailer…….