Whilst 'Never Steady Never Still' would have been a great title for a biopic about 80's Welsh rock n roll icon Shakin' Stevens what its actually about is Judy (Shirley Henderson) a mother suffering from ever worsening symptoms of Parkinson's Disease.  It's one of those roles that actors relish as a chance to show their ability to 'do' disabled with an eye on awards and even an Oscar. It did Daniel Day Lewis no harm in 'My Left Foot'  earning him his first Oscar and let's be fair every actor since has been looking for a similar role from Tom Hanks in Forrest Gump to Jake Gyllenhaal in the recent Stronger. But there's no showboating going on here from Henderson who gives a remarkably convincing and at times uncomfortable to watch performance.
Judy is cared for her by her older husband whilst their 20 year old son Jamie (Theodore Pellerin) gets a job working in the oil fields of a bleak desolate and freezing Alberta where they live.  Jamie is on the cusp of manhood and a sexual awakening  also has to cope with the brutal conditions of his work environment whilst contending with bullying of a supervisor. It's when his father dies that his mother comes to rely on him. Whether it's his inability or reluctance or immaturity to man up that Judy finds herself having to cope with her condition almost alone.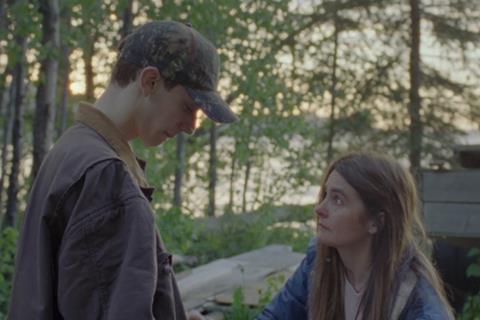 When a film's opening line is, 'My first child died inside me….' you can be pretty sure that the rest of the film is hardly going to be a laugh riot and Never Steady Never Still is certainly a laugh free zone. Low budget and written and directed by newcomer Kathleen Hepburn this veers between scenes shot in cramped dark interiors or wide open yet bitterly cold and freezing landscapes and is inspired by her own mother who suffered from the condition and much of the film rings true.
This is a mellow, sombre, deliberately paced, intimate (sometimes very intimate) film which, though well intentioned and wholly respectable is , at almost two hours , overlong and slow.
Here's the trailer…….