There's a notable number of actors whose days of major film roles are behind them but will secure themselves regular work normally as the lead in straight to VoD films. Dolph Lundgren certainly falls into that category. Now we do like Dolph and his debut as Ivan Drago opposite Stallone in Rocky IV was impressive and in fairness he was great fun when he reprised the role in Creed II. Acceleration sees him back in 'roles that pay the bills' mode playing a murky LA mob boss called Vladik.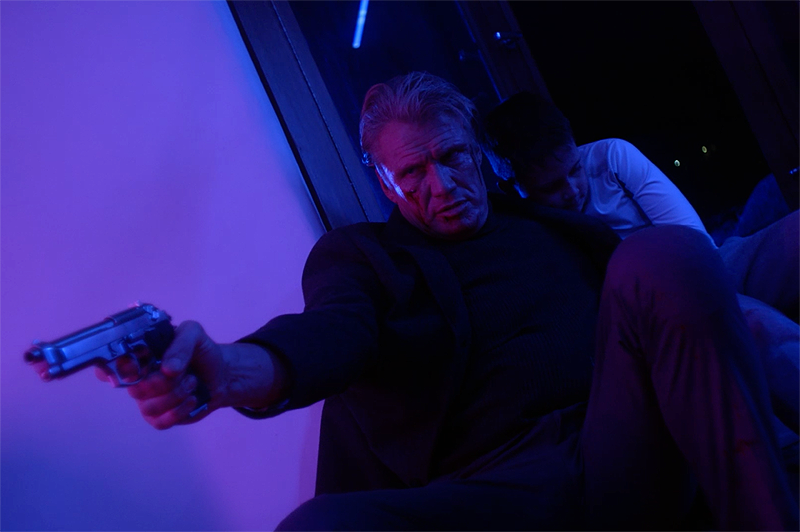 It all starts off in visually arresting style as a high end car zips down the LA freeway with whip fast neon lighting. Driving is Rhona (Natalie Burn) a woman on a mission to carry out a number of tasks in one night for Vladick who has her son captive to ensure she completes them in time. Most of the tasks seem to comprise of Rhona collecting wedges of cash from other LA lowlife before bumping them off as part of her race against time. Throw into the mix Kane (Sean Patrick Flanery) another gang boss who seems to have OD'd on Tarantino films unable to eat a slice of pie in a diner without pontificating about the integrity of the pie and serves only to highlight how good a writer of dialogue Tarantino is and how Michael Merino, who has written the screenplay, isn't.  Because although this isn't the most difficult of story lines to follow it's not made particularly clear about various characters motives. Just how did Rhona get her skills and fall in with Vlanik? being the most obvious.
Burn, who trained as a ballerina in her early years, looks the part striding around in tight leather trousers , swishing her hair around and with heavy eye liner reminiscent of a teenager who's just started using it and gone into overkill. We've always wondered about how actors get roles and here the credits reveal that Burn was also the films casting director. Lundgren, though still in decent shape at 63 is starting to look his age and he would probably be the first to admit that he's not the greatest actor but with leaden dialogue he has all the  delivery skills of a courier without a sat-nav and here he spends much of the film staring at CCTV making it look like there's nothing left on the internet for him to whack off to. Added to this is Quinton 'Rampage' Jackson who made a decent appearance as Mr T in the big screen version of 'The A Team' back in 2010 but since then his career has been less than stellar and a decade later, 'gentle canter' might now be more appropriate and he's joined by Chuck Leddell as a lumpen heavy with a mohican which suggest more mid life crisis than mad maniac.
Acceleration is distinguished by its lighting from DoP Jan-Michael Losada but this is pretty much run of the mill stuff with only occasional moments to lift it  as it drives towards the inevitable bullet riddled climax.
Here's the Acceleration trailer……..
ACCELERATION IS AVAILABLE ON DIGITAL DOWNLOAD ON 6TH APRIL 2020