The ever upward success of Margot Robbie sees her return to her standout role as Harley Quinn in Suicide Squad where the character now has her own film Birds of Prey. A bright and breezy opening sequence gives the background story of how the villainess/superhero ended up where she is now which is recently single having been dumped by her boyfriend The Joker aka Mr J  and contrary to rumour Jared Leto's  incarnation of the role has no cameo here having been overshadowed by Joaquin Phoenix's Joker.
Trying to convince herself that she's over the break up she gets tanked up on booze at Roman Sionis (Ewan McGregor) nightclub to the tune of Joan Jett's 'I hate myself for loving you' – part of a decent rock soundtrack  – and bounces around the club intentionally breaking the legs of Sionis' driver . It's a moment that sets out just how we'll see the violence here which is both cartoonish and violent. Margot Robbie is having a blast in the role revelling in Harley's bad behaviour regardless of the consequences which means that there's a huge swathe of Gotham city's underworld out to bump her off. One of those enemy's includes Sionis later to be known by his Black Mask moniker which is never really explained satisfactorily and Sionis is a camp cursing queen of a villain with psychotic sidekick Victor Zsasz  (Chris Messina) with a penchant for peeling off people's faces presumably as some sort of precursor to these face transplants you read about nowadays although regrettably it's never been taken up by Wayne Rooney.
Black Mask / Sionis is Gotham City's  Mr Big of Crime and is keen to get hold of a diamond that is the key to enormous wealth that belonged to a deceased crime lord murdered with  a bolt to the throat by a mysterious crossbow killer (Mary Elizabeth Winstead) keen to be known as Huntress. Unfortunately said diamond has been thieved by street urchin Cassandra Cain and Quinn is tasked by Sionis  with getting it back or her face is coming off too. It's Sionis' nightclub singer and now driver who, appalled at what her boss is going to do' who joins up with Quinn to find Cain. There's a blistering rescue of Cain from police custody by Quinn in a sequence that's  not dissimilar from that one in the first Terminator film and it draws Detetive Montoya (Rosie Perez) into the investigation.  Birds of Prey writer Christina Hodson neatly whizzes back and fore drawing a load of threads together for each of the main characters who unite to take on Black Mask and his mad minions out to kill them all. Her script structure initially takes in flashbacks and deconstructs its plot similar to the best of Tarantino's scripts and there's a sly nod to Pulp Fiction's 'Bad MF' wallet with Quinn's calling card baring the same legend.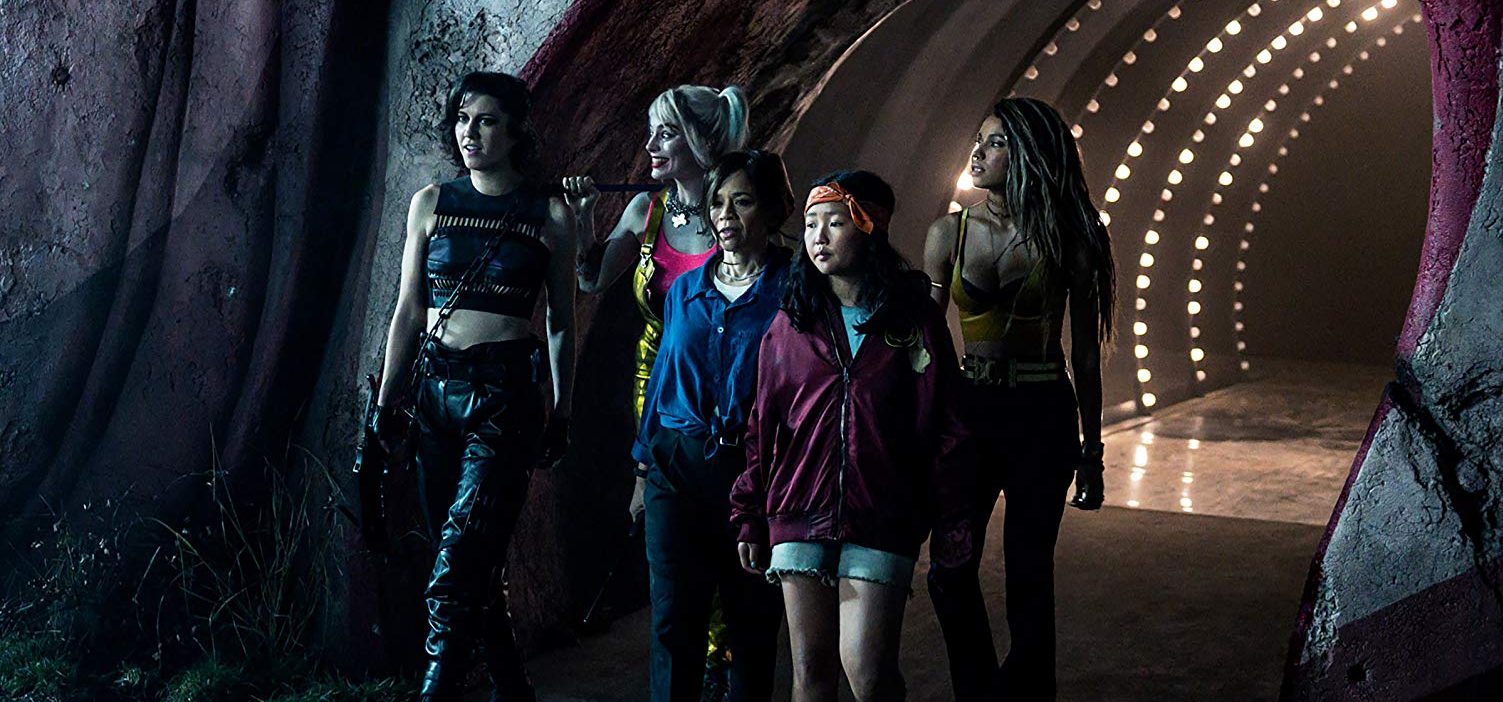 Birds Of prey is both violent and profane and a far cry from superhero films in the DC extended universe. This is not a 12a action lite chick flick and is another film in the #Time'sUp cannon with all the female characters victim's of male behaviour – Quinn's been dumped by her boyfriend , Huntress is after vengeance against the man who killed her family, Montoya is a cop denied her rightful promotion by a man and so on. It's therefore right that Birds of Prey has been directed by Cathy Yan in gleefully flamboyant style which uses all manner of stylistic  devices that includes slo-mo, freeze frame, on screen rewind, animation and fourth wall breaks.
Produced and starring Margot Robbie this is another step in what seems to be an unstoppable domination of box office power and critical acclaim with 2 Oscar noms (this year it's for Bombshell) to her name and her own successful production company and she's not yet thirty. That she also produces means that her outfits are far less revealing than the micro shorts she wore in Suicide Squad though have become a mainstay of Halloween costumes ever since.This is brilliantly brutal comic book stuff with action set pieces owing much to the John Wick films  and these birds are a ball breaking blast in what is this year's first must see blockbuster….and do stay for a neat joke right at the very, very end of the credits
Here's the Birds Of Prey trailer …….