Whilst the Sixties saw the dawn of Beatlemania, England's World Cup win and the rise of the teenager it also saw promiscuous sex, experimental drug use, back street abortions and the brutal murder of actress Sharon Tate by Charles Manson's murderously moronic followers. It was the final nail in a generation of hippy love but just before that tragedy actor / writer Paul Mazurzky released his directing debut 'Bob & Carol & Ted & Alice'
Mazursky had been a stand up comedian early in his career and along with fellow comedian Larry Tucker they wrote the screenplay which was to satirize the free love ethos of the hippy era. They had written episodes of the TV series The Monkees but the zany humour was toned down for Bob & Carol & Ted & Alice which took aim at the fashionable views of the day.
Bob and his wife Carol are a Californian couple who return home from a free love retreat with the intention of living an open relationship. Their friends Ted & Alice are far more conservative but enjoy the stories that their friends tell them about the amorous adventures in the retreat and soon they get drawn into the free love open marriage lifestyle with, as is so often said, hilarious consequences.
Regardless of what the 60's represented the script was a hard sell because the execs regarded it as a bit smutty until Mazursky asked what if he got Paul Newman and Joanne Woodward in the lead roles.  That was a different matter and the studios would fund it. As it was Mazursky managed to persuade Hollywood royalty Natalie Wood to take the role of Carol giving the project an air of respectability. Playing her husband Bob would be TV actor Robert Culp and as their friends Ted and Alice would be Elliot Gould and Dyan Cannon. Gould career was on the rise having blown Mazursky away with his audition – it didn't harm that he was married to Barbra Streisand at the time either. Cannon had been married to Cary Grant but was just coming out of a divorce from him and the film gave her a certain degree of kudos. Wood was the only one who had to be wooed to take the role whereas the other three had had to audition but together the cast was pitch perfect.
It's raunchy subject matter was always going to raise eyebrows even for the cast who in a scene towards the end were to have an orgy which was the only stage direction on the script page and Mazursky was keen to see how far they would go if left to improvise when the set was closed. It also raised a level of expectation for the cast. As it was they all got into bed and that was it but the film was not without its share of nudity though it was from the extras rather than the four leads of which most of them at times stripped down to their underwear for certain scenes. Perhaps more alarming is the fact that the now convicted date drug rapist Bill Cosby has a blink and you'll miss it appearance.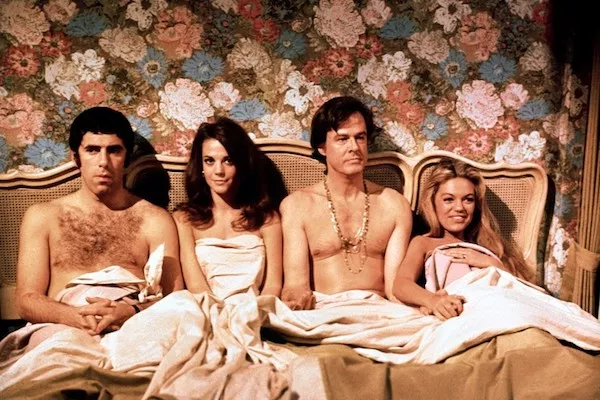 Perhaps because of its controversial for the time subject matter made legit by its cast but the film did well earning four Oscar nominations for Gould and Cannon, another for Mazursky and Tucker's script and one for its cinematography but ended up winning none
Mazursky died in 2014 but the disc has a commentary he recorded with all the other actors bar Wood who tragically died in a 1981 boat accident which to this day still has an element of a conspiracy cover up about it. There's a second commentary recorded by a film scholar that's a little dry but there's a video featurette by critic David Cairns which is insightful. Add to this is an archive interview with Mazursky in front of a theatre audience which is entertaining.
Bob & Carol & Ted & Alice is a film very much of its time and it manages to send up the free love ethos as well as embrace other aspects of the era too. Mazursky would go on to write and direct other films earning four more Oscar nominations in the process but never winning. Despite being Hollywood royalty Wood's star was on the wane having reached its peak with Rebel without a Cause and West Side Story. Gould would hit pay dirt with his next film MASH making him a star and is now probably better known for his appearance in TV comedy  'Friends' and in the Oceans 11 films. Bob & Carol & Ted & Alice would be his only Oscar nominated performance. Cannon, a very attractive actress would go on to be Oscar nominated  twice more most notably in Warren Beatty's Heaven Can wait and today at 81 years of age makes occasional appearances in TV series. Culp would go back to TV before passing away in 2010.
A decent film, even if it is dated, it went on to spawn a TV series and though the disc hasn't got a lot of bonus features what there is is good.
Here's a clip…….
Bob & Carol & Ted & Alice is available on Blu Ray on 10th December 2018