One of Burt Reynolds last roles was in the thinly veiled autobiographical The Last Movie Star and now seems an appropriate send off for the 82 year old was set to film a role in Tarantino's Once Upon a Time In Hollywood which is now not to be.
Born on February 11th 1936 Burton Leon  Reynolds to a police officer father and housewife mum the family moved to Florida where he went to University with a view to becoming a football player. Burt Reynolds – football player was never to be when he smashed his knee and injured his spleen. With a football career now a no-goer he went to New York to be an actor. Like so many hopefuls it never really took off and he took a variety of low paid jobs as he auditioned for theatre roles finally securing a small role in a production that also starred Charlton Heston.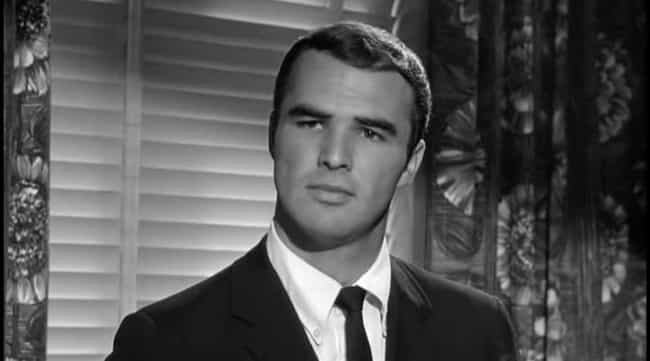 At the time he shared a pokey flat with fellow actor Rip Torn. Nearly all of Reynolds early work was in long forgotten TV shows including Gunsmoke & Riverboat. But it was in 1961 when he started to get film roles usually as a native American Indian due to the Cherokee blood on his father's side but it was still mostly TV roles that kept his career afloat. By 1969 his film career started to take off with him appearing in '100 Rifles' opposite Raquel Welch & 'Sam Whiskey' opposite Angie Dickinson . But it was 1972's 'Deliverance' directed by John Boorman that really elevated his profile and career to star status. Based on a best seller that film had him as one of four men on a weekend trip in the Appalachian mountains which quickly becomes a fight-for-your-life nightmare. It was a break trough role for Burt Reynolds and is still regarded as his best films and he bizarrely used the opportunity to pose naked for Playgirl. It was an indicator of his devil may care attitude as it upset conservative Americans and is rumoured to have cost him a Best Actor Oscar nomination that year and in 2015 he would admit in an interview that he bitterly regretted doing the photo shoot.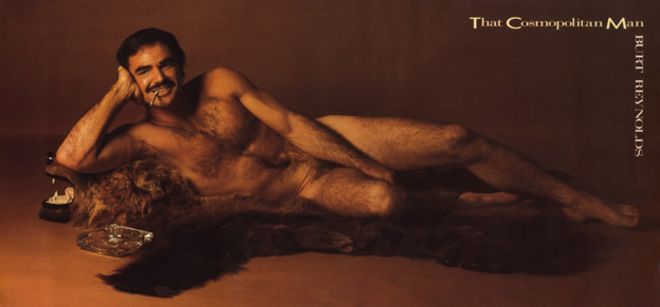 A string of not especially good movies followed including 'Lucky Lady' which a young director called Steven Spielberg was being pushed to direct by Universal studios (instead he opted for some shark movie called 'Jaws'). By now his good ole boy was starting to be established beginning  with his role in White Lightning and carrying on with The Longest Yard and even a cameo in Mel Brooks' 'Silent Movie'. It was an image that would be firmly and permanently established with 1977's 'Smokey and the Bandit' and would secure him the honour for the next five years as being the Number one box office draw with that films sequel and The Cannonball Run and its sequel  as well as 'Hooper' a film about an aging stuntman directed by his friend and aging stuntman Hal Needham.
He was earning millions from his films and living the playboy lifestyle often having affairs with several co stars. His marriage to Judy Carne in 1963 lasted only two years when they divorced. The interim period before his second marriage to Loni Anderson in 1988 included flings with Sally Field, Dyan Cannon and Dinah Shore who was significantly older than him but it was Field who he admitted he loved more than anyone else .
As a football career had been thwarted Burt Reynolds found another outlet for his physicality in his films often performing stunts himself though combined with  his quick temper  it also got him into trouble notably when he hit and badly injured Dick Richards the director of 'Heat' in 1986 (not the superior Michael Mann film).
1984 saw him appear alongside Clint Eastwood who himself had taken over the mantle of Number one box office star in 'City Heat' which flopped. Again it was a stunt that went wrong where he was hit with a real bar stool that broke his jaw and caused problems with his inner ear. The injuries  would take over a year to heal properly during which he lost a huge amount of weight leading many to speculate that he had contracted AIDS.
Up until then he had spending his millions on buying six houses, the usual array of flashy cars and even a helicopter and jet with 2 pilots on the payroll. It couldn't last and a chain of restaurants closed with debts rumoured to be in the region of $15m forcing him to file for bankruptcy. It didn't help that his marriage to Loni Anderson was collapsing and would end in the most acrimonious and costly of divorces as they contested the custody of their adopted child, Qunton. It damaged both their careers.
Burt Reynolds was still a somewhat diminished star but crippling debt meant that he was having to accept whatever work was lucky to come his way. It saw him doing voiceovers and low budget films though there were appearances in highly regarded films such as The Player in 1992 matched only by lamentable films as Demi Moore's Striptease in 1996.
Thankfully 1997 would see a career renaissance courtesy of Paul Thomas Anderson's 'Boogie Nights' as a porn film producer which earned him his only Oscar nomination. Yet his career choices continued to be eclectic if not downright odd.  It was not the first time in his career having turned down the Jack Nicholson role in 'Terms of Endearment' and earlier he had turned down the chance to play James Bond when Connery had vacated the role. He'd even turned down the role of John McClane in Die Hard which had made Bruce Willis a bona fide star. Now he worked with renewed zeal on a variety of projects of varying quality (Universal Soldier 2 anyone?).
Burt Reynolds advancing years and injuries would inevitably catch up with him. In 2009 he had a back operation and in 2010 he had heart bypass surgery which forced him to slow down and he worked more steadily in both TV and film. Having written his autobiography, 'My Life' in 1994 he followed it up in 2015 with, 'But enough about me'. It was an open and honest appraisal of his life and career where he admitted the bad choices he had made both professionally and romantically and was candid if not at times outspoken such as his view on Charlie Sheen having contracted AIDS.
On 6th September 2018 Burt Reynolds died from a heart attack in a Florida hospital. At 82 the wise cracking good ole boy was no more.