TV drama Downton Abbey won awards galore over its six series and the rumoured film is finally here and who would have thought it would have featured a bi-sexual serial killer and the Countess of Grantham ripped to the tits on crystal meth? Well obviously no one which is why those are not any part of the storyline here. Instead we have the extended Crawley family still living at Downton Abbey with a whole host of maids, servants and house staff most with their own storyline starting with a servant eager to marry his cook fiancé with a whole load of other storylines soon to follow.  The household is thrown into a minor panic with a letter announcing that the King & Queen are going to visit for a few days and in advance of this their own Palace staff headed up by an unctuous David Haig as Page of the backstairs staff  visit in advance to inform the excited Downton staff that actually their services won't be needed.
Perhaps not the most engaging of storylines it's a credit to the brilliance  of Oscar winning screenwriter Julian Fellowes that this is more of a back drop to the various other storylines that play out whilst all this is going on with the Downton Abbey staff determined not to be deprived of their chance to serve the King & Queen and plot their own opportunity to do so.  Add into the mix some surprising story elements including an Irish republican plot to assassinate the King during a parade  as well as a gay storyline and a plot twist that isn't as obvious as might be expected all wrapped up with Fellowes ear for dialogue that makes this a delight. Perhaps the best lines are kept for Maggie Smith and Penelope Wilton sniping away at one another with wickedly waspish one liners that are an absolute joy.
Retaining the cast from the TV series most have a shared amount of screen time , although anyone craving Matthew Goode will be disappointed because he's barely in it presumably because he was off another productions or his agent was asking for too much.  Hugh Bonneville has little to do spending much of the film drinking tea or eating meals and it's the smaller roles and performances that catch the eye with the always great David Haig as the Palace butler seeing himself as above all other butlers in the land and there's a beautifully played role of Molesely by Kevin Doyle as a butler almost bursting with pride at the honour of serving the King and Queen, crestfallen when he realizes  he won't but dropping an almighty clanger when he does get the chance.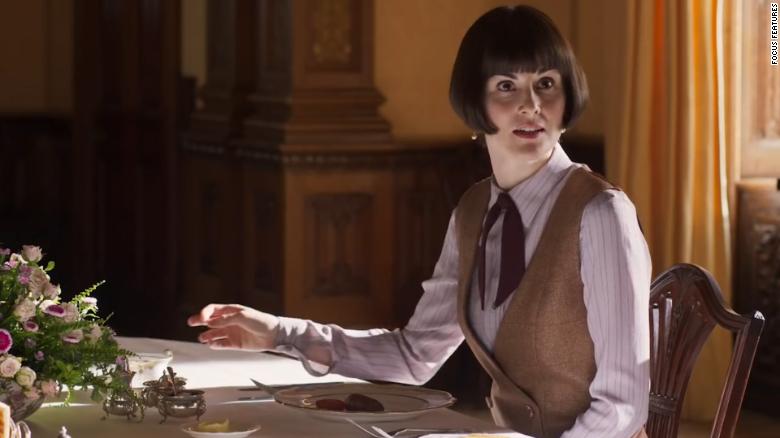 The Abbey is beautifully shot (all honours go to the second unit for that) but ultimately there's little reason for this to be a film as it would play just as well as a Christmas special drawing the whole series to a close. Even if you've not seen any of the TV series there's a lot to be enjoyed here even if it is a little overlong with the ending taking a page from the final part of the Lord of the Rings trilogy with its almost interminable number of endings as the various strands of the films narrative are drawn to a close.  Downton Abbey the movie is one of those rare TV to film transitions that loses nothing in doing so and it's a reassuringly comforting embrace of a forgotten era.
Here's the Downton Abbey trailer……..