With a stage version of Magic Mike playing in London's West End our Editor decided to audition for the Chippendales only to be told that he's better suited to paint stripping  ('You're Fired!' – Ed)……and frankly his visits to London's finest centre's of excellence for exotic dancing (having been thrown out of The Nags Head on a Friday night) which he explains as 'research'. Rightly he gets no respect even today when he went for a lunchtime drink and got the hiccups he asked the barman to surprise him…..and was shown a naked photo of the Editors wife ('You're definitely fired!- Ed)…..but we digress. So when it came to learning to lapdance the cast of Hustlers had a huge task ahead of them.
Based on a viral New York magazine article HUSTLERS is a comedy-drama that follows a crew of savvy strip club employees who band together to turn the tables on their Wall Street clients. At the start of 2007, Destiny (Constance Wu) is a young woman struggling to make ends meet, to provide for herself and her grandma. But it's not easy: the managers, DJs, and bartenders expect a cut– one way or another – leaving Destiny with a meagre payday after a long night of stripping. Her life is forever changed when she meets Ramona (Jennifer Lopez), the club's top money earner, who's always in control, has the clientele figured out, and really knows her way around a pole. The two women bond immediately, and Ramona gives Destiny a crash course in the various poses and pole moves like the carousel, fireman, front hook, ankle-hook, and stag.
Another dancer, the irrepressible Diamond (Cardi B – an ex-'exotic dancer' herself) provides a bawdy and revelatory class in the art of learning to lapdance. But Destiny's most important lesson is that when you're part of a broken system, you must hustle or be hustled. To that end, Ramona outlines for her the different tiers of the Wall Street clientele who frequent the club. The two women find themselves succeeding beyond their wildest dreams, making more money than they can spend – until the September 2008 economic collapse. Wall Street stole from everyone and never suffered any consequences. Now, Ramona, Destiny, and two dancers who've joined their little family – the unstoppable Mercedes (Keke Palmer) and the young and innocent Annabelle (Lili Reinhart) – look to turn the tables. They cook up an inventive scheme to get their lives back on the fast-track to success. The game is still rigged against them, so to even the playing field Ramona devises a special drug cocktail that leaves their customers helpless against the ladies' charms. Nobody's really  getting hurt, they reason; it's just like robbing a bank, except the men are handing them the keys. The four dancers create a bond tighter than any family—until things get out of control.
There were many challenges awaiting the actors who portray the exotic dancers, but certainly learning to lapdance and find their way around a strip club pole was at the top of the list. "My muscles have never been so sore as when I trained on that pole," Constance Wu succinctly describes her experiences while training to learn the precise and specific moves. Even J-Loz, a long time skilled dancer who works out every day, says it was one of the most difficult things she's ever done. "I trained for almost six months in preparation for this film," she relates. "I had a portable strip pole in every city I visited, so I never missed a session. I was using a group of muscles I hadn't ever tested before, so I walked away with fresh bruises after every session. My shoulders and back are still recovering!"
Wu, Lopez and all the actors learning to lapdance and pole dancing, credit pole choreographer Johanna Sapakie with making it all possible for them. "Johanna is really talented," says Lopez, "and we couldn't have done it without her expert guidance."  A former Cirque de Soleil performer and acrobatic dancer, Sapakie says it was important that each actor be able to feel what it's like to be dancing on a pole. "It's their environment, and part of their characters' development," she says. Sapakie was fascinated by how each actor came from a different background. "Jennifer, for example, is extremely physical, very athletic, and a gifted dancer who picks up choreography beautifully, but she had never before worked with a pole," she explains. "So, we approached it from a dance and choreography perspective, as well as from a character perspective, which was critical. That really helped Jennifer master the art form, including spins and basic inverted movements. Jennifer's pole dancing depicts her power and ownership of the character of Ramona, and of her stage,"
Sapakie continues. "We created the moves together to introduce Ramona to the audience." Sapakie found a different kind of fulfilment in training Wu in learning to lapdance. "Constance doesn't have a movement-based background, so we approached her sessions a little differently from Jennifer's," she notes. "I used different cue words to explain the movements, so Constance could really take it in and use it with her body. I was really impressed with how she mastered a reverse backspin on the pole, and Constance looks beautiful doing it. The moves really open up her chest to the sky with a smooth and sensual flow."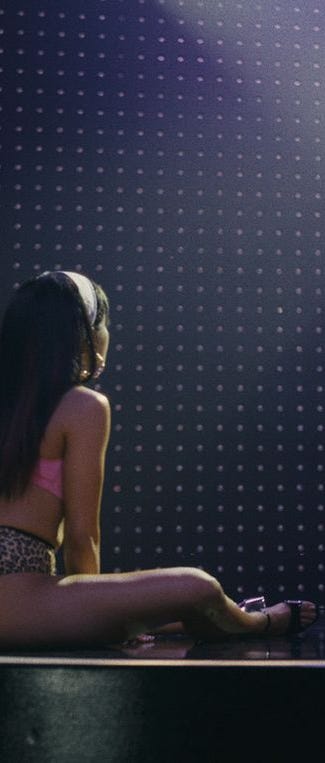 Mette Towley is an acclaimed dancer but admits she wasn't prepared for the demands of this unique form. "It requires an athleticism I don't have, and I'd never done apparatus work as a dancer. So, I bought a stripper pole – which my dad put up in my garage," she says with a laugh. Palmer had already had some experiences with strip clubs – as a visitor – but she says the rigours of pole dancing was something she could not have anticipated. "The dancers at the club I went to in Atlanta are unbelievably talented, and the one thing I realized when I tried to start pole dancing is that they're really doing a lot of work. It's much more than dancing and involves a lot of acrobatics. You need a lot of strength to do those moves and tricks. I have even more respect for them now."
And if learning to lapdance wasn't enough one of  Annabelle's defining traits – her penchant for vomiting whenever she's under stress – well The Riverdale star was more than up to the task, aided by a special recipe. "Luckily, Lorene (the director) didn't ask me to do it 20 times – but I would have!" she says, with a laugh. "Crushed graham crackers mixed with sprite was the winning magical concoction to create the perfect throw-up.