So whilst The First Purge is not the story of an anorexic's first finger down the back of the throat experience it is the fourth film in The Purge franchise that goes back to how the 12 hour free for all murder-thon came to be. So once more we have a new set of characters some who oppose the first purge and others who can't wait as seen in the opening scene with a character called Skeletor, a seething psychotic  criminal who can't wait to get started. It's a less than restrained performance played by Rotimi Paul with raised scar make-up all over his face that looks like braille and giving the sort of performance that would put Nicolas Cage to shame.
Regardless of the opposition, the first purge takes place as part of a government approved experiment orchestrated by Marisa Tomei  as The Architect Dr Updale who soon finds that the President and his government are determined to make it succeed drafting in their own squads of killers and Ku Klux Klan Killer Klowns. In amongst all of this is Isaiah (Jovian Wade) who wants to use the first purge to get revenge for a humiliation that Skeletor put him through, Nya (Lex Scott Davis) who demonstrates against the experiment only to find that her brother Isaiah is caught up in it all and goes to save him and Dmitri (Y'Ian Noel) a drug dealing gangster who uses it to take out the opposing gang leader but finds that he needs to man up to save the neighbourhood  (where the film  conveniently overlooks his drug dealing as having ruined it).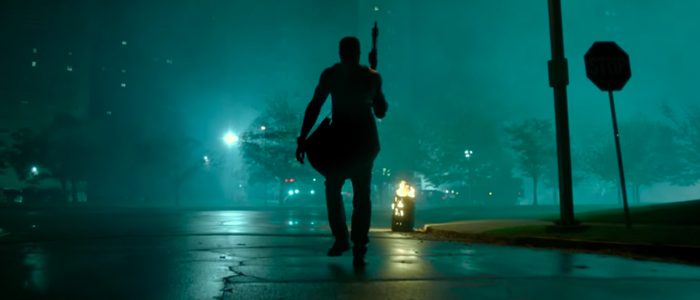 The original Purge movie was an exceptional and intriguing idea and carried it all off brilliantly and its subsequent sequels followed multiple strands of characters and painted a hellish montage of anarchy. The First Purge is ultimately a blaxploitation film with some dialogue that wouldn't be out of place there either (as they all tool up with firearms in preparation for a battle Dmitri utters the line,'They forgot one thing, they forgot about us!') and also includes a less than catchy protest chant, 'Do Not Purge! Do Not Participate'.
Much has been made that this film is for BAME audiences but if anything The First Purge perpetuates stereotypes and black on black violence (although they do come round to fighting the Ku Klux Klan eventually). The action is brutal and bloody but the social satire, (despite a throwaway Trump gag), of the previous films is gone.
Here's the trailer……..
…….and here's us chatting to a purger jest before the film began!