With Christmas now behind us and every child having had a visit from Santa because they've been told be their parents to be a good boy/girl however what no child expects to be told is that they've been the, 'the bestest, most loyal little Nazi I've ever seen'. For Jojo Rabbit (Roman Griffin Davis) that's exactly what he's told and by Hitler too! It's hardly surprising that this comes from the mind of writer / director Taika Waititi who also plays Hitler and then has Jojo jubilantly running down the street to the strains of The Beatles, 'I wanna hold your hand' all the time sieg-heiling to everyone he passes.  It's a risky set up and sets the tone for what's to come as Jojo joins a Third Reich youth camp where he earns his Jojo Rabbit nickname,  run by an obsessive Captain (Sam Rockwell – great as ever) and his vicious secretary sidekick played by Rebel Wilson who, after the horror of Cats, is for once is very good in the part.
Indoctrinated into anti-semitism by an imaginary Hitler Jojo lives at home with his mum as his father is away on military business the nature of which is revealed later in the film but his 10 year old sensibilities are to find him in a quandary when he finds Elsa (Thomasin McKenzie), a young Jewish girl hidden away by his mother Rosie (Scarlett Johansson) in the walls of their house.  All Jojo knows about Jews is what the Nazi's have indoctrinated him into believing and Elsa antagonizes him further with deliberately stereotypical lines, 'Obviously we are demons who love money!'.  Adapted by Waititi from a novel by Christine Leunens he develops Jojo and Elsa's relationship into an endearing friendship against an extremely challenging background and there are several sobering moments in this which do make you sit up straight.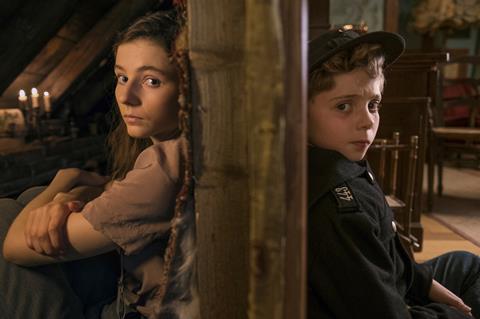 Waititi having scored immense success and reinvigorated the Thor films with Ragnarok maintains the quirky humour  (there's a sobering throwaway joke as Wilson uses children as suicide bombers) here with a great cast. Both the children in the leads are excellent aided by comic support from Rockwell, Wilson and the always great Stephen Merchant as a gestapo officer.  For A-listers Scarlett Johansson and Waititi their subversive roles in Jojo Rabbit must have ones to relish as both are Jewish and Waititi has gone on record about seeing his role as Hitler as his own vengeance on the Fuehrer.
Nonetheless Jojo Rabbit is uplifting with a daring and uplifting use of contemporary music notably with David Bowie's 'Heroes' sung in German. Jojo Rabbit sets a confident balance between comedy and tragedy with some bittersweet moments which gives the film a slightly uneven tone at times in what is an otherwise excellent film.
Here's the Jojo Rabbit trailer…….