After the financial flop of King Arthur and the critical drubbing of Aladdin (albeit it has made over $1billion) writer / director Guy Ritchie is back to basics again with the genre that made his name.  The Gentlemen  is a return to form with the British gangster thriller and an all star cast that includes Hugh Grant, Matthew McConaughey, and Colin Farrell portraying characters none of which are really gentlemen at all.  Hugh Grant is Fletcher a tabloid journalist who calls at the house of Raymond (Charlie Hunnam) a kind of consigliere to Matthew McConaughey's Mickey Pearson, an enormously  wealthy drug dealer wanting to sell off his expertly disguised cannabis factories to  Matthew (Jeremy Strong) his American counterpart. It's easy to see the appeal of the role of a sleazy, underhand and utterly duplicitous journalist for Hugh Grant who has railed against them in real life and positively revels in the role of Fletcher as he sets about his attempt to blackmail Raymond for an 8 figure sum.
But The Gentlemen is typically Guy Ritchie script with twists and turns at every twist and turn making it impossible to nip out to the loos without missing a plot mechanic. So what sets out as a simple story of blackmail quickly becomes complex as McConaughey's sell off draws the attention of the triads and the aspirations of Dry Eye (Henry Golding) wanting to take over from his dad. Add to this a gang of small time hoodlums led by Colin Farrell all clad in appallingly tasteless tracksuits and all too keen to film their exploits as a grime music video and post it on YouTube. Not forgetting McConaughey's wife Rosalind (Michelle Dockery) who runs her own all female mechanic garage and all too aware of where her husband's money comes from as well as a vengeful tabloid editor who has prompted the expose of Mickey purely because of being slighted by the the dope dealer over the uncovering of his friend who was literally a gay Lord.
Many were disappointed with Ritchie's Aladdin because it was so out of keeping with his directorial style throwing the camera around snappy editing as seen best with Snatch and it's a style that he seems to be distancing himself because there's little of that on show here. Instead it's the plotting that is everything led by an almost uniformly good cast led by Grant proving once again that after  Florence Foster Jenkins and Paddington 2 that he is undoubtedly the UK's leading comedy actors in a role that is far removed from his floppy haired fop in his Richard Curtis rom-coms. He's not the only one that is playing polar opposite roles for which they are best known. Henry Gooding,  but especially Michelle Dockery play roles far removed from top class totty from Downton Abbey that made her name. Here they are both potty mouthed , violent C-bomb dropping dregs dressed up as well to do members of society. It's those C-bomb  that bombard the script which include some creative variations of the word which starts with Grant starting the ball rolling right from the off with him telling Hunnam, 'Oh come on Ray, don't be so c**tzy!' and then carries on with a great scene with Raymond and his henchmen visiting the drug addled daughter of a Lord in a high rise crack den. It's one of those scenes that plays out like Pulp Fiction's Jules and Vincent scene as they reclaim the suitcase from the 3 men in a flat at breakfast time.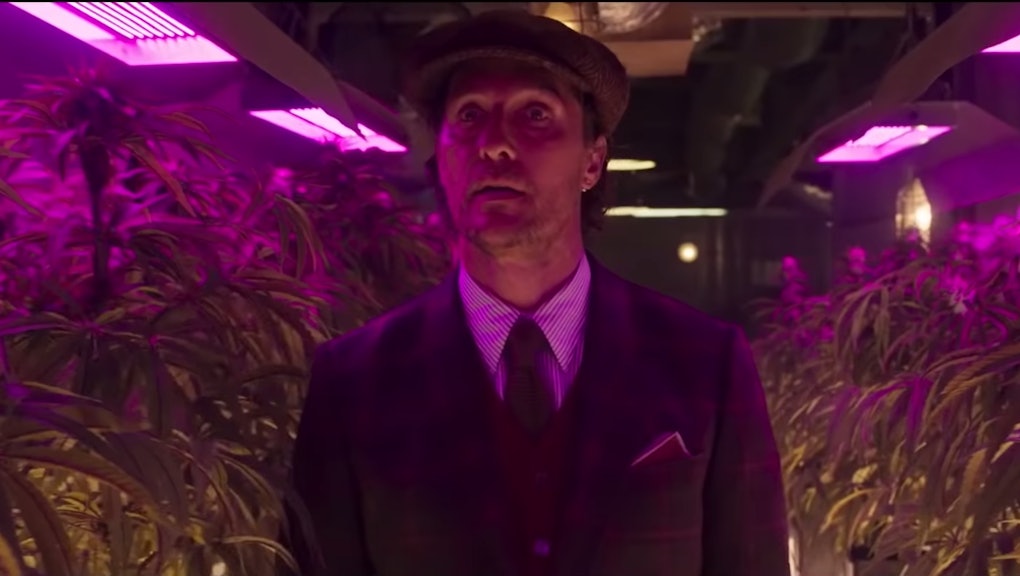 It's one of many scenes to enjoy here and includes Hunnam's old school gangster laying waste to a bunch of wannabe gangsters kids on a council estate. It's also Ritchie seemingly relieved of the strait  jacket of working on a big studio movie that sees him enjoying himself behind the camera throwing in self reverential style  right from the starts with a big close up of his own brand beer label right through to a poster for his own big screen version of  'The Man from Uncle' which also featured Hugh Grant (and was the best thing in that also) and Ritchie unable to resist playing with form in an hilarious scene where Fletcher and Raymond attempt to dub a covertly filmed surveillance clip.
The Gentlemen is enormously enjoyable and will reward rewatching due to the amount of detail and plot points which could be easily missed but Grant steals the show in what is a cast already filled with great turns.
Here's Hugh Grant and Matthew McConaughey introducing The Gentlemen to us…….
Here's The Gentlemen trailer…..