Whether you're a film fan or not most people have heard of Ealing comedies and Kind Hearts and Coronets was an early film from the studio being released in 1949 and was the third of a trilogy of films that set the template ('Passport to Pimlico' & 'Whisky Galore' being the other two). It's not widely known that Kind Hearts and Coronets was based on a now out of print book titled, 'Israel Rank: Autobiography of a Criminal' '. With a Jewish anti hero the book  was intended as a satire on anti-semitism  but with this coming out of the end of the war with the unraveling of Nazi atrocities on the Jewish people the book was always going to be a delicate subject and so the writers dropped that aspect of the story.
Kind Hearts and Coronets stars Dennis Price as a debonair yet impoverished Louis Mazzini a would be Duke of Chalfont whose mother was disinherited by her noble family, the D'Ascoynes, for marrying beneath her. When her dying wish to be buried in the family crypt is refused Louis vows to avenge his mother and work his way up the family tree by engaging in the gentle art of…….murder. One by one he attempts to kill off the eight successors that stand in his way of his becoming Duke.
Now Dennis Price is the star but the film is forever remembered for Alec Guinness playing not one or two or even three roles but playing eight! The story goes that he was offered four of the roles but Guinness seeing the potential asked to do all eight roles and it was a masterstroke that the producers saw fit to let him (in actuality there are 9 family members but the last one is a painting on the wall of Guinness as one of the family.) As genius as it was to have Guinness in all roles it was a technical headache. This was a time long before CGI was even a twinkle in the film industry's eye and there's one sequence where all eight characters are in the same shot and for DoP  the late Douglas Slocombe, the pressure was on to get it right and pivotal to the shots success was the camera not moving. Legend has it that Slocombe was so scared that the camera might get knocked overnight that he slept in the studio beside the camera to prevent anyone getting near it.
Though its Guinness's performance that casts a huge shadow over the film it is Price who is equally good as the waspish would be Duke which he played brilliantly as he charismatically offed the family members one by one. It was Price's chance to shine having risen through the ranks of supporting actors in the 1940's before starring in Kind Hearts and Coronets. But whilst Guinness went on to further glory Price's career  was bedeviled with bad luck so though Kind Hearts and Coronets was well received his subsequent career suffered from appearing into many mediocre films which saw his career wane. It hardly help that after a divorce he found himself in debt and also came out as gay something that was illegal in the day and he had to keep it hidden. This closet homosexuality and addiction to gambling  drove him to bankruptcy and an attempted suicide and his career ended with him making ropey horror films before he died in 1973 from pneumonia.
Kind Hearts and Coronets remains one of the greatest Ealing comedies to this day and Martin Scorsese admits to its use of a voiceover  being an influence on his use of the technique for Goodfellas. Directed by Robert Hamer this was one of his first films in such capacity having been an Editor previously on such films as Hitchcock's 'Jamaica Inn' – an oddiity for Hitch as it was a period drama rather than a thriller.  It was the best film Hamer would direct never really achieving  such greatness again.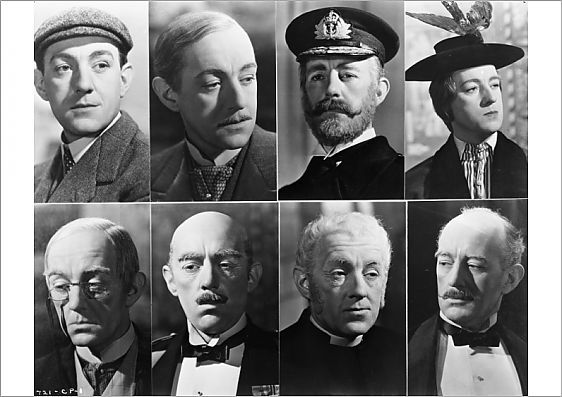 Available on blu ray for the first time an now 70 years old Kind Hearts and Coronets has had a superb 4K makeover and the disc has a host of decent bonus extras the best of which being a featurette on the making of the film. There's also a very good commentary with director Terrence Davies, critic Peter Bradshaw and son of Alec, Matthew Guinness .  What has also been added is the alternate end as 6 minutes were cut for the US market and the writers had boldly for the time filled the dialogue with all sorts of sexual insinuation.  Perhaps most bizarrely is an intro to the film by John Landis ('Schlock'). Now we love Landis in that he is just so enthusiastic about films talking about them with wild glee but his brief intro doesn't really add much. There's also a BFI film about Ealing studios which is informative and there's a feature on Dennis Price as well as a stills gallery and the collectors edition has a booklet, art cards and theatrical poster.
This is a really great film and one of the best of the Ealing comedies and if you've never seen it then this is a must have disc.
Here's the Kind Hearts and Coronets trailer…….
KIND HEARTS & CORONETS IS RELEASED ON BLU RAY & DVD ON 24TH JUNE 2019