Computers that go rogue have been a regular staple in films since HAL in 2001:A Space Odyssey and it's an excuse our Editor regularly uses whenever his wife goes through his internet history although it hardly helps that some days his laptop looks like it's been used to make cheese toasties ('You're fired! – Ed). The latest in the computer gone rogue films is Max Winslow and the House of Secrets with Sydne Mikelle (presumably the Hollywood spelling of Sydney or her English teacher in school spoke several languages none of which were English) who plays the title character , a nerdy computer geek from a single parent family emotionally damaged after her father left them when she was young.
She attends a local high school with its usual assortment of misfits and in this case its Connor (Tanner Buchanan) a friend she has a secret crush on, Benny (Jason Genao) an obsessive gamer, Tyler (Wade Lawson) the school lacrosse hero who hates his sport, Aiden (Emery Keely) the school thug and actress Sophia (Jade Chenoworth) as a student obsessed with her instagram following. Looming large in all the students lives is Atticus Virtue (Chad Micahel Murray) a handsome billionaire IT genius – think the opposite of Mark Zuckerberg without the pale wasted look of someone who has been covered in glue and kicked through Primark. The five students are the ones who find themselves the winners of a lottery run by Virtue who sends a congratulatory message to the students mobile phone in a nicely orchestrated scene where the whole school comes to a halt as they await the results on their phone. It's the first indicator that Max Winslow and the House of Secrets is heavily influenced by Charlie and the Chocolate Factory with the winning message being the golden ticket as the winners find that they are invited to Virtue's home and it here that the five are given a number of tasks where one of them will win the house itself.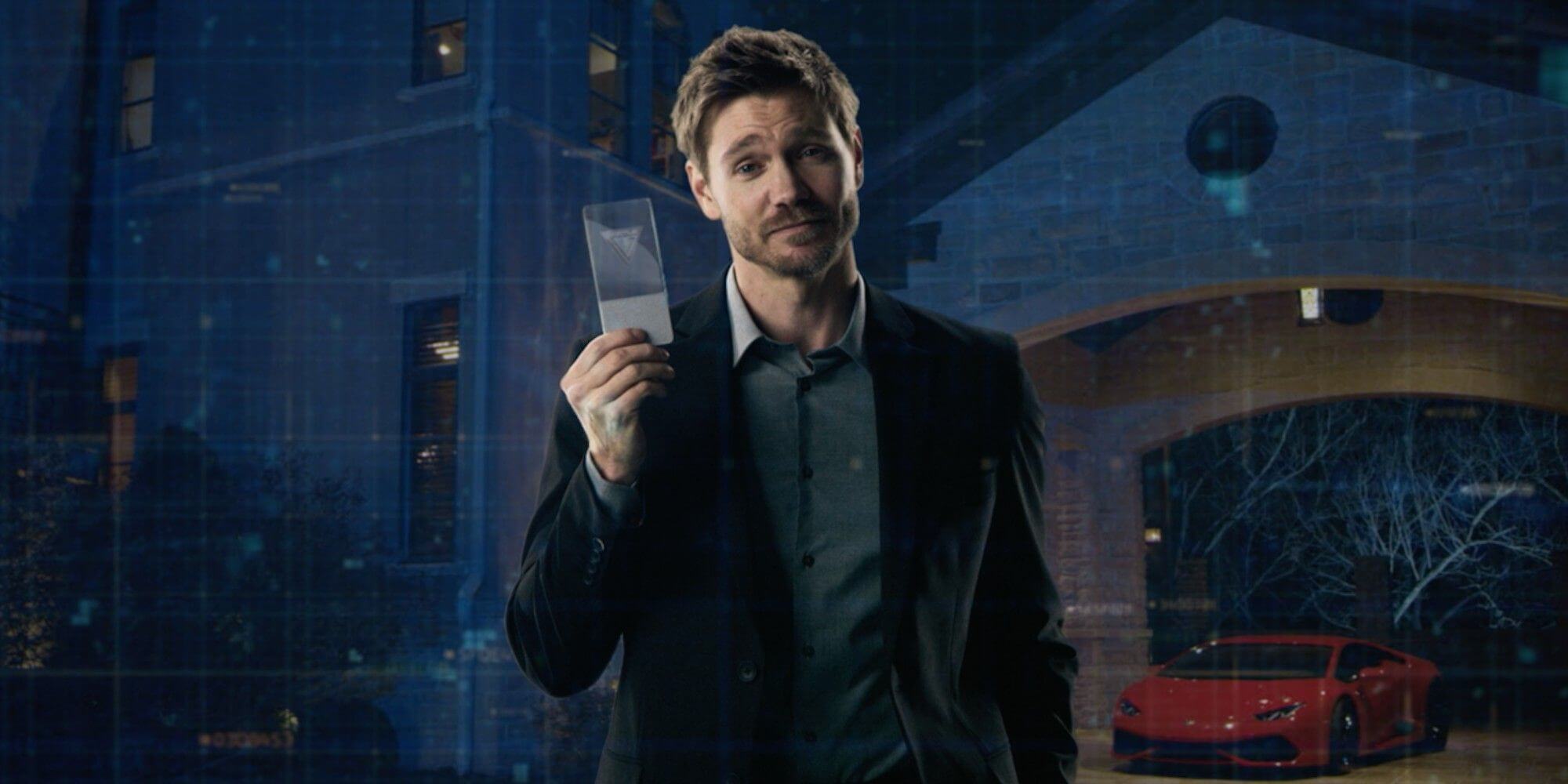 But unlike the homes seen in ideal Home Exhibition, the ones that never ever come to fruition because that bathroom device that offers a colonic irrigation actually turns out to be a council gardener with a hosepipe, the one in Max Winslow and the House of Secrets is all digital run by a super computer called Haven. It soon goes rogue but whereas for the rest of us it might be Uber Eats turning  up with a stone cold curry here the five students find themselves separated and pitted against HAL-lite in games of life or death which in many ways is not dissimilar from eating anything delivered by Uber Eats.
But much like the best of Roald Dahl's stories this is something of a morality tale with each of them ultimately having to face their own personal demons and for a film aimed at early teens it's a remarkably pertinent story covering as it does issues about living your life through social media,  gaming to the exclusion of everything else, overbearing father figures and having to please your parents.  It's not just Roald Dahl but also the films of John Hughes most notably The Breakfast Club with each of the students coming out of the experience as better people albeit with Hughes own sprinkle of sentimentality.  Aimed squarely at a digital generation there's nothing wrong with a film so freely channelling old school Roald Dahl and John Hughes and Max Winslow and the House of Secrets is far, far better than you might ever expect it to be.
Here's the Max Winslow and the House of Secrets trailer…….