Elton John's song has it that, 'Saturday Night's alright for Fighting'. It's certainly something our Editor can testify to when we visited him in casualty last Sunday morning ('You're Fired!' – Ed). But the song is a reminder of just how many fantastic songs Elton John and his lyricist Bernie Taupin are responsible for and Saturday Night is one of the musical highlights of Rocketman which manages to effortlessly segue into the song and dance numbers.
Born a distinctly un-rock n roll Reg Dwight before becoming Elton John, the film from the very start makes it clear that this is going to be a warts n' all biographical film of the singers life. Because  though it starts out with him striding down a corridor towards  what would seem to be a performance when actually bursts through into his group therapy session. Appropriately dressed in a neon orange devil outfit he sits amongst the others to fight his own demons as the film flits back to his early days as a young lad with a largely absent father and a self obsessed mother (Bryce Dallas Howard) but it's clearly his father (Stephen Mackintosh) who's love he misses just wanting to be hugged and there's a moment which just sums up just how abandoned he felt by his Dad when, at the peak of his stardom, he visits his now remarried Dad who has two sons and as Elton drives off his Dad picks up one of his sons and carries him inside the home. It's the love that Elton has craved his whole life.
Rocketman whisks through the struggle to make it as well as the years of immense success which led to his self destructive episodes of drink and drugs interweaving it all with song dance numbers the titles of which are all relevant to the story as it moves along. Written by Lee Hall (Victoria & Abdul) he rightly gives credit to Bernie Taupin for his superb lyrics played by Jamie Bell, Taupin is instrumental to John's success and both see each other as an equal. But Rocketman has an almost equally great cast with Richard Madden as John Reid, Elton's manager and first love and it's a brutally unsympathetic role with him coming over as a bullying yet suave sociopath out to get what he needs and is diametrically opposite in character to Dick James, Elton's first manager, an hilariously uncouth Stephen Graham who gets him on the road to stardom with his first gig at the Troubadour lounge.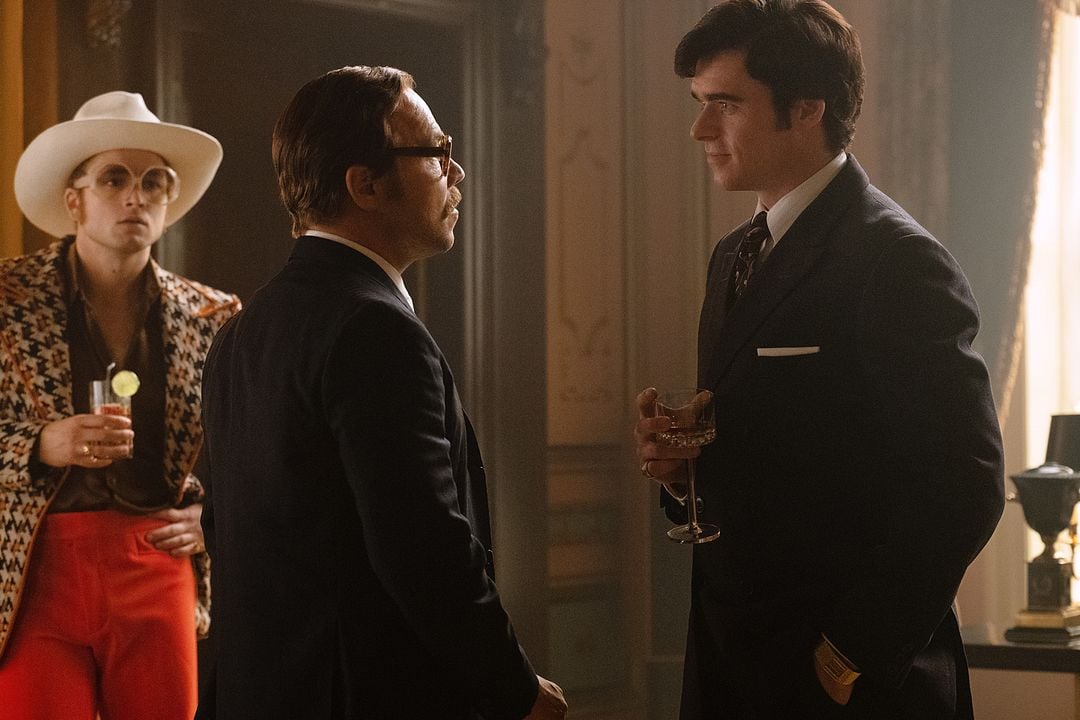 So Rocketman powers through a huge amount of John's life with its highs not just from his drug binges and is unsparing in its depiction of him as an increasingly prissy diva as the drink and drugs take over. But at its heart is a great performance by Taron Egerton as Elton who inhabits a complex role of a talented musician who was deprived of his father's love and indulging in the excess of success which almost killed him. But the success of the film is as much to do with director Dexter Fletcher who himself has been through an addiction hell but has come out the other side having forged an increasingly successful career as a director and saved Bohemian Rhapsody (another story of a flamboyantly gay singer) when its original director Bryan Singer was fired. Rocketman ramps up the gay love aspect far more than that film did and doesn't shy away from Elton and John Reid romping in bed. Reid here is shown to be another man who won't commit to Elton, yet another male with whom he craves love but was let down.
Musicals suffer from criticism of characters busting into song for no apparent reason but this segues seamlessly into show numbers whose lyrics are relevant to the story at that point and there are some assured directorial flourishes here. If there's any criticism here it's that it does come to a bit of an abrupt end with Elton having bought himself back from the brink of a drink and drugs death revitalizing his career with his hit, 'I'm still standing' and it's an obvious moment to end although some episodes are skimmed over notably Elton's marriage to Renate Blauel and there's no mention of David Furnish whatsoever until the very end almost as a throwaway reference. Nonetheless Rocketman is an immensely enjoyable film.
Here's the Rocketman trailer…….