So one of the queries we've always had with Aladdin is just how a huge Genie fits into such a small lamp but we understand from several pantomime legends, John Inman, Larry Grayson amongst several others who played the character, were more than capable of squeezing themselves into tight spaces ('You're fired!' – Ed). But here Aladdin is another Disney live action remake of their classic animated films. Aladdin was Disney's 1992 return to barnstorming form coming before The Lion King which really hot pay dirt for the studio before Pixar would effectively take over the animated film form with 1995's Toy Story.
The story of the kindhearted street thief and the genie in a lamp is a well known one and here as played by Mena Massoud he's pleasant enough when he first bumps into Princess Jasmine who's incognito amongst the people but quickly finds herself about to be unveiled by a street trader. Intervening he pulls a bit of fast handed double dealing which leaves the street trader out of pocket, hardly the best way to endear him to an audience but this is a Guy Ritchie film famous for his best films about street smart wide boys and that presumably was his selling point to the studio to helm the film. The problem here is that at his best his style and signature flourishes of camera movement , sharp editing  and smart dialogue has been dropped kicked into touch, not that we were expecting cockney villains to turn up at any point, but this is so generic that anyone could have directed it. Though in fairness that didn't saved his box office bomb King Arthur.
As demanded by the story Aladdin finds the lamp for the evil Jafar but its Aladdin who gets the genie who grants him 3 wishes and gets into the castle to see Jasmine having found out who the girl he met in the market really is. Jasmine,played well by  Naomi Scott, is the assertive princess and part of a series of strong Disney women characters which culminated with Disney's 'Frozen' and she opposes all the suitors she's introduced to as possible future husbands nut rejects them all until Aladdin turns up posing as a Prince of an imaginary country. So he tries to woo Jasmine whilst keeping his real identity secret which plays against a back ground of Jafar plotting to take power from Jasmine's dad, the Sultan.
Now the villain is traditionally the role that actors an get their teeth into but here  Jafar, like the other cast members, very much play second fiddle to Will Smith 's genie, a part which is synonymous with the quick witted repartee of Robin Williams. Now Smith is a decent straight actor as proved in 'Ali' and 'The Pursuit of Happyness' both of which he was Oscar nominated but here Will Smith IS Will Smith and this is his showcase except here he 'blues up' ('Racist!' – every character in Avatar).  He puts in a decent turn but this is very much a musical with all the usual songs given the CGI treatment and Smith seems  contractually obliged to rap.  But Guy Ritchie's direction of musical numbers is less than assured with most of it being not particularly imaginatively staged and flatly shot and there are moments when the sequences seem to have been slightly speeded up.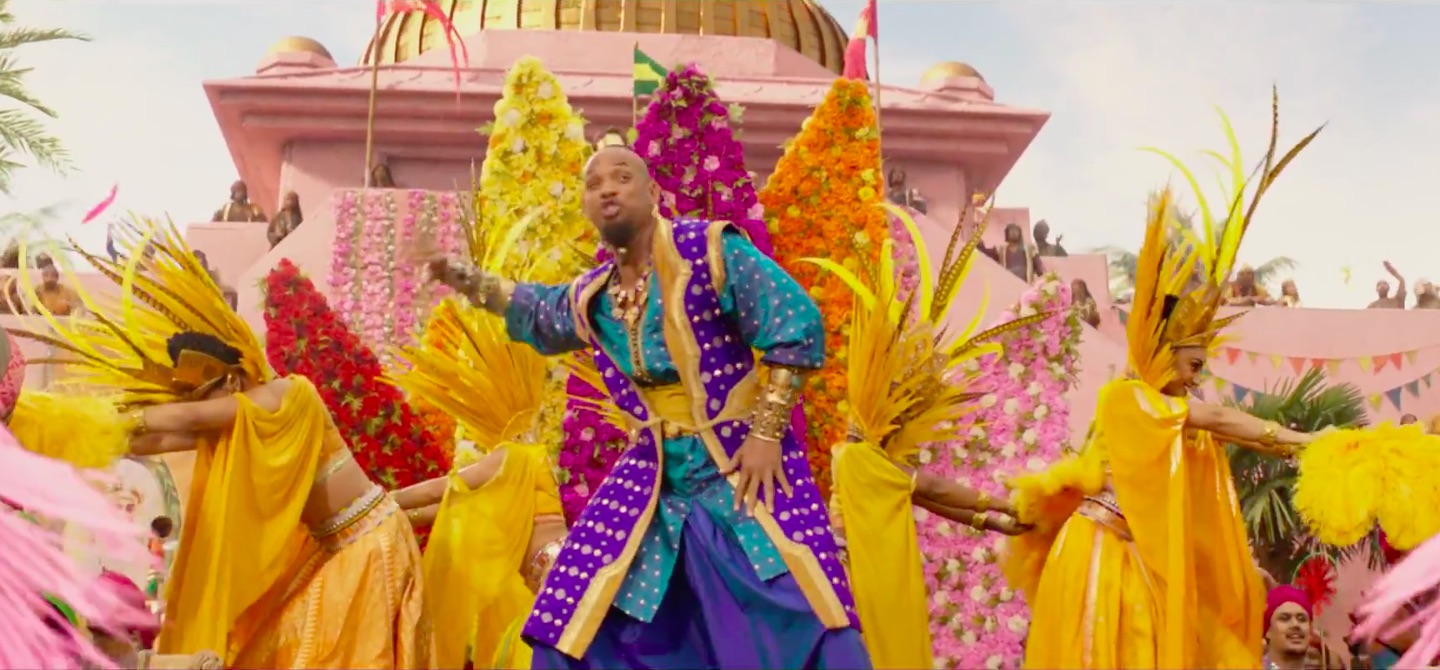 At two hours this feels a little overlong but the production design is impressive especially the cityscapes and Smith's genie should keep the kids entertained.
Here's the Aladdin trailer…….