Those about to go through divorce may be familiar with marriage intervention, a process designed to salvage marriages to avoid lawyers ramping up their fees as they negotiate who gets custody of the Denby dinner plates. It's a process that seems to be adopted by the Jeremy Kyle show with the expected catastrophic result as chips chomping chavs batter one another to the bemusement of a baying audience. Spy Intervention handles the process with the worlds greatest spy Corey Gage (Drew Van Acker) a lad with generic good looks straight off the conveyor belt of teenage US acting mannequins , and in the process of chasing after a villain through a shopping mall literally runs into Pam Grayson (Poppy Delevigne) as she offers her beauty boutique promotional wares to passers. In contrast to her beauty products she yells a load of potty mouthed abuse at what he's done and immediately he is smitten by her. All very well but he's lost the villain and when they start dating and eventually marrying he gives up his role as a spy to become a cardboard box telesalesman and  to live in surburbia to accommodate his new wife's obsession with  hosting dinner parties.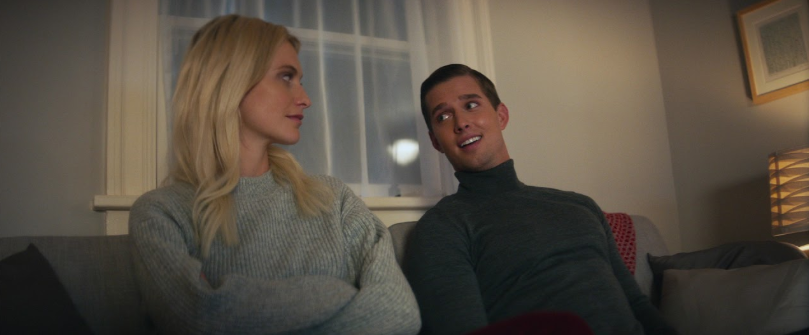 Like every married man who wakes up next to his wife only to find her turning into the mother in law he finds  the loved up honeymoon period wears  off and he pines for his life as a cut price Bond clone for the tweenie generation.  It's also his desire to catch the villain who escaped when he first bumped into Pam – much like their work-in-progress home, its unfinished business.  Not wanting to let Pam know he's back in the saddle he makes excuses for coming home late when actually his colleague, an improbably named Smuts (Blake Anderson) has teamed him up with an actress to play his wife as Corey stakes out the villain from a neighbouring hotel room. It has all the credibility of a one off DFS sofa sale and Pam rightly gets suspicious that he's having an affair just as he's about to finally get his man and save the world.
The leads in Spy Intervention are perfunctory with Drew Van Acker coming over as  smug but with the sort of looks which would find him at home in a US afternoon soap opera whereas Poppy Delevigne developing her charter through haircuts (long hair, short hair and slicked back hair) continues in her quest to get out from the shadow of her younger, more famous and higher profile sister, Cara.  Probably best is Brittany Furlon as Pam's work colleague who is enjoyably crass and we first meet eyeing up a rich customer telling him, 'I don't have a gag reflex!' amongst other entertainingly lewd lines. Less succesful is Natasha Bassett as Alexandria the actress / fake 'other' wife to Corey who spends much of the film wearing barely there outfits in a role which in a post #TimesUp era seems out of place.
That the film opens with 'A Drew Mylrea Film' is a bold move with all the understated modesty of Kanye West tweeting about the great charity work he does. But this is an impressive directorial debut on what is obviously a low budget film with inventive flourishes and edit points and even with a non-existent FX budget there's something endearing about using toy drones and model cars and superimposing the actors into the pilot / driver seats.  And with its jaunty score which frolics throughout the whole film it sets the light tone. Unfortunately it is all undercut by frequent F-bombs in the dialogue for no reason and add nothing except preventing it from being the tweenie family fare it really is which is where the audience for Spy Intervention really lies.
Here's the Spy Intervention trailer……..
SPY INTERVENTION IS RELEASED ON DIGITAL DOWNLOAD ON 27TH JULY 2020