Stanley Donen was the director of Singing in the Rain probably the greatest movie musical ever made but from a child he seemed destined to make great musical films.
Born in Columbia on April 13th 1924 to a Jewish father who managed a women's clothing store Stanley Donen was nine years old when he watched Fred Astaire in Flying down to Rio. He went to the movies every day after school but it was a moment that changed his life even at that early age admitting in his later days that that was when he knew he wanted to work in movies. It was a film he admitted to watching watched 20 times or more. His father encouraged his interests taking him on New York business trips and taking him to musical shows in the evening and by the time he was 16 having taken tap dancing lessons he left school and went to new York where he got a job in the chorus line of Pal Joey. There he was to meet Gene Kelly who was the lead and was 12 years older than Donen and a father son relationship developed with Donen assisting with Kelly's the choreography of his routines in 1941 film 'Best Foot Forward'. Followed a couple of years later with 1944's Cover Girl which included a difficult dance sequence with Kelly which the director Charles Vidor was unsure could be done but Kelly persuaded studio boss, the fearsome Harry Cohn, that it could be done. Donen was convinced because of Kelly's precision and he was right and the sequence worked brilliantly and Donen garnered an enviable working reputation with Kelly and went on to choreograph film sequences where Kelly danced with an animated Jerry of Tom & Jerry fame.
In 1951 Stanley Donen achieved his dream of directing his idol Fred Astaire dancing up the wall and across the ceiling in Royal Wedding where Astaire at 52 years old appeared as the brother to a 21 year old Jane Powell in a film that capitalized on the real royal wedding in the UK  – it was a sequence he would shoot for Lionel Ritchie years later for his video Dancing on the Ceiling.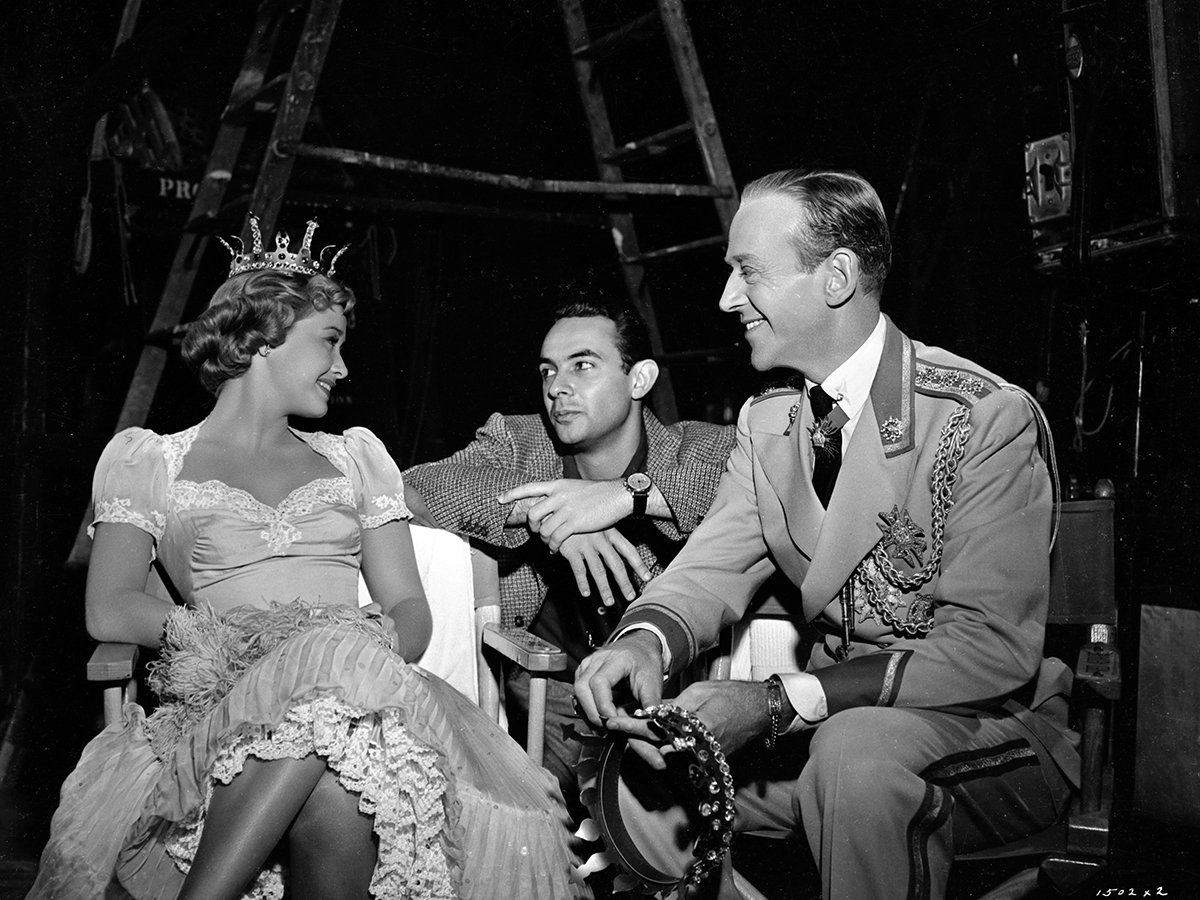 Donen's musicals were critical and commercial successes and he co-directed 'On The Town' with Kelly which had dance sequences on locations rather than on studio sets. His ideas were not always given free rein. 'Seven Brides for Seven Sisters' was a solo directing outing but the studio were insistent that it was shot in studio rather than his preferred Oregon backwoods. The following year saw him make his masterpiece 'Singing in the Rain'. It was not without its problems. Kelly was a perfectionist and was hard on co-star Debbie Reynolds who was not a trained dancer and Kelly argued with Donen and it would bring an end to their working partnership. It hardly helped either that Donen's first wife who he divorced in 1951 would later become Kelly's second wife in 1960,
'Singing in the Rain' took its toll on Stanley Donen and it would be his penultimate musical.  After this Donen went on to  make films of Broadway shows The Pyjama Game & then Damn Yankees with Doris Day which included routines by a fledgling yet also brilliant choreographer Bob Fosse who would go on to make 'Cabaret'. It was the end of an era for big studio musicals and he broadened out to make romances, thrillers and comedies which included 'Bedazzled' with Peter Cook and Dudley Moore and then the Burt Reynolds film Lucky Lady – a film that the studio was trying to get a Steven Spielberg to direct rather than some obscure movie he was making about a shark. By 1980 Donene was making sci fi movies with Farrah Fawcett Majors & Harvey Keitel (Saturn 3) and his last cinema film was Blame it on Rio with Michael Caine and a pre-enhanced Demi Moore with his last film being a 1999 TV movie.
In 1998 he received an honourary Oscar for special achievement in cinema and at 74 years old he performed a fleet footed celebratory tap dance to collect the award.
Stanley Donen was one of cinema's great collaborator's and it was probably with Kelly that he produced his best films but whereas Kelly was domineering Donen was a quiet man and not a very good dancer. Married five times he was also divorced five times too which include actress Yvette Mimieux and for the last two decades of his life he lived with writer director Elaine May until he passed away on 21st February 2019 aged 94 years old.