Total Recall was the culmination of two vowel mangling Europeans taking Hollywood by storm. Schwarzeneggar was now the World's top rating box office star having appeared in top actioners Terminator and Predator followed by the comedy Twins which had achieved huge box office success. Paul Verhoeven who had just stunned Hollywood with his brilliant no holds barred sci fi satire Robocop had caught everyone's attention particularly Arnie who was keen to work with the, to quote Austin Powers in Goldmember, 'that crazy Dutch bastard'.  The star had long been eyeing up the Total Recall script which had been kicking around the studios for some years and was on the verge of being made with Richard Dreyfuss in the lead role who, in that version of the script was to be an accountant.  As happens so often it fell through and Arnie took the script to Verhoeven keen for them both to make the film. The director readily agreed on the condition that there were some tweaks – there was no way Arnie was going to play a desk bound accountant in what would be a big budget sci-fi actioner.
Based on respected author Phillip F Dicks novel, 'We Can Remember It For You Wholesale' the current version of the script was a very different entity from what we saw in 1990 due to uber producer Dino De Laurentiis financing it (who didn't want Arnie as the star) and original director David Cronenberg at the helm. So different was the script that it was mooted as being used for a possible sequel to the film. Screenwriter Ronald Shusett who had secured himself movie immortality with the story for Alien reformatted the script with several other screenwriters including his Alien co-writer Dan O'Bannon but Verhoeven had given his input upping the violence, the body count and twisted dark humour (an innocent man on a escalator gets shot to pieces when Arnie uses him as a human shield during a shoot out) and Arnie one liners  ('Consider that a divorce!' as he shoots his treacherous wife). And now the story has Arnie's manual worker  going on a virtual vacation memory tour of the planet Mars but an unexpected and harrowing series of events forces him to go to the planet for real'.
The film was shot in Mexico both in studio and on location utilizing the city's distinctive architecture (dubbed, 'new brutalism') and added to the mix were, for the time, groundbreaking computer  effects as well as make up maestro Rob Bottin's practical effects winning a special achievement Oscar for his teams work on the film (one of the many highlights was Arnie disguised as a woman, taking off his 'womans' head before it exploded! ) all combined with a story that rewarded audiences with repeat viewings . The film did well earning $261m and was the sixth biggest release of 1990 which had seen weepie romance 'Ghost' as the year's most successful film. Total Recall was part of a double whammy for Arnie complimenting his action output with  'Kindergarten Cop', a second successful stab at comedy which again earned over $200m off its $15m budget.
So 30 years later the stops have been pulled out for Total Recall with a 4K restoration collector's edition and a load of excellent bonus features including features on the Jerry Goldsmith score, the effects and the design of the film as well as the usual trailer. But best of all is the commentary by director & star (with Arnie rather earnestly trying to discuss the subtleties of the script and his acting whilst Verhoeven likes a child high on E numbers excitedly explains what was going on behind the scenes ) and there's also a great feature on Carolco the studio who financed  the film and came to represent big budget excess with its two execs upping their budgets for each subsequent  – Total Recall cost $65, the following year they would spend $102m on the ground breaking Terminator 2 before they finally crashed and burned with the $98m they threw at 1995's disastrous 'Cutthroat Island'.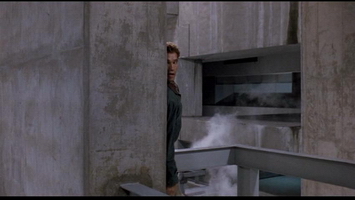 There's a lot of love gone into  the 30th anniversary disc with a 5 disc steel book version collectors edition that includes a CD soundtrack as well as a poster, art cards and a 48 page booklet by Kim Newman. Total Recall remains one of Arne's better films from his back catalogue which was unnecessarily remade in 2012 with Colin Farrell. Stick with this one.
Here's the Total Recall trailer…….
TOTAL RECALL IS AVAILABLE ON DVD, BLU-RAY & UHD ON 23RD NOVEMBER 2020