Latin America has always been susceptible to right wing dictatorships and Nicaragua was no different. Many of these South American countries had been sustained by the US for their own economic benefit and also to counteract any rise in Soviet inspired communism and Cuba was a case in point with left wing Fidel Castro being a thorn in the US side for decades.But all this politicking was a great source of intrigue with stories coming out about the US covert involvement with the Iran-Contra affair where covert weapons sales to Iran were to fund the contra rebels in their fight against the increasingly brutal , corrupt and out of control Nicaraguan government. One of the great films to come out of the murky intrigue of South America was 1983's Under Fire.
Gene Hackman, who had won an Oscar ten years previously with The French Connection, appearing alongside Nick Nolte whose star was on the rise having appeared in the hit action comedy '48hrs' the year before with the emerging comedy superstar Eddie Murphy, and also Joanna Cassidy who had made an impression in a brief role in Blade Runner and in a role that was originally to be played by Julie Christie. The cast was rounded off by Ed Harris who would become a star when The Right Stuff  was released the following year.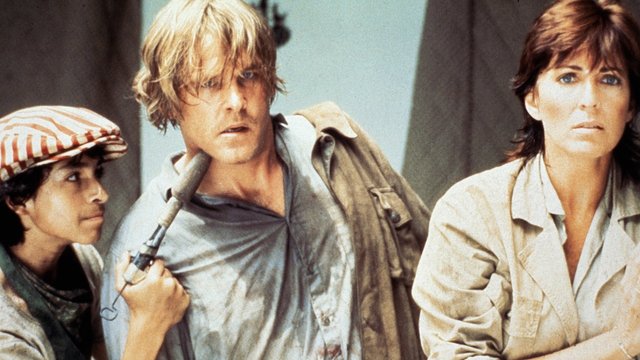 Nolte , Hackman and Cassidy would play three photo journalists caught up in the 1979 Nicaraguan revolution. It's Nolte's character who is in love with Cassidy but starts to lose his objectivity as he becomes  more deeply drawn into the revolution. When the guerillas have him take a picture of the leader Rafael, who's believed to be dead, he gets drawn into the revolution. Together with his reporter friends Claire and Alex he has to hide from the army.
Shot in Mexico the events depicted had happened four years previously when an American reporter was killed by the Nicaraguan military and the events partly inspired Under Fire. Directed by Roger Spottiswoode it was one of his first feature films and is undoubtedly one of his best having gone on to direct Turner & Hooch, A street cat named Bob and …um…. Stop or my Mon will shoot a low point for both director and star Sylvester Stallone. But Under Fire has superb sequences with a great story from a script by Clayton Frohman whose first produced screenplay this was and to date has only written four scripts since. It was also writer Ron Shelton's first produced screenplay too before he went on to write a host of sport themed films (Bull Durham, White men can't Jump, Cobb, The Great White Hype, Tin Cup) whilst also moving into directing.
Under Fire was the first of a glut of 80's movies about journalism with the best being The Killing Fields and Salvador. For the first time Under Fire is now on Blu ray with some decent bonus features including a commentary by Spottiswoode plus another separate commentary with music Editors (he film was nominated for its Jerry Goldsmith score) and film historians. There's also a featurette with Joanna Cassidy and also a trailer. Limited Editions of the Under Fire blu ray also have a collector's booklet by author Scott Harrison.
Under Fire didn't perform strongly at the box office at the time but its unravelling of political chicanery remains relevant 35 years later.
Here's the Under Fire trailer……..
UNDER FIRE IS AVAILABLE ON BLU RAY ON 17TH JUNE 2019