We've not really seen Russell Crowe (Boy Erased) portray an out and out bad guy since he came to the world's attention in Romper Stomper and Unhinged sees him firmly back in that territory. Unhinged does not see him as an appalling carpenter but instead a divorced man known simply as 'Man' who right from the start is highly unstable breaking into his ex-wife's house, beating her boyfriend senseless and setting the house alight. For anyone having been put through the turmoil of a divorce by a spiteful and vindictive wife it's understandable but, from a great titles sequence that sees society falling apart in a series of road rage incidents a voiceover, makes it clear that he has a history of drug use, incapable of keeping down a job and finally driven over the edge by the inevitable divorce.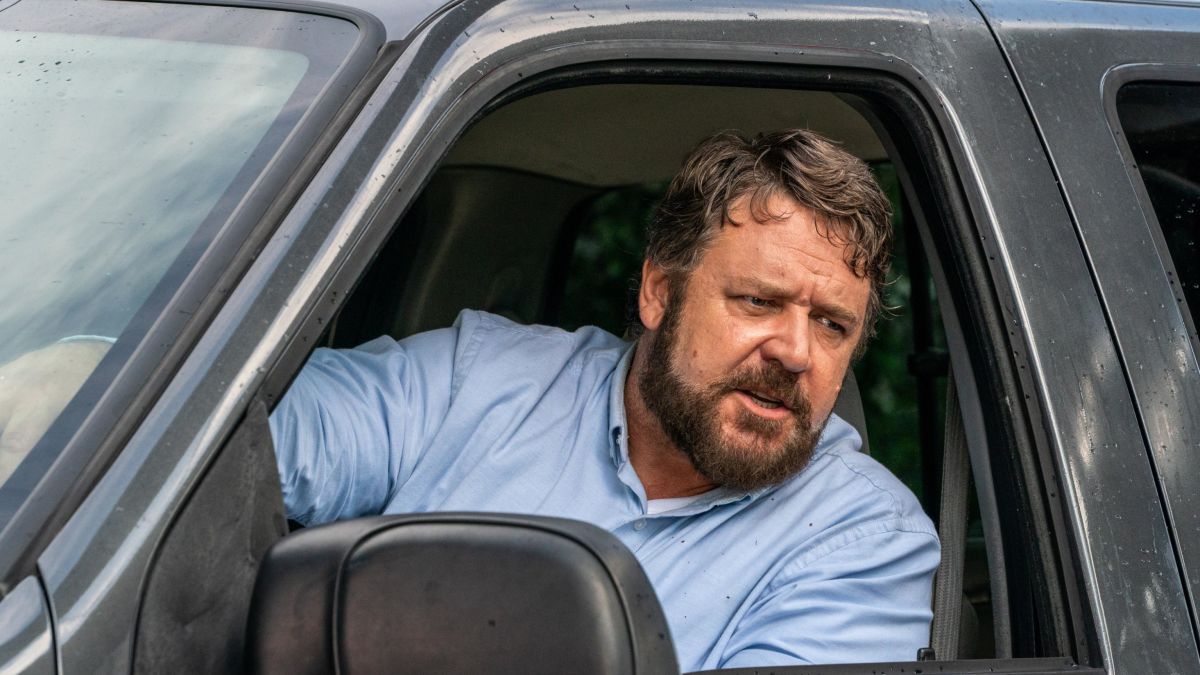 It's Rachel (Caren Pistorius) herself going through a divorce who encounters him as she drives her son to school only to be fired by her own boss for running late for work again. Frustrated and irritable she beeps him at an intersection and off we go as he threatens to give her a really bad day.  Unhinged only hints at just how off the scale he is determining to destroy her and everyone she is close to as he goes on a murderous rampage in a taut and tense 90 minutes of vengeance.
The producers of Unhinged were bold enough to bring the film's release forward to be one of the first films to open when the first lockdown in the UK ended and it did decent business in a thriller that was as much a release of pent up rage for audiences as it was for Russell Crowe's 'Man' in a film that features some spectacular car stunts as Crowe's pick-up truck pursues Rachel's beat up and clapped out Volvo estate. Crowe's characters is pretty one dimensional hell bent on doling out his own form of justice and there's little here to balance him out and muddy the waters daring you to sympathizeith him which is a shame as it's something that could have humanized him and justified his trigger hair temper. All we really know about him is that his divorce, as it does for so many, traumatized him driven, as is so often the case, by a money hungry lawyer and tipping him over the edge It's a scene with a lawyer part way through the film that will either horrify or have disgruntled divorcees secretly cheering. Crowe's character is a pantomime baddie driven to the inevitable conclusion and Crowe is good in what is a one note role having bulked up massively over the years though regrettably not in the gym with one profile shot looking like he's been shoplifting a space hopper and many of the shots of him in the film are mid shots to hide this (see him talk to the audience HERE at the London premiere of 'The Nice Guys').
Out on DVD the disc has few extras beyond an EPK about the film's origin and filming. Better is the commentary with director Derrik Borte and key members of his crew (Cinematographer Brendan Galvin, Production Designer Fredrick Waff and Costume Designer Denise Wingate) which have a load of insights into the film which had been shot in New Orleans but made to look like AnyCity USA as a reminder that road rage can and does happen anywhere.
Essentially a cat and mouse tale driven to its natural conclusion this is still a brisk and exciting thriller.
Here's the Unhinged DVD trailer…….
UNHINGED IS OUT ON DVD ON 23RD NOVEMBER 2020