Frankly we're fed up with dating apps solely because we're suffering  whiplash via voodoo from being left swiped so much on Tinder. It wasn't always like this. Rent a Pal is set in the early 1990's when dating agencies got their clients to record short clips for VHS tapes and it's how David (Brian Landis Folkins) tries to find himself a girlfriend.  It's the only way that he gets to meet women as he is pretty much housebound as a full time carer to his widower mum suffering the onset of dementia. Many will find it admirable that he should sit in his home as the full time carer of a pensioner presumably taking Catherine Zeta Jones as a role model but he's keen for romance perusing the VHS tapes from the agency.
But whilst 40-something David is, on the face of it, sweet, good natured and caring, he is still sat in his room privately poring over VHS tapes in a fashion not dissimilar from every teenager across the world.  Desperate for love and at the beck and call of a dating agency only too keen to fleece him for money whenever a new woman becomes suitable and its whilst he makes a new recording to promote himself he picks up a tape called Rent a Pal. Taking it home the tape has the friendly tank topped  Andy (Wil Wheaton) sat in an arm chair taking directly to camera making small talk leaving pauses for whoever is watching  to answer.  Andy initially is like a fictional Fred Rogers, America's friendly uncle to a generation of children seen in the recent Tom Hanks film, 'A Beautiful Day in the Neighbourhood', but here Andy's influence quickly becomes becomes subversive and  malevolent preying on David's already fragile mind.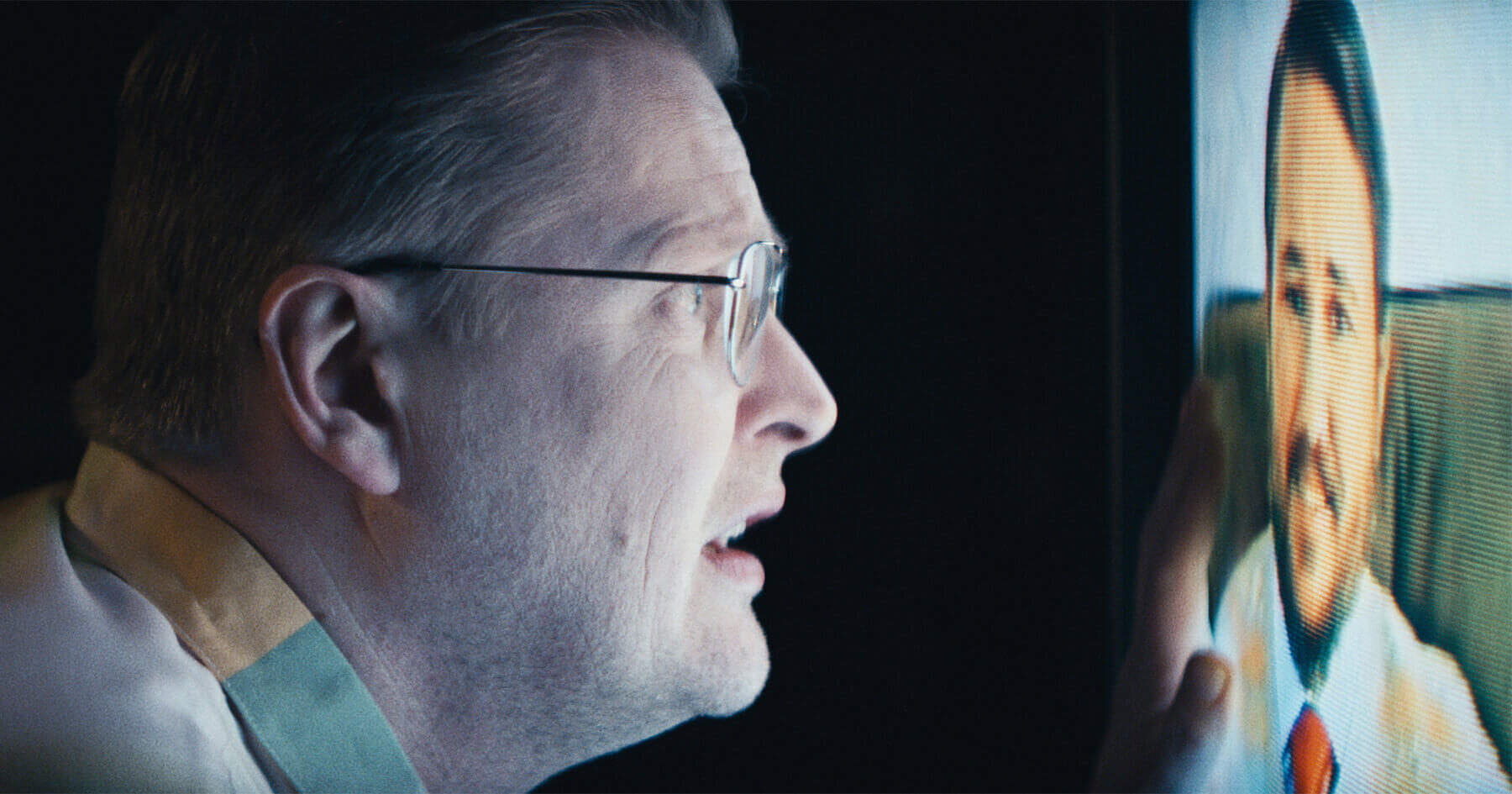 It's testament to both Folkins and Wheaton that their relationship becomes all too believable despite the fact that it's David talking to Andy on a TV screen. Increasingly irritated by his mother whose dementia still addresses David by her late husband's name,  things change when David does finally get a date with Lisa (Amy Rutledge) another singleton and also a carer able to identify with his situation and their first date at a bowling alley is  an optimistic  glimmer of hope for David who realises that this could be it.
For the most part Rent a Pal plays out as a drama, albeit a psycho-drama, with David increasingly relying on his VHS tape of Andy as some sort of real life friend rehearsing his answers to fit the pauses knowing Andy's script by heart in a twist that is neatly played out to chilling effect in the films climatic scenes and it's here that the real horror emerges. Rent a Pal has an intriguing premise, nicely played by its leads in writer–director–editor Jon Stevenson's feature film debut with its sly take on dating.
Here's an interview we did with lead actor Brian Landis Folkins…….
Here's the Rent a Pal trailer…….