Whether Jordan Peele's second film was deliberately titled to make us sound like grammatical morons ('Too late!' – Ed), as in, 'We're going to see Us tonight', once you've watched his follow up it does make sense. Here he takes an affluent middle class black family travelling to their holiday home near Santa Cruz where the wife Adelaide (Lupita Nyong'o – Black Panther) holidayed in 1986 when she was a little girl herself with her warring parents. All would be fine if it had not been for that childhood holiday having scarred her psyche after a traumatizing experience in a funhouse rendering her unable to speak for months afterwards. In that respect it's a bit like visiting Southall. Quite why she didn't raise this in the first place to her husband Gabe (Winston Duke) a hulk of a man who, when the chips are down, is an ineffective protector of his family, is anyone's guess. And that need to protect his family comes to the fore when their kids Jason (Evan Fox) & Zora (Shahadi Wright Joseph) tell their parents that there's a family standing at the end of their drive standing in silhouette, staring. Like many of us who might mistake them for Jehovah's Witnesses campaigning late at night it turns out that rather than brandishing a copy of the Watchtower they're each armed with a large set of scissors and having broken into their house with surprising ease they hold the family hostage.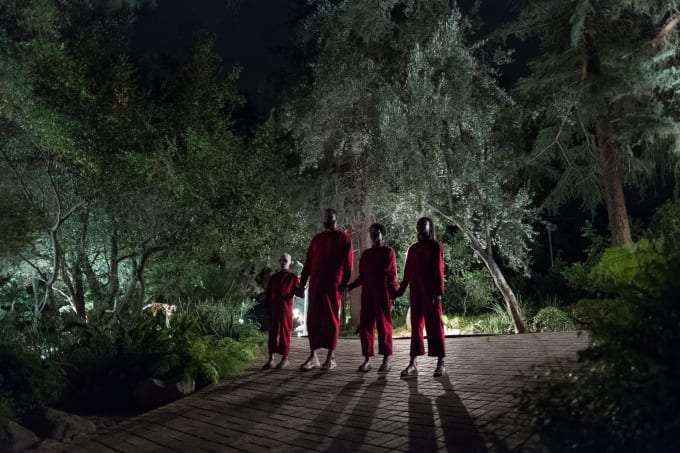 They look like us', says their son and the spin here is that the invaders are the doppelgangers for the family. Rather than this being the revenge of an agency that represents famous face look-alike's, Us belies a deeper issue as each of the engage in battle of wits with their opposite lookee-likee's.  Ultimately a home invasion movie but this is far more layered film with signs and clues laid out from the very start and throughout as to what to expect and where this is going and there's a even a knowing joke about 'Home Alone' in here which incredibly is now 29 years old and which the children have never heard of and frankly even Macaulay Culkin probably has too having spent almost as long in the showbiz wilderness.
This is Jordan Peele's  follow up to his Oscar nominated 'Get Out' which, whilst a little overrated, was still a decent horror film and Us could have easily suffered from difficult second album syndrome. But like his first film this has a layered script which will reward multiple viewings to pick up on things that could so easily be missed. Some of which goes nowhere and at times the film is unsettling with only one real moment of jump out of your seat  violence.  He's also started to explore a not quite expected ending though he finishes with a final shot which is not entirely satisfying or indeed makes much sense either.
But it's a credit to Peele that having made such a clever film that played expertly on racism and slavery (Nyong'o is shackled in handcuffs throughout) and he again touches on similar themes with social relevance that borders on satire on the state of a nation where the title could equally be US. A good cast is headed up by a great performance by Nyong'o who like the rest of the cast also play their deadly dangerous doppelgangers.  It's a strong female role with the clan defending themselves against their opposites perhaps adhering to the adage that the family that stays together, slays together.
Here's the Us trailer……..