' Come away! ',  is an order often overheard by our Editor. In fairness he's usually slumped in a gutter on a Friday night and it's a mother trying to stop a curious child poking him with a stick ('You're fired!' – Ed). Here it's the title of a family friendly origin story about Alice (of Wonderland fame) and Peter Pan in a fairy tale mash up where the pair are now siblings to bi-racial parents. Now we say 'family friendly' but the parents are battling debt, addiction and the death of their eldest child so it's little wonder that Peter & Alice retreat into a world of whimsy populated by figures from their well known stories in a sometimes debilitating genre mash up.
With a voiceover from a grown up Alice she recounts how she, Peter and their elder brother David encounter tragedy when they play pirates in a mock ship on a lake they've been forbidden from playing on and he drowns ensuring that he'll never breach his parents ban again. We say 'drown' but the special effects featured in this sequence suggest that he could equally have been struck by lightning and then drowned, Who knows? What we do know is that Peter blames himself as well as the brutal mutilation of their Dad at a pawn shop run by the Mad Hatter (Clarke Peters) here looking like an aging Rastafarian who suddenly realizes that the only way to get through this film is to get wasted on whatever he can lay his hands on. Indeed it must be most of the actors desire to come away from his unholy mess which strays ever further from the family friendly when Dad (David Oyelowo) consumed with grief over his son's death falls back into his gambling ways – here we would suggest the gamble is with his career – whereas for Mum (Angelina Jolie under a mass of hair that it looks like she's being devoured by a hairball) it's booze – possibly because she realizes what she's signed up to appear in.
It's little wonder that rich aunt Eleanor (Anna Chancellor) tries to take the children into her care and send them off to a good boarding school but when she is blocked determines to turn Alice into becoming 'a lady'. That Come Away is set in an indeterminate, possibly Dickensian, era overlooks a chance to deal with racism with only a throwaway remark about their black father being of the lower class never explored any further conveniently overlooking that Alice is of mixed race heritage.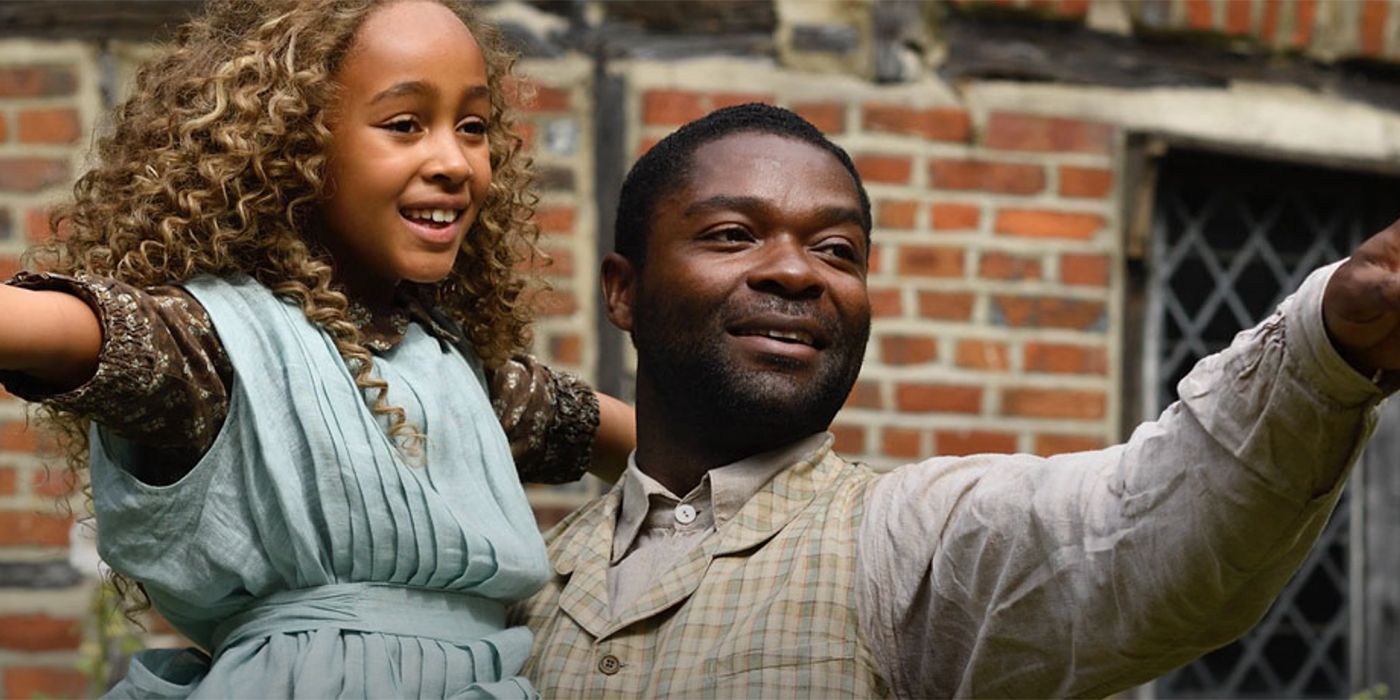 Come Away is a bizarre and largely unsuccessful mash up of two different children classics attempting to have one foot in a world of realism with the other in a world of fantasy and with legs akimbo reveals……. it's bollocks! Written by Marissa Kate Goodhill this is her first produced feature length script but what is an interesting idea to merge two children's classics largely fails. Directing her first feature length live action film is Brenda Chapman whose previous have included two animated films namely The Prince of Egypt and Pixar's 'Brave' which won her an Oscar as Best Animated Film. Though there are some really nice visual flourishes here the story falls between two stools in not being magical enough for children alienating them with adult moments of debt, addiction and child death which are not dealt with in any depth to engage adults. In trying to satisfy all ages it satisfies no one in what is a less than engaging tale whose title serves only to instruct kids to come away from the screen and do something else.
Here's the Come Away trailer…….