2015 saw the release of Guillermo Del Toro's Crimson Peak a gothic romance with flourishes of horror. Up until then Del Toro had been alternating his films between critically lauded art house horror films (Cronos, The Devil's Backbone, Pan's Labyrinth) with out and out commercial hits (Blade II, Hellboy, Pacific Rim). Pan's Labyrinth had been an outstanding achievement winning three Oscars and nominated for Best Foreign film losing out to The Lives of Others (no, us neither). Where it did win was in Art Direction, Cinematography and Make Up and these visual aspects of Pan's Labyrinth were to be further developed in Crimson Peak.
Crimson Peak was the story of aspiring author Edith Cushing (Mia Wasikowska ) haunted by the death of her mother in 1880's New York. She falls in love with an aspiring industrialist and engineer (Tom Hiddleston) who whisks her off to his mansion Allerdale Hall a gothic pile that grows increasingly dilapidated as it's built on blood red clay which is rising up through the floor and walls. They share the mansion with his sister Lucille (Jessica Chastain) whose hostile resentment to Edith is barely concealed and as Edith struggles to settle into her new home uncovers an horrendous family secret which unleashes supernatural forces.
Despite the three stars (at this point Chastain had two Oscar nominations behind her and Hiddleston was hot property after two outings with Thor as well as The Avengers Assemble film) the real star of the film was the house. Designed by the late Thomas Sanders in what would be his penultimate film, the set was purpose built inside a studio with rooms built off the main grandiose and gothic stairwell the house was as much a decaying monster as anything else found there with its walls that dripped blood red clay and its interior decor primarily a rotting green colour. Del Toro's film played heavily on colour especially red, green and yellow with Edith being the lightness in the dark with her bright dresses, many of which included butterfly motifs, as opposed to Chastain's dresses with their ornate embellishment which were similar to that of the house to which she was so closely affiliated.  It's from that stance that the Crimson Peak disc is a dream for budding designers interested in working in film with input from those relevant departments as well as Del Toro himself explaining the various aspects of the films design which was there to support the story.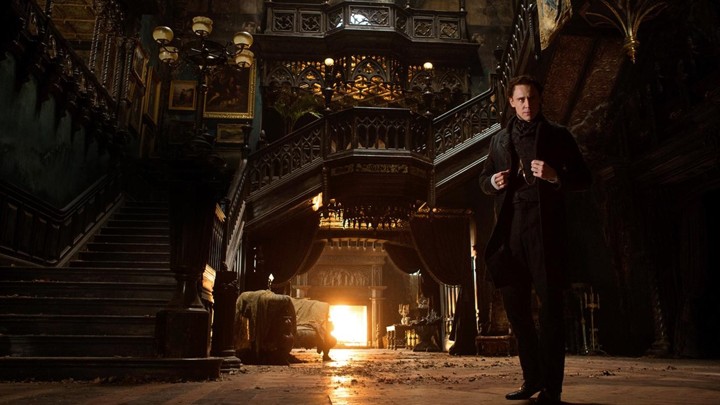 The disc has some very good featurettes including The House is Alive!, a mixture of rather too gushing promotional stuff but has enough decent tidbits to balance it out. There is quite a bit of vanilla EPK's here and a 'Violence and Beauty in Crimson Peak featurette is a little over earnest and blandly narrated like a film student reading their thesis out loud. Far better is the commentary by Del Toro and his explanation of various facts about the scenes and what went into his thinking about certain aspects, and this is uniformly excellent. Likewise with Kim Newman who is always watchable and extremely knowledgeable in his featurette about the rise of gothic romance as opposed to gothic horror.
Del Toro had put a tremendous amount of thought and effort into every aspect of the film involved from the smallest detail on the costume through to design aspects of the house but it's almost at the expense of the story itself because whilst the film is stunning to look at the story is not as compelling as might be hoped for. Moments of skillfully conceived set pieces and some visually spectacular moments can't hide a rather insipid love story with hints of Daphne De Maurier's Rebecca. Audiences generally gave the film a luke warm reception and its $55m budget only returned $74m at the worldwide box office but Del Toro was warming up for his next film The Shape of Water which  ended up earning him a Best Film and Best Director Oscar to add to its best original score and, appropriately enough in light of Crimson Peak's visuals, best production design too.
Crimson Peak is another decent release from Arrow films who lavish their discs with as much attention as Del Toro did on his set here and for fans of the director the extras are an essential insight into one of his less successful films.
Here's the Crimson Peak trailer……..
Crimson Peak is released on Blu Ray on 14th January 2019.